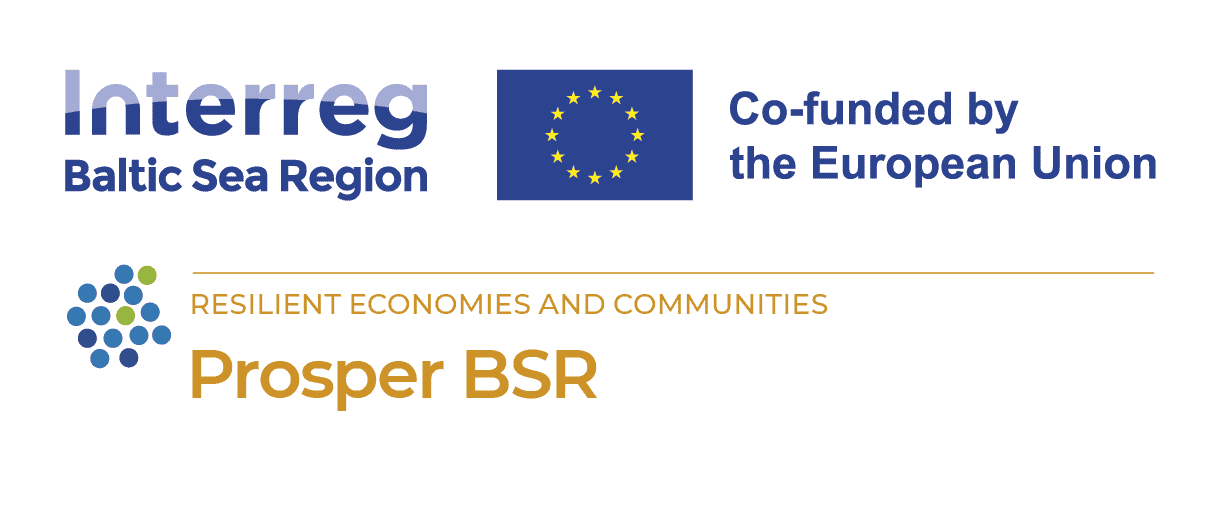 Promoting Perspectives for promising potential workforce in the Baltic Sea Region
Prosper BSR
TRANSEKSPEDICIJA and the employment of foreigners
09 November 2023
PROSPER BSR aims to gather business support organisations to work together to integrate refugees and immigrants into the labour market, while at the same time providing an opportunity to employ skilled workers. The project foresees to share best practices related to the employment of Ukrainian refugees and other foreigners in Lithuania. Today we are glad to share one of such stories from Vilnius CCI members.
The  Quality  of  Foreign  Workers'  Work  is  no  Different  from  the  Work  of  Locals
As many as 138 foreigners work for the transport company UAB
Transekspedicija
, and one third of them being Ukrainians. All of them drive freight trucks. Although
Valdemar Smilgin
, Deputy General Director of the company, admits that the multi-ethnic team poses many challenges, he says that the quality of work makes up for them.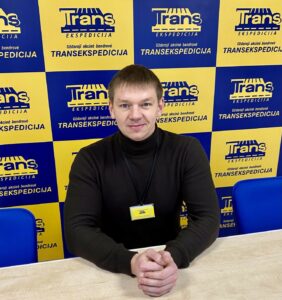 Smilgin reveals that the search for drivers in other countries has been driven by the lack of drivers in Lithuania. According to the data of the Lithuanian National Road Carriers Association LINAVA, currently there is a shortage of up to 30,000 drivers. The situation is similar throughout Western Europe; thus, it is a normal practice to look for potential drivers in Eastern Europe.
Smilgin says that they have noticed that foreigners are more diligent and sometimes even do much more than locals do. Because they come to Lithuania with the clear goal – to work and earn money. "Their hard work is infectious and passes onto locals, but most importantly, they fill empty jobs and add value not only to our company, but to the whole country," deputy CEO notes. Another advantage of employing foreigners is that the Lithuanian company has the opportunity to get to know other cultures and promote tolerance among workers from other countries. Now, with the war in Ukraine, the solidarity of
Transekspedicija
drivers with Ukraine has become apparent – not only among the Lithuanian citizens who occupy various positions in the company but also among the Belarusian drivers.
According to deputy CEO, the lack of knowledge of the languages spoken by the employees causes some difficulties. Not every Lithuanian working in the company speaks Russian, and drivers from Ukraine, Belarus or other Eastern European countries usually speak only Russian. "Communicating and understanding each other when working in a team is one of the most important factors in achieving the best result," V. Smilgin says. "Therefore, everyone has to put in more effort than they would in a team composed of people of one nationality."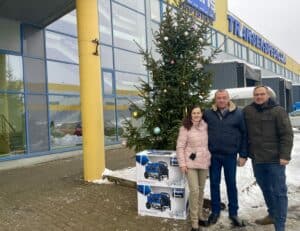 Overcoming the Challenges
Deputy General Director of
Transekspedicija
is open about the fact that it is more difficult to recruit foreigners than Lithuanian citizens. He talks about many bureaucratic hurdles. For example, in Lithuania it takes up to two months to employ a foreign national, while in neighboring Poland it can take up to a week, which is why third country nationals prefer to be employed in Poland. "We also face problems with the quota of foreign workers (including drivers) recruited every year, especially now that a large number of Ukrainian drivers have left to defend their country since the outbreak of war. This has made the shortage of drivers even more critical," V. Smilgin points out.
Although the fact that there is a huge shortage of drivers is common knowledge in Lithuania, quotas have been introduced still. This is a shackle on the transport company, preventing it from developing its business. As a result, the state does not receive any additional revenue, which, in turn, has a negative impact on social security, public sector salary and other social benefits. Smilgin has an impression that there is no desire to improve life in the country: after all, when business expands, more taxes reach the state coffers, the economy is made stronger and the country's defense is strengthened, which is particularly important now. "It is a pity that this is not appreciated by all the representatives of our government," deputy CEO regrets. The revenue of the transportation industry accounts for more than 10% of the country's GDP, and V. Smilgin cannot say why the development of their business has been hampered by quotas.
Social Responsibility
More businesses are moving away from focusing on profit and are implementing various social projects. The transport company
Transekspedicija
is no exception. The company's deputy CEO says that social responsibility starts with the working environment and the means of work. "We respect and protect the environment in which we operate. We keep the environment organized so that our employees enjoy working for us," V. Smilgin notes. As a transport company, they are also directly responsible for air pollution, which is why every year the company renews about 15% of its fleet with new environmentally friendly trucks. Deputy CEO says that their aim is to be as environmentally friendly as possible, thus it is only a matter of time before the first electric or hydrogen-powered vehicles enter their fleet.
Transekspedicija
plans to start building solar power plants at the company's business campus to help make a positive impact on the environment and climate change.
The Lithuanian company also owns a football club,
TansINVEST
, which won the LFF Lithuanian Cup in 2023.  By the way, the team's main goalkeeper is Ukrainian. And it was the first time in the history of Lithuanian football, that a non-A League club won the LFF Cup. Also
TansINVEST
won the First Lithuanian league and next year is granted to play in A League.
Smilgin says that
Transekspedicija
is building football infrastructure next to the company's premises. All Football infrastructure that is currently under construction will be meeting UEFA category II licensing requirements. At the moment the stadium pitch is already made up, and the lighting together with the parking lot will be installed shortly. The entire project is promised to be completed in 2024/25. In cooperation with Vilnius District Municipality, they are also setting up a youth football academy to encourage more children's engagement and a healthy lifestyle among young people.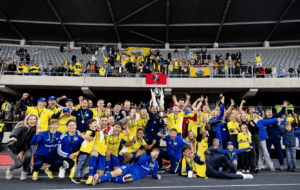 Transekspedicija
is also a regular contributor to the provision of humanitarian aid to Ukraine and its citizens. "Now that Ukraine has been hit by an energy disaster, we have sent power generators to Ukraine. We try to remain alert to changes in the environment, both near and far, and to react appropriately," the company's deputy CEO points out.
***