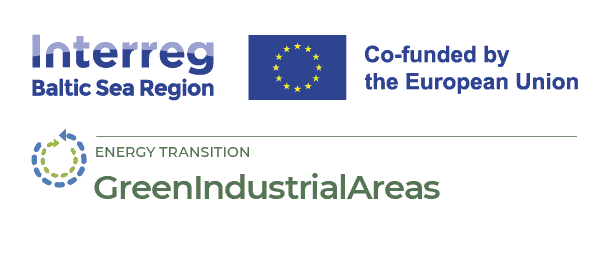 Co-elaboration of a transnational certification standard and of a tool-box to promote energy transition in green industrial areas
GreenIndustrialAreas
Study visit of the municipalities of Central Finland to Kokkola Industrial Park
25 October 2023
Stakeholders of green industrial areas in Finland exchanged about energy transition
On an autumn morning in October, more than twenty persons responsible for the industrial and business parks of the municipalities of Central Finland climbed a bus towards Kokkola, with the aim of learning good practices from the largest concentration of inorganic chemical industry in Northern Europe. Several business and industrial park projects are underway and planned in Central Finland, so the time is right for sharing good practices and solving challenges in cooperation. The bus trip was used for networking and mapping common challenges and their possible solutions.
700-hectare industrial area of ​​Kokkola Industrial Park contains 16 operating production companies, including service companies, a total of approximately 80 operators. The cooperation between operators and the factory area is coordinated by KIP ry, whose executive director Johanna Hylkilä presented the area together with Olli-Matti Airiola, CEO of KIP Service and Kokkola Teollisuusvesi, while Kokkola Energia's Joonas Lahti opened Kokkola Energia's operations in the area.
In Kokkola Industrial Park, the forms of cooperation developed in the area were particularly interesting from the point of view of Central Finland. KIP ry, which operates in the Kokkola large-scale industrial area, coordinates the operation and development of the area, while KIP Services oy offers services to the area. Membership in the association is voluntary and paid for by companies in the region, but during its 17 years of operation, the association has proven its importance as a forum for the cooperation of companies in the region. The association together with member companies e.g. maintains a strategy for the region and runs cooperation groups in the region related to e.g. safety, energy, HR, ICT and environment. Branding the area is also an important task of the association. In the coming years, considerable investments in production activities will be directed to the area, which, if realized, will require an increase in the number of employees by half. KIP ry has e.g. carried out a survey on the skills needs of companies in the region by task, which helps the training providers in the region to direct training to the right fields. In cooperation with the city and the social&health services, the Kokkola Works marketing campaign has also been implemented.
On the way back, we reflected on the lessons learned from the trip and the possibilities of implementing the coordination of business and industrial parks on a smaller scale in central Finland, as well as how the zoning interests of the development of the city and the industrial area can be coordinated in the best possible way. We also recognized that in Finland a lot of things related to the circular economy and green energy and energy efficiency are already being done excellently in industrial parks, but the awareness of these is not yet at the necessary level.
Additional links