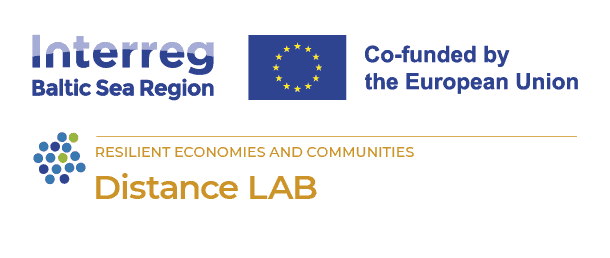 Distance LAB – remote service hub for SME's and public sector
Distance LAB
Stay Safe in the Digital World
12 June 2023
In the physical world, we have a computer or a tablet or some other devices on our desk that are connected to networked systems. Through them, we access the digital environment. We store information there, send emails, and discuss everyday matters. We may not fully grasp the extent of the digital environment because it has become so commonplace and we use it without even noticing.
Your password is like the key to your front door – take care of it.
When it comes to cybersecurity, people may think that they have nothing to hide, so they don't need to protect their privacy or digital environment passwords.
-We all have access to various systems and digital services. Criminals want to access online services and gaining access to systems is desired. So, even if you are an ordinary citizen, you are interesting. We should have the same level of hygiene in these services as we do in physical services, says Helinä Turunen, a cybersecurity expert from the Finnish National Cyber Security Centre.
-Let's take the example of keys to the workplace's front door. We take good care of them and don't give them to outsiders. If the keys go missing, we inform our supervisor. Similarly, we are careful with our home key. Even children are taught from a very young age to take care of the key. This is how we should also behave in the digital environment. For example, email or social media accounts are important workplaces in the digital world.
-You may have a long career in networking or as a social media influencer. You may even work exclusively online. It is worth considering what would happen if the so-called key, the password, or other identifier for an online service were lost or taken by someone else.
-It is important to install the necessary updates on devices to protect them from everyday attacks so that no one can directly attack the device or the services in use through vulnerabilities. Just as we repair a broken front door at work, updates must be kept up to date.
Be aware of the threats
Turunen has a few tips for companies to secure the digital environment. Firstly, companies should be aware of cybersecurity threats, and secondly, companies and organizations must be able to support their employees in recognizing them.
So, how should you proceed when transitioning your company's services into the digital world? According to Turunen, the first steps are as follows: If you purchase a service from an external company, it is good to check their security practices. Do they enable two-factor authentication, or should you set it up yourself? Are there any country-specific restrictions on logging in? Who is responsible if a security breach occurs? Who should you contact? So, define responsibilities during the contract phase; otherwise, it may be difficult to move your company's services into the digital world with peace of mind.
Everyday digital security improves global security
Helinä Turunen also closely follows global cybersecurity and its connections to everyday life. Ordinary email accounts, for example, may be compromised because they can be used to carry out other attacks.
-Let's take the example of the war in Ukraine, where cybersecurity plays a major role. There, attempts were made to spread malware by compromising the email accounts of large public services, so that phishing and malware messages could be sent to the desired target organization, such as the Ukrainian government.
-Digital services, social media accounts, and email accounts can be exploited in attacks. This is essential information that helps us understand the importance of our own digital environment's security in a larger context. Everyone's everyday security contributes to national security, and together we can make our daily lives safer.
By Laura Palovuori
The writer works as R&D specialist at Centria University of Applied Sciences in Finland. Her interests are in cybersecurity awareness, sustainability, and well-being.