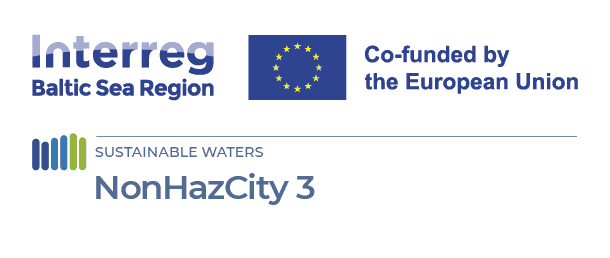 Reducing hazardous substances in construction to safeguard the aquatic environment, protect human health and achieve more sustainable buildings
NonHazCity 3
Start of Competition for NonHazCity Building Award in the Baltic Sea Region
16 November 2023
Today the competition for the first ever NonHazCity Building Award in the Baltic Sea Region was announced at the Green Governance Conference by the Green Capital of Europe 2023 Tallinn and the World Future Council in Tallinn.
The NonHazCity Building Award is the first policy prize recognizing best policies in construction in the Baltic Sea Region at local, regional or national level. It aims is to highlight policies protecting people and the environment from hazardous chemicals in buildings, integrating circularity, toxic-free & climate neutrality. The World Future Council co-ordinates and bestows the award in the framework of the NonHazCity 3 Project.
"Municipalities have a responsibility to protect their citizens and the environment from hazardous chemicals and to contribute to climate-neutral and circular construction. We cannot have sustainable cities and communities without sustainable construction. This award helps us to show that sustainable construction is possible and raise awareness among cities to be at the forefront to implement these solutions," said the Deputy Mayor of Tallinn, Joosep Vimm.
Alexandra Wandel, Chair, Management Board of the World Future Council commented "Everyone has a responsibility towards future generations that the building sector can make a contribution to a non hazardous, circular and climate-friendly construction. We invite policymakers, civil society, scientists and citizens to submit their nomination for this unique award. We aim to provide inspiration to showcase innovative solutions."
Nominations can be submitted
here
.
The announcement was made at the conference " Driving change: empowering sustainability through green governance" that took place at Tallinn Creative Hub as part of Tallinn's Green Technology Week.
The conference aims to bring together cities from the Baltic Sea region and beyond, as well as businesses and experts, to discuss green public procurement and support for sustainable consumption and production. The conference was opened by the Mayor of Tallinn, Mihhail Kõlvart, and features presentations throughout the day by many experts and practitioners in the field of green governance.
Additional links