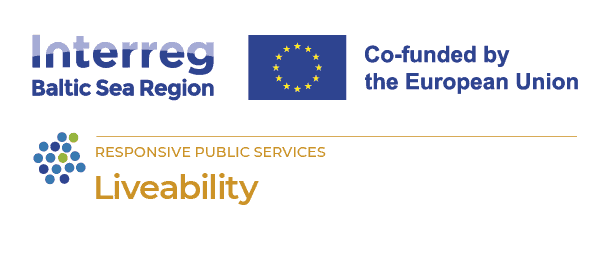 Liveability - Designing public services for resilient neighbourhoods
Liveability
Liveability design contest: Winners revealed, finalization phase begins!
16 November 2023
We are excited to announce the results of the Liveable City Label and Network Design Contest. After a thorough evaluation by our esteemed jury, we have selected designs that demonstrate creativity, innovation, and a commitment to enhancing liveability.
Winning Designs:
First Place: Izabela Miechowicz, Rozalia Michalska, Margarita Giegiel, Olga Suchorska, Ignacy Kulka

The proposal stands out with a strong base for representing Liveability. The design skilfully incorporates a playful element, adding vibrancy and dynamism to the visual identity. At its core, the logo, among many other things, symbolises the essence of a city as a crossroad or meeting place — intersecting paths, diverse opportunities, and a bustling hub of activity.
Second Place: Weronika Dziurdziewicz, Agnieszka Pastusiak, Julia Szydłowska, Sara Gdaniec, Maciej Bukowski

Soft, approachable and flexible. Small version of the logo has good potential and handwritten keywords work well in different contexts.
Third Place: Weronika Dziurdziewicz, Agnieszka Pastusiak, Julia Szydłowska, Sara Gdaniec, Maciej Bukowski

Wordplay between "live" and "love" works well with the project. This flexibility makes the use of the logo-slogan easy in different contexts.
What's Next?
While we celebrate the preliminary winners, the journey is not over. The winning designers will now collaborate with our team to finalise their designs. This phase includes refining details, addressing feedback, and ensuring that the designs align seamlessly with our objectives.
The final winning designs will be showcased prominently in early summer 2024.
Congratulations to the winners, and thank you to all participants for contributing to the success of the Liveability project, and we look forward to the exciting journey of finalising the outstanding design!
For more information and updates on the finalisation process, please visit our website and
social media platforms
.
Additional links