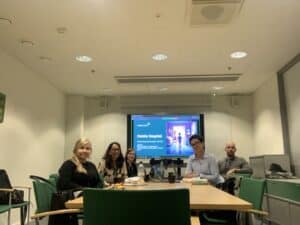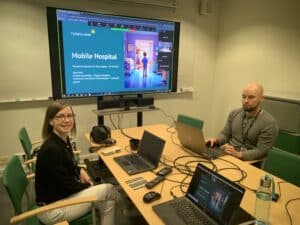 We met each others in Turku with Justyna Siemionow from University of Gdansk, Mirka Toivonen, Tiina Pelander, Tiina Rantamaa (Administrative project manager), Maarit Nurminen (controller), Jami Aho (Project Specialist),  Katja Nurminen (RN) from TUAS and Janet Mattsson from Karolinska University Hospital, Sweden.
The agenda and timetable of the meeting below.
9.00-9.30 Opening words, project manager Mirka Toivonen
– partnership – who are we?
– overview of the Mobile Hospital – what have we promised to do?
9.30-10.30 BSR Programme, controller Maarit Nurminen
– budgets: EU grant and University's own money
– financial administration procedures
– transferring the money
– reporting, timesheets
– funding rules
10.30-10.45 Coffee break
10.45-11.30 BSR Programme continue, Mirka Toivonen and Tiina Pelander
– BAMOS+
– communication and visibility
– partnership agreements of the Mobile Hospital project
11.30-12.30 Lunch
12.30-13.15  Technical solutions, Project Specialist / Digital Arts & 3D Jami Aho
13.15–14.45 Tasks and responsibilities
A1.1. Planning and creating the content of the Mobile Hospital app (Gdansk)
A1.2. Photography of hospital facilities with 360 camera (Turku, all?)
A1.3. Creating the Mobile Hospital app (Turku)
A1.4. Piloting and evaluating the Mobile Hospital App (Stockholm)
A1.5. Transferring solution (Gdansk)
14.45-15.00 Next meetings
The meeting reached an agreement on how to proceed and it was agreed that the partners would meet in a month's time to work on the agreed issues. We work together to achieve the goal of the project.