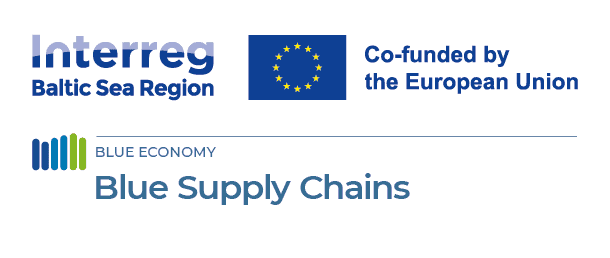 Blue Supply Chains for the Baltic Sea Region
Blue Supply Chains
INTERREG BSR project Blue Supply Chains presented at German-Swedish Ports event in Trelleborg
02 March 2023
Ports and transport service providers cooperate to make connections between Germany and Sweden even more environmentally friendly.
At the event "Intermodal transport connections - an answer to climate change" in Trelleborg, which was organised by Lübecker Hafen-Gesellschaft mbH (LHG), the Port of Trelleborg, and Port of Hamburg Marketing reg. Assoc. (HHM), experts discussed greening potentials in intermodal transport in both the North Sea and Baltic Sea Region.
As one of the speakers, Inga Gurries, Project Manager at HHM, introduced Blue Supply Chains to the audience comprising of representatives from the maritime and logistics industry. The INTERREG BSR project supports port authorities and port operators to decarbonise port operations by advancing electrification, providing alternative fuels strategies and setting up green transport chains.
Sweden and Germany are two highly developed industrialised countries with long-standing economic relations based on strong foreign trade. Germany is one of Sweden's most important trading partners and this relationship is also reflected in the large number of connections between the German and Swedish North Sea and Baltic Sea ports.
For more information please visit:
https://bit.ly/41D0uA8
Additional links