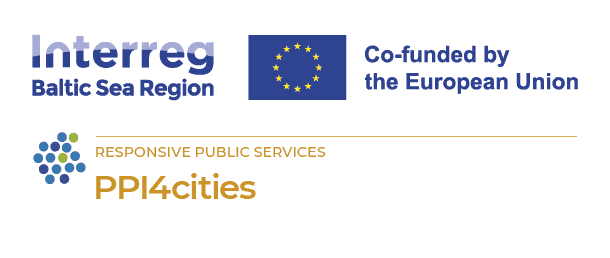 Supporting BSR cities to implement public procurement of innovation while providing practical tools created using AI technologies and gamification methods
PPI4cities
Innovative public procurement discussed in the PPI4cities meeting in Lithuania
16 April 2023
Public procurement is an important but still under-used tool that can stimulate innovation in the public sector. It may also give a spark to the design and development of innovative solutions aimed at improving the delivery of services to society.
Innovative solutions can in turn enhance the attractiveness of cities. Thus, as cities in the Baltic Sea region and around the world compete increasingly to attract the best talent, the ability of municipalities and their institutions to procure and apply innovative solutions is becoming more and more important. 
"The challenges associated with innovative public procurement are not unique to Lithuanian cities. In particular, contracting authorities across the Baltic Sea Region often face problems like the lack of appropriate knowledge and information, shortages in human resources, or scarcity of ideas on how and what can be procured innovatively. It is precisely these challenges that we are trying to contribute to solving through the international initiative PPI4cities," says Justė Rakštytė-Hoimian, Project Manager of the Lithuanian Innovation Centre. 
The team of partners behind the international initiative, which met in Lithuania on 12-13 April this year, not only discussed the subtleties of the jointly developed solution but also got to know the best practices of Lithuania's innovative public procurement. Guests from Germany, Denmark, Finland, Estonia, and Latvia visited not only Vilnius but also Panevėžys. The Mayor of Panevėžys, Rytis Mykolas Račkauskas, welcomed the participants and wished the PPI4cities team to return from Panevėžys not only having learned about the best practices but also having gained ideas for new actions. 
"I am glad that we have several good examples of innovative public procurement worthy of international attention in Panevėžys. Of course, by implementing the PPI4cities project we will not only share experiences but also gain knowledge, and together with the team we will develop a digital platform to help municipalities in the procurement process in the region. I am convinced that over the next three years, we will create real value for the Panevėžys region and the contracting organizations operating here and that innovative solutions will make the city an even more attractive place to work and live," – commented Monika Miniotaitė, Director of Panevėžys NOW, Panevėžys Development Agency. 
The international initiative PPI4cities is implemented by a team of partners from six Baltic Sea Region countries.
Additional links