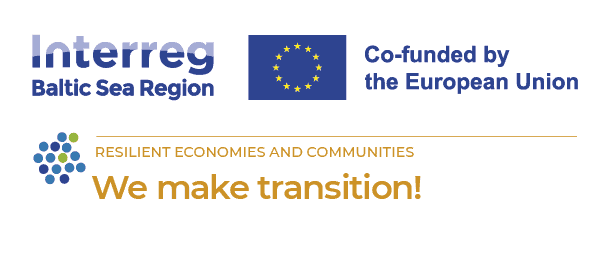 Towards sustainable and resilient societies through empowered civil society and collaborative innovation
We make transition!
Gdynia discussion on sustainable consumption encouraged to take action: "Be brave, become a leader"
31 October 2023
A thematic discussion on sustainable consumption was organized in Gdynia, Poland in September 2023. Business owners, activists, city employees, and NGO representatives participated in the discussion.


Participants of the second focus group in Gdynia discussed the topic of sustainability in our daily life: good practices and shopping choices, possibilities, and threats that society has when it comes to reducing food waste and upcycling.

Education was seen important: "It works at the grassroots, from the very beginning, at home, and in our neighborhood, whenever we have the opportunity."

Moreover, participants highlighted the need for more consciousness in society regarding the carbon and water footprint. The need to get out of the bubble of people already aware and reaching out to the rest was very vibrant during the meeting: "How do we persuade people it is actually worth it?"

The most popular answer to this was by showing them a good example, by talking to them in terms they can see, like the economic aspect, which – in times of inflation – seems to be working the most. Participants also named some initiatives that they wished were more popular, like upcycling stations and more restaurants available in food waste-reducing apps, but first and foremost, a map or a list of sustainable-friendly places they could shop, learn, and spend time in. It was also pointed out that there's not enough support from the city, and not in terms of funds, but recommending and advertising existing places.

Participants brought up their concern about how sustainability is perceived - it is said to be expensive, a temporary trend, inconvenient, and troublesome. Another issue brought up in the discussion, was the lack of communication and feeling of responsibility among citizens and decision-makers, who should encourage such actions. A wrong approach, with punishments instead of a rewards system, can also turn people away from the sustainable approach.

However, there was loads of hope and energy among the participants – they suggested many great ideas to improve the situation. They, as initiators starting "the revolution" by reaching out to the city as eco-initiatives wanting to be seen, through networking together with other activists and businesses, recommending their services and products, and finishing with small changes that we, as individuals, could and should do:

"Start in your neighborhood, help your neighbors sort trash, talk to them, teach a few people new things, be persistent, be brave, become a leader."
Additional links