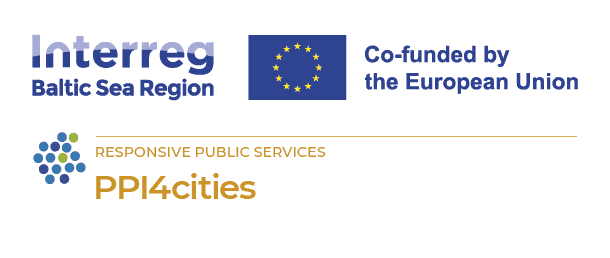 Supporting BSR cities to implement public procurement of innovation while providing practical tools created using AI technologies and gamification methods
PPI4cities
Facilitating Innovation Procurement: Insights from PPI4cities Partner Meeting in Rostock
17 October 2023
The topic of enhancing effective communication among professionals engaged in the field of public procurement of innovation within the Baltic Sea Region took center stage during a partner meeting of the international initiative PPI4cities.
This gathering, which convened on October 10-11, was set in Rostock, the largest coastal city of East Germany, and primarily revolved around the development of the PPI4cities platform. The platform's overarching objective is to foster connections among various stakeholders involved in the public procurement of innovation around the Baltic Sea Region and beyond.
Pascal Dumont du Voitel, Senior Project Manager at BME, the German Association for Procurement, Supply Chain and Logistics and the host of the meeting, stressed the significance of the PPI4cities consortium and the platform it aspires to establish: "In our eyes, one part of the PPI4cities platform will act like an umbrella repository for experiences and best practices hailing from different countries in the region. Given the diversity of backgrounds within this consortium, finding common ground presents its challenges. Hence, the regular assembly and discussion of solutions, as well as the introduction of fresh perspectives, are deemed of paramount importance".
Over the course of their two-day meeting in Germany, project partners representing various organizations not only delved into the intricacies of public procurement of innovation competence centers in Germany but also widened their understanding of the forthcoming platform.
Olaf Holzgrefe, Head of International Affairs at BME, underscored the multifaceted nature of public procurement of innovation, encompassing a multitude of stakeholders, both within purchasing institutions and beyond: "Public procurement of innovation is a complex procedure. One has to not only be aware of the relevant regulations but also gather critical support among stakeholders and decision-makers to carry out the PPI process successfully. Mobilizing these soft resources behind the decision to purchase innovation can be as expensive as the innovative solution itself. Making this strategic process easier is one of the key goals behind what we are doing at PPI4cities"
The collaborative pursuit of advancing public procurement of innovation and its related communication within the Baltic Sea Region demonstrates the shared commitment of professionals and organizations involved. Follow the latest news in PPI4cities and get to know more about the platform, which will start its operation in 2024.
Additional links