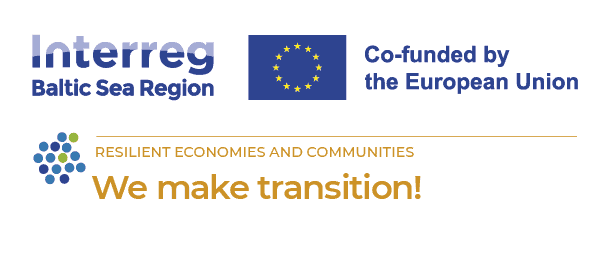 Towards sustainable and resilient societies through empowered civil society and collaborative innovation
We make transition!
Civil society actors in Namdalen, Norway prioritized social inclusion, circular economy, and social entrepreneurship
08 October 2023
Two focus group discussions were organised in Namdalen, Trøndelag region, Norway as a part of the We Make Transition! -project. Civil society actors representing varying levels of organizations came together around the table to discuss social sustainability.
In recent years, Namdalen (Overhalla&Namsos municipalities) has faced the challenges of significant low employment among minority groups, increasing mental health problems among young people in Namsos and negative trend in physical activity among the elderly leading to health problems and indicating lack of social network. Therefore, social inclusion, circular economy and social entrepreneurship were highly prioritized in the focus groups discussions.
In addition, the focus group discussions touched upon other crucial elements of social sustainability, for example, recycling, reuse and people's environmental behaviour, social entrepreneurship, language and employment challenges of immigrant groups, youth engagement to promote environment friendly attitude, inclusion of older immigrants, immigrant women and families of work immigrants.
Discussions around
social inclusion
emphasized the need of projects to minimise social exclusion, which would consider different groups in need (i.e., youth, elderly, immigrants, and disabled).  A possible project could be a meeting place for people with a focus on outside activities in nature. It could also be an open garage and café or an open kitchen. Even though several projects are ongoing to address social exclusion, it is important to bring those actors together under one umbrella, so it could meet the need of wide range of groups at the same time (for example, senior café for elders, as well as summer camp for teenagers). The participants agreed that these projects are promising, but they are very short termed because of their dependency on available economic support.  Therefore, it could be wise to start these projects with
social entrepreneurship
in mind, so it could start with external funding but could generate money in the long run. For example, a workshop where people can repair clothes or furniture. A café could also be a part of it. That would provide a meeting place for people as well as opportunities for small scale business contributing to
circular economy
.
The discussions showed that there is already ambition among the participants. The goals can be achieved by working further together and by bringing right people together. These ideas will be further developed in the local transition arena workshop process.
"To remember that we are one world, it is important to look at the common goals and to cooperate. Remembering the same values and attitudes, communicating what is found important and not let the economic factors decide everything."
For further information:
Lilian Strand,
lilst@trondelagfylke.no
Additional links