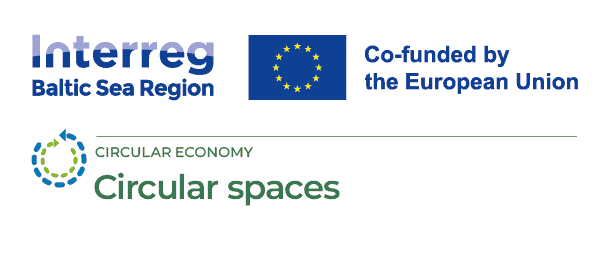 Circular Economy makerspace
Circular spaces
Circular spaces kicks off in Ventspils, Latvia
17 August 2023
Circular spaces partners met up in Ventspils, Latvia from 14th to 15th August to commence the start of the project. During the two-day meeting partners participated in various workshops that were organized and run by partners, visited Ventspils maker space RADE and company Azeron.
Valmiera County council organized a workshop 'Improving physical makerspaces'. This is one of the main objectives of the project, that is why workshop included talking about a guideline which would contain description of 'What is circular economy and its importance in the Baltic Sea Region (BSR)', 'What are circular makerspaces and their role in the business environment in the BSR', 'How to develop circular makerspace step by step'. The guideline will also cover practical tools like templates, a checklist 'Must have things to in being circular makerspace', a roadmap for transforming makerspaces into circular makerspaces and a check-list 'Focus group discussion with target group: format, technical needs, main question etc'. 
Lithuanian Innovation Centre hosted a workshop 'Circular makerspace education programme' - also an important goal of the project. This education programme will provide training which includes - description of circular economy and its stakeholders, use and reuse of materials, decrease of waste and practical examples and workshops. 
Meeting hosts Foundation 'Ventspils High Technology Park' held a workshop 'Digital circular collaboration tool' which is, too, a key objective of the project. This digital tool will include such functionality as users (makers, suppliers), forum for stakeholders in circular economy (tips and advises from other users of the tool), digital guidelines and marketplace of products and supplies.
Meeting concluded with deciding on the next steps on implementing the project, and specific tasks for each partner.
The meeting was a success in various aspects as it was a chance for all project partners to meet in person and foster trust-based relationships between members. These relationships will be a good basis for successfully managing the future progress of the project.
Additional links