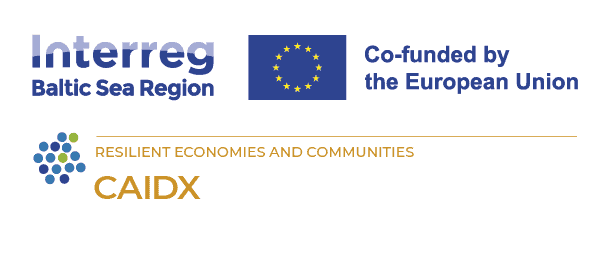 Clinical Artificial Intelligence-based Diagnostics
CAIDX
CAIDX: Navigating Challenges in Development and Implementation of AI Solutions for Clinical Diagnostics
23 October 2023
It is not hard to realize that AI is developing at high speed and aiming to be part of one of the most challenged areas in society: healthcare. Despite an increase in life expectancies, critical issues regarding lack of healthcare workforce, cost of treatments and long waiting list are hitting the healthcare systems and hence the patients.

With the increasing number of sources of health data and electronic patient journal, the maturity of AI can reach unprecedented impact through its various applications. By leveraging from the increased access to data, the use of AI can become a safe and feasible reality for Europe through CAIDX. However, are we prepared for this?

"Several questions arise when thinking of a future scenario where AI takes a more significant role, especially as a decision support tool in the field of diagnostics and prediction models," contemplates Monica Recabarren, Project Leader of the Interreg Baltic Sea Region project CAIDX.

"For instance, can we build resilient healthcare systems, well equipped for the imminent landing of AI solutions at the hospitals? What is needed from the different stakeholders or from the end-users? What are the necessary elements for a sound implementation of an AI-based solution? How to make end-users and AI developers talk a common language and make AI more understandable," Recabarren continues.

These challenges have inspired the CAIDX consortium to unite forces and expertise to work together and gather comprehensive information from those already encountering difficulties and those that are willing to share best practices and successful stories in their path within the AI realm.

"Using this valuable information, we plan to create a set of freely available tools to support hospitals and AI developers (companies) in the must needed collaborative environment towards uplifting the use of AI in clinical diagnostic," explains Recabarren.

CAIDX goals and mission

By setting deep focus on the challenges in contracting and other legal documents, best practices in development and implementation of AI, and the need for diligent data infrastructures among other topics, project partners will get inspiration and knowledge to draw the content of the CAIDX toolbox.

CAIDX's main products will, therefore, be shaped as models, guidelines, check list, best practices, and training activities, all geared towards facilitating that a healthcare institution and their industrial collaborators (SMEs) can set up an AI solution.

"The tools should be answering needs from projects at a very early stage as well as others close or within the implementation phase," points out Recabarren.

The partnership

The CAIDX consortium consists of 13 organizations from Denmark, Estonia, Finland, Germany, Poland and Sweden, regional countries from the Baltic Sea Region.

The hospitals are bringing knowledge and expertise about ways AI should respond to the clinical challenges. Business support organizations and universities are complementing the partnership and bringing in strong competences in working together with companies and AI research, respectively.

The project implementation

CAIDX project runs for 3 years. The first year encompasses preparatory activities and collection of comprehensive knowledge and understanding of the role(s) of different stakeholders in AI in healthcare.

"Through a series of interviews to experts, specifically but not limited to stakeholders targeting the diagnostic field, we will get an understanding of their influence, accountability, and decision-making power, as well as how they interplay to give rise to an AI project," tells Recabarren.

"We have identified that these stakeholders are spread in different organizations and are part of different infrastructures with various levels of inter-dependency. We will set focus on the models that hospitals and the industrial ecosystem serving AI solutions are currently using to set up collaboration between them and we will investigate other tools to accelerate AI in healthcare."

During the 2nd year project partners will actively subject the drafted tools to a process of piloting and the corresponding evaluation to fine- tune their features.

"The latter is key to validate that CAIDX's end users will be satisfied with the tools and that the tools respond to the biggest setbacks and difficulties, while acknowledging new and smart ways to tackle barriers," Recabarren continues.

The 3rd and last year will consist of communication and dissemination of the project results and training activities to transfer the CAIDX tools to the target groups. A road show to set interest and ensure that end user get familiar with CAIDX and its facilitating purposes is also part of the plan.

At present, CAIDX project partners are conducting interviews to different stakeholders and will soon get the insights and conclusions from this process.

"Nevertheless, we look forward to finding projects willing to participate in our implementation process at other different levels," encourages Recabarren. "If you think that your AI project could be taken as a use case either to participate in the interview phase, the piloting phase, or as a source of good practices and pitfalls, please contact us to share with you more details of our working plan."

Recabarren points out, that the CAIDX project also welcomes everyone interested in sharing their experience after working with AI at different stages of technical or clinical development, to share insights on the path towards project maturation, including regulatory challenges.



CAIDX project (acronym for Clinical Artificial Intelligence based Diagnostics) is co-funded under the EU's Interreg Baltic Sea Region programme.
Additional links