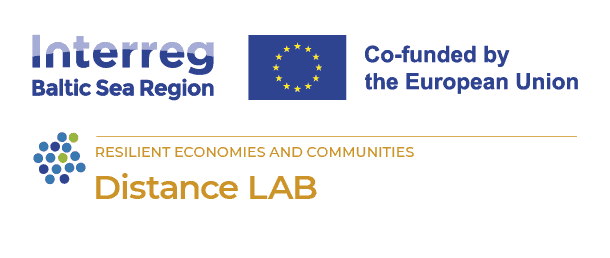 Distance LAB – remote service hub for SME's and public sector
Distance LAB
Bridging distances to create opportunities
04 October 2023
Remote work is becoming increasingly pervasive and requires organisations to develop new ways of collaborating. The objective of a recent international project is to establish a versatile hub that bridges the gap between remote working skills and future-oriented solutions.
Text Joonas Ranta and Leena Toivanen

The workweek kicks off in the editorial office with a summery vibe. Icons and participant names populate the meeting view on the remote work app, and soon, video connections are established, giving way to conversations.



This scenario is familiar to many, often invoking thoughts of platforms like Teams or similar services with their characteristic icons, windows and features. Unprecedented times have catapulted remote work's integration into society and the global economy at an extraordinary pace.



However, video calls, although pivotal, represent just a fragment of the megatrend when work is untethered from physical locations. Engaging individuals, sharing ideas, participating in sparring sessions and sales launches, giving and receiving support to enhance personal well-being and improving social interaction skills all demand a paradigm shift.



Different organisations face distinct challenges. A global IT corporation, a restaurant, a healthcare centre and a Nordic municipality all have differing objectives and pain points. Developing an innovative, collaborative approach that offers fresh strategies and new services has become imperative in order to ensure businesses, individuals and communities prosper.





Remote work offers universal benefits

In the years marked by the pandemic, companies and communities were compelled to find novel ways to communicate internally. At the same time, climate concerns and the energy crisis embedded values associated with sustainable remote work in many operators' strategies. Nevertheless, many organisations still have a long way to go.



– There is no shortage of applications and devices for remote work. However, leveraging them effectively presents its own challenge, says project manager Leena Toivanen from Centria University of Applied Sciences.



Toivanen spearheads Finland's involvement in the international DistanceLAB project funded by Interreg Baltic Sea Region, focusing on fostering smart remote work skills and business development services for both the public and private sectors. The project, commencing this year, culminates in a hub designed for organisations, particularly concentrated on the Baltic Sea region.



For companies, this hub holds the potential to expand global business prospects, furnishing models to convert location-dependent operations into thriving remote services.



However, DistanceLAB extends beyond corporate business operations. The project promises universal benefits by addressing and improving the efficacy of remote work.



–  Finland desperately needs talent. By tapping into neighbouring and even more distant countries, the project acknowledges that success requires more than just tools – it demands the cultivation of soft, people-centric skills within organisations, Toivanen continues.





Attracting talent across borders

DistanceLAB functions as the central hub of a multifaceted network. Each participating country establishes its own living innovation laboratory within the project framework. The tools and methodologies to be developed fall into three categories: communication and innovation, responsibility, and remote business.



Daniela Gundersen, project manager in Norway's Møre and Romsdal county and an active participant in DistanceLAB, highlights the introduction of novel pilot projects within her municipality. Given its distance from other Norwegian population centres, improving remote work is absolutely essential.



– Our county's population is ageing rapidly. The expansion of remote work opens doors to invaluable opportunities and ideas. Engaging in municipal-level recruitment, even on an international scale, is crucial. We're also proactively soliciting input from companies to discern their specific needs and operational essentials, underscores Gundersen.



Irma Bagdoniene, a project specialist at Kaunas' Tech Park in Lithuania, underscores the role of collaboration in accelerating innovation.



– Our role as a business incubator extends to operators across the Baltic region. Our aim lies in advising and assisting companies with suitable remote technology, says Bagdoniene.



– It would be impossible for us to find all of the talent we need solely in Lithuania or the Baltics. The Hub enables us to locate the right individuals and further expedite innovation. In addition, we are reassessing the future of various networking events within our industry, Bagdoniene continues.



As a concrete example, Centria University of Applied Sciences has created a mobile application as part of the project that gauges atmosphere and well-being within an organisation's remote work programme. These innovations simultaneously serve as a magnet for international talent.



After gathering the needs of the organisations, DistanceLAB will begin testing and further developing the concepts together with representatives from the respective target groups. By 2025, an open online hub will be created to provide services for all organisations.



Moreover, the journey of remote work will not end with the launch of the hub. Instead, it will solidify its position as an increasingly central aspect of life for all of us. It also offers tremendous opportunities for an even more creative and sustainable future.