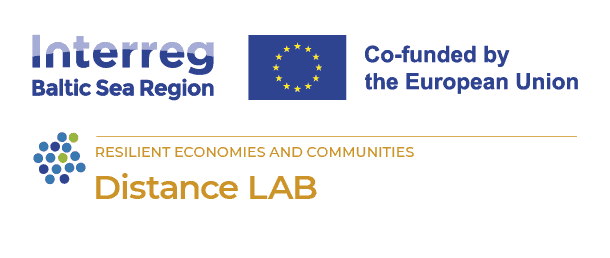 Distance LAB – remote service hub for SME's and public sector
Distance LAB
Associated partners ensure variety of viewpoints and voice from the regions
27 June 2023
The DistanceLab associated partners widely represent different geographical areas from Norway in the West, to border regions of Finland in the East, Southern Poland being the southernmost region repsesented.
The partners are lively industrial towns, smaller municipalities, internationally cooperating foundations, regionally operating business development agencies and representatives of higher education. The common aim of the associated partners is to provide competitive advantages for their stakeholders and regions within their own expertise.

The associated partners react to different changes in the market. They want to provide new opportunities and development potential to the municipalities, businesses, and citizens as well as draw in new operators to their area. This is where the DistanceLab project comes in with prospects of finding new networking opportunities, new remote work tools, and strategy development tools. The project working groups are aiming to provide tools that can be useful and adjusted to the Baltic Sea region's local and regional strategies giving new ways to implement them.

The project consortium has reached out to the local partners together with a welcoming letter and surveys, and the local partners have contacted their local associated partners more closely for preparing the pilot activities. In the autumn there will be more information, events and sharing expertise with the associated partners. The project is aiming to develop distance work tools that are genuinely raised from the needs of the regions and developed together.