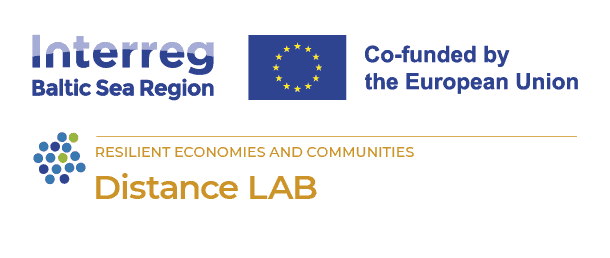 Distance LAB – remote service hub for SME's and public sector
Distance LAB
Digital safety
20 September 2023
Taking advantage of the digital and remote business environment requires the companies, and their customers and networks, to be ready to take their services online. Even a traditional business can bring their customer relationships, marketing, accounting and brand to the digital world.
As the world has rapidly changed to remote in work habits, it is now time to change the business activities to remote as well.
The key challenge in using the remote environment to our advantage is the right digital competences. We can all read and learn endlessly about the latest digital innovations and get overwhelmed by the opportunities. When we can combine the business expertise with the right digital tools, we can open doors we didn't even know existed. Modern digital competence includes the 3 main skills:


Recognizing the digital tools relevant for you and your business
Using your time and resources to make digitalization work for your business, not the other way around.


Having the right network with you, including the customer segments that are comfortable with the digital world
Long-term, offline customer base is just as valuable as the ones you can reach over the web. If you digitalize sections of business that involve your customers, take a moment to prepare the customer to be able to follow you through the change. Of course, you can find and reach brand new customer segments that are already waiting for you online!


Creating a digital safe place – for you and your customers and networks
Being able to communicate online in both cyber and psychologically safe space is the first building block of going remote. Safety means that the cyber security systems are in place to protect the people, discussions, ideas and even innovations shared online. Safety is also the personal feeling of openness in front of people watching you over the screens. We lose some of the micro expressions of encouragement over virtual connections, but we also gain the networks we would never have without the online tools.


DistanceLAB provides companies and organizations with tools that help to make the leap into digital business, in parts suitable for each individual user. Remote business environment provides a new, international business landscape with sustainability and innovation carried throughout the process.
Increasing Cybersecurity and empowerment in the digital environment in Europe (available at: https://youtu.be/DCdYKIIC-4M) -webinar brought up the question of future challenges we need to solve in EU. Digital competence building has been on the limelight for years, but the challenge remains as long as digitalization takes leaps and bounces forward (which won't end any time soon!). The next step of digital competence is data literacy; how can we recognize, read, analyze and utilize the data that's being produced in digital business activities. EU's data regulations are laying the groundwork but it's up to us to make the data work for us. Maybe that's the next relevant digital skill in your business?
By Leena Toivanen, project manager
Additional links