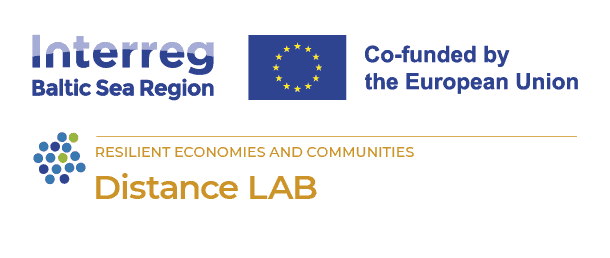 Distance LAB – remote service hub for SME's and public sector
Distance LAB
Remote learning opportunities and skills fulfillment
04 September 2023
The idea is to offer micro, small, and medium-sized enterprises a chance to improve their skills in digital tools and technologies.
Firstly, online learning courses/webinars will be made available in cooperation with University of Latvia (UL) Microsoft Innovation Centre (MIC) and Latvian Information and Communication Technology Association (LICTA) supported by the Microsoft (MS) and based on the information from MS Learn platform to learn about various digital tools such as MS Power BI, Python and explore Artificial Intelligence (AI) opportunities.
Secondly, possibility of using MS Learning Platform will be explored and, if possible, other learning opportunities will be provided.
Thirdly, information about the business development programs that MS offers for start-ups and SMEs, such as MS Founders' Hub (for start-ups) and Partner Ecosystems Activated (for SMEs) will be offered.
Fourthly, additional learning opportunities offered by Coursera and other online platforms will be anlysed and useful information for SMEs will be offered.
Online courses aimed at digital skills improvement are becoming more popular and valued by entrepreneurs. Basic digital skills are a necessity for companies to be competitive in the market, and now even more advanced skills in digital tools are required to be successful. The benefits of learning how to use digital tools, such as Power BI and Python:


Increased effectiveness of data analysis and visualization;


Innovative solution to a problem;


Data-driven decision making;


Task automatization;


Resource optimization;


What is the intended profile of the participating organisations?
Micro, small and medium-sized enterprises, which want to use digital tools and technologies to enhance their operations, as well as people from the Baltic Sea region who want to improve their skills for personal development.
What do you get?


Access to online learning materials about digital tools - video lectures, practicing files, lecture slides.


Access to free of charge online webinars and courses.


Description and links to MS offered programmes for Start-ups and SMEs.


Information and links to other learning opportunities offered by different online platforms.


The courses are planned to range from beginner to intermediate level. Anyone can join beginner level courses, but it is advised to have at least a basic knowledge for intermediate level courses.
Participants should be eager to learn and allocate some time to go through video lectures and practice skills.
Additional links