8 February 2022
New funding:
open calls for project applications
Starting on 8 February 2022, we officially open new calls for project applications in all four Programme priorities to shape the future of the Baltic Sea region. These are the first calls in the Interreg Baltic Sea Region 2021-2027 Programme.
Small and core projects
We invite the applicants to develop and submit applications for small projects and core projects in the thematic priorities of Innovative societies, Water-smart societies and Climate-neutral societies. The process is organised in a one-step application procedure. However, the applicants need to submit their Project Idea Forms before applying with a full application. For small projects, the deadline for submitting the Project Idea Form is 9 March 2022, whereas for the core projects – 15 March 2022. Based on your Project Idea Form, you can request a tailored individual consultation. We are looking forward to receiving your full applications for small projects not later than 30 March and, for core projects – 26 April 2022.
More information about the types of projects, application process, guidance, documents for download and timelines you will find in the gateway for applicants.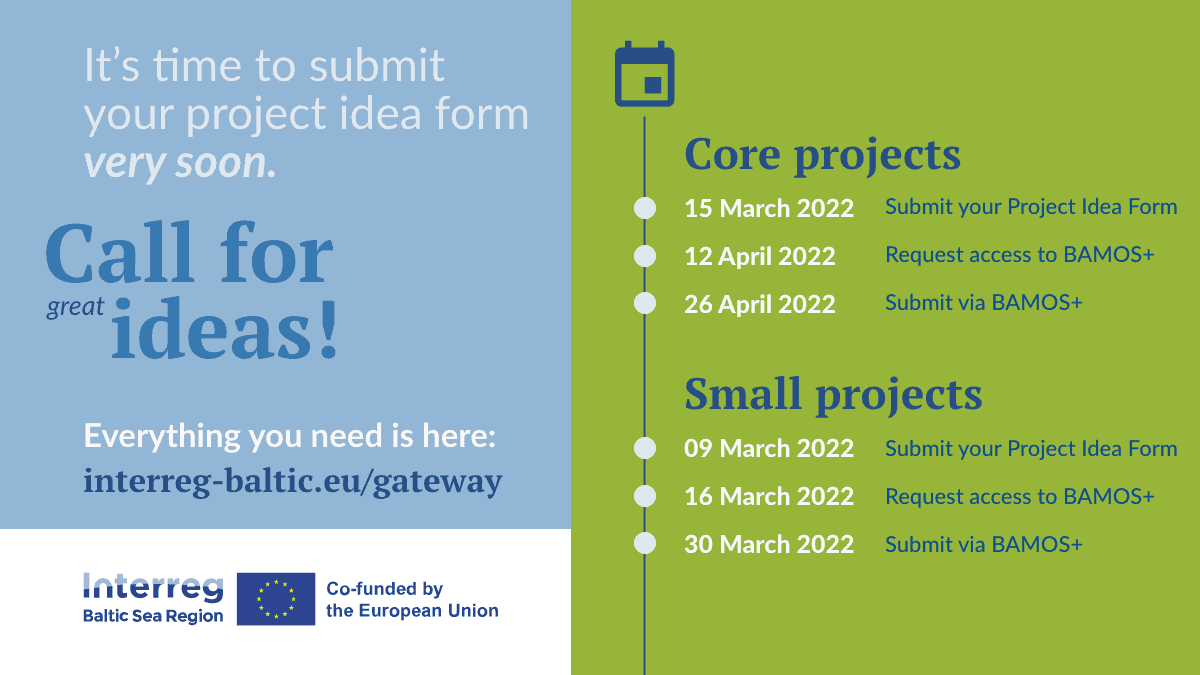 Governance cooperation
One of the Programme priorities is about supporting macro-regional governance, in particular, to the EU Strategy for the Baltic Sea Region. We open a targeted call to support the policy area coordinators of the EU Strategy in their work in implementing the Action Plan of the Strategy. In addition, we open a call to support the new Baltic Sea Strategy point (BSP). For more information about these targeted calls, go here.
On November 30, the Estonian Ministry of Economic Affairs and Communications hosted the third Real-Time Economy Conference in Tallinn, bringing...
read more