Webinar: core projects - core changes for the region
Virtual event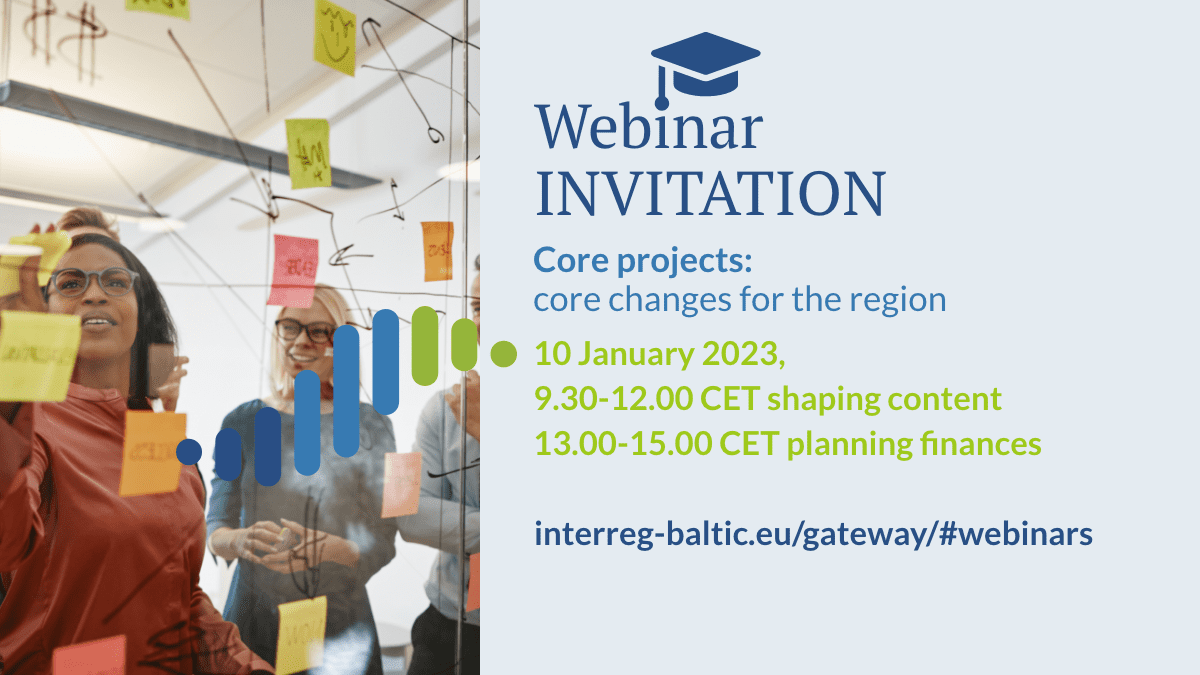 Date & Time

10. January 2023
09:30 - 15:00 (CET)

Organiser

Interreg Baltic Sea Region

Venue

Contact
Detail
Are you looking to develop your project idea into a practical solution to help others solve the region's most pressing challenges?
At our webinar, we will help you to turn your idea into a good quality core project. We will focus on defining the challenge for your core project, building your partnership, creating a work plan and setting indicators. You will learn about the budget eligibility rules and the use of simplified cost options. We will provide you with answers to your financial, administrative and content questions.
Register for our webinar, which will take place on 10 January 2023, 9.30-15.00 CET.
The webinar will be divided into two sessions:
9.30-12.00 Shaping content
13.00-15.00 Planning finances
When registering please indicate in which session(s) you will participate.
Deadline for registrations: 09 January 2023 (end of the day)
Events
Upcoming events
Monitoring Committee meeting
Virtual Meeting
29. November 2022
09:00 - 13:15 (CET)
29 Nov 2022
Monitoring Committee meeting
0
2022-11-29
2022-11-29
09:00:00
13:15:59
||
|program|
Webinar: small projects - small steps for a big change
Virtual Meeting
07. December 2022
09:30 - 15:00 (CET)
07 Dec 2022
Webinar: small projects - small steps for a big change
0
2022-12-07
2022-12-07
09:30:00
15:00:59
||
|program|
Webinar on reporting for the EUSBSR policy area coordinators
Virtual Meeting
15. December 2022
10:00 - 12:00 (CET)
15 Dec 2022
Webinar on reporting for the EUSBSR policy area coordinators
A webinar for the policy area coordinators of the EUSBSR about reporting
0
2022-12-15
2022-12-15
10:00:00
12:00:59
||
|program|
Past events
Webinar: Core projects - core changes for the region
Virtual Meeting
23. November 2022
09:30 - 15:00 (CET)
23 Nov 2022
Webinar: Core projects - core changes for the region
0
2022-11-23
2022-11-23
09:30:00
15:00:59
||
|program|
Information seminar for Polish applicants
Virtual Meeting
17. November 2022
10:00 - 14:00 (CET)
17 Nov 2022
Information seminar for Polish applicants
Information seminar for Polish applicants: second call for project applications
0
2022-11-17
2022-11-17
10:00:00
14:00:59
||
|program|