Water driven rural development in the Baltic Sea Region
WATERDRIVE
PROGRAMME 2014-2020
priority
2 Natural resources
objective
2.1 Clear waters
WATERDRIVE
The WATERDRIVE project helped local municipalities, farmers and advisories manage water in agricultural landscapes and suggested ways forward to national authorities on how to pursue a strategic water governance vision.
Project summary

Risks in water
The water and natural ecosystems in the Baltic Sea region are negatively affected by high nutrient loadings, eutrophication, drought and flooding. Targets for water quality set by national and international legislation such as the Water Framework Directive have not been met yet in many regions around the Baltic Sea. Local authorities lacked the capacity to reach these targets and at the same time to support competitive rural businesses. They needed knowledge of how to establish innovative cross-sectoral cooperation with farming communities, agricultural advisory services, and other water- and land managers on the topics of high ecosystem productivity, resource-efficient growth and risk management.
New tools for clearer waters needed
WATERDRIVE addressed the lack of innovative digital technologies and methods for "doing the right thing at the right place". The project worked on adapting policies and financing for managing water on a landscape level, and introducing a capacity-building programme for smart water management in agricultural landscapes of the Baltic Sea region. The project combined the efforts to reduce nutrient loading with managing risks related to flooding and drought. These phenomena were increasingly difficult for food producers to cope with on their own. The project worked on methods to increase water availability in the agricultural landscape.
Budgets
WATERDRIVE
in numbers
3.15

Million

Total

2.13

Million

Erdf

0.37

Million

Eni + Russia

0.00

Million

Norway
Achievements
Local cross-sector joint action for solving complex water management and other sustainability challenges
The project explored a more holistic and integrated win-win approach to agriculture and the environment. The partners set up nine case areas to study multi-actor water management engagement based on focus group meetings between landowners, local municipalities, government agencies, advisory services, catchment officers and private companies. These case areas were: Kutno county in Poland, Zuvintas reserve and agriculture case area in Lithuania, Gurjevsk, Kaliningrad region and Ljuga River, Leningrad region in Russia, Jelgava in Latvia, Pöltsamaa in Estonia, Southern Finland drainage, Västervik in Sweden, and Odense in Denmark. The partners concluded that such local cross-sector joint action was an excellent method for solving complex issues concerning water management and other sustainability challenges in parallel. Of special interest was that Denmark, having implemented a tough general legislative control programme for water management in agricultural areas, was shifting to support voluntary local cross-sector joint action. Poland introduced the concept of local water management partnerships and water advisors. The partners highlighted that additional support to local cross-sector joint action was needed. They also stated that the operational mode of local cross-sector joint action needed to be adapted to each country and local conditions.
Agri-environment measures – multiple benefits
The partners identified solutions that combined benefits for water, climate, drought, food security and rural development: twelve different agri-environment measures, like buffer zones along waters, constructed wetlands or controlled drainage. The partners also checked how these measures were complementary to each other. The landscape perspective becomes key in water management as each measure may have a limited effect, but together they make a difference. Besides the effects on nutrient and water retention, many measures also have other eco-system benefits such as the increased potential for biodiversity on land and in waters, for example by the establishment of more surface waters. On the other hand, the same measure could have negative side-effects, for example, increased emissions of greenhouse gases.
Stronger integration of policies needed
The partners concluded that a strategic water governance vision at the systems level was lacking. Both on the national and Baltic Sea Region levels, such vision and dialogue were needed to integrate climate development and water policies with agricultural and rural policies. The partners suggested that governments initiated inter-ministerial commissions for water- and food security in a changing climate. There was also a need to re-think water management as part of adaptation to climate change. The partners suggested that governments identified sensitive climate- and water priority areas and develop and test innovative pilot projects as part of the National Strategic Plans on the Common Agricultural Policy.
Outputs
Holistic water management for landscape and field level action
The report presents the main finding that local cross-sector joint action is an excellent method for solving complex issues concerning water management and other sustainability challenges in parallel. It targets policy and decision-makers across the Baltic Sea dealing with water management, rural development and agriculture. It identifies five key areas: 1. Increased support to local cross-sector joint action 2. Policies for holistic water management solutions 3. Strengthened leadership 4. Attention to motivational factors – financing 5. Development of new support services.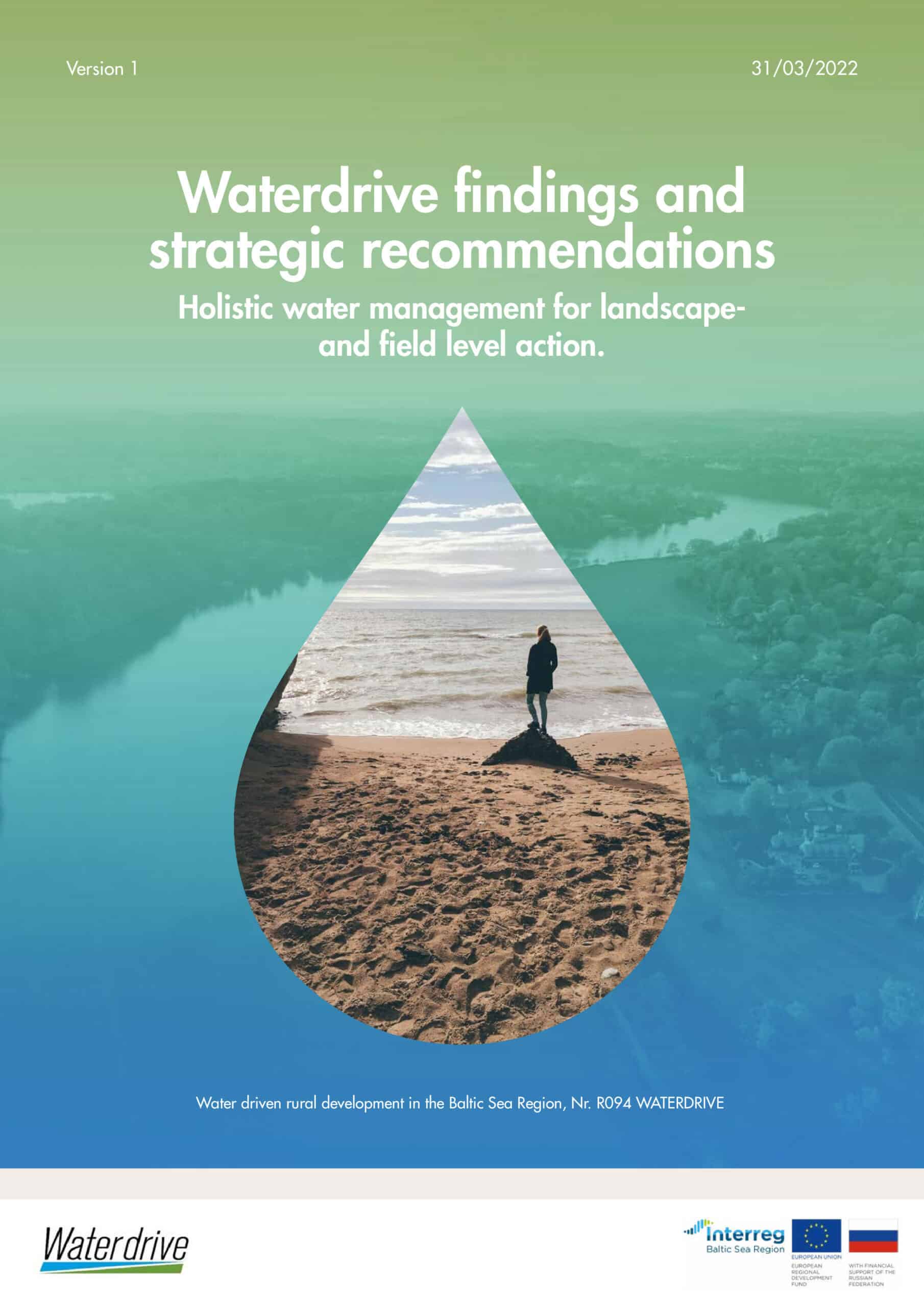 National strategic pathways for sustainable water management in the agricultural landscape
The National Pathways are proposals for governments and actors to work with key processes and actions to strengthen water management. The Pathways have a systemic character and fill observed gaps in the present national governance structures. They were triggered by the observation of differences between countries and opportunities to act.
Catalogue of measures: agri-environmental measures around the Baltic Sea
This web-based catalogue includes agri-environmental measures covering various scales: field, field-to-stream, stream and the whole catchment. It is useful for local agricultural advisory services, designers and contractors of agricultural drainage systems, water advisors, and catchment officers. It provides information on the functionality and effectiveness of agri-environmental measures primarily for water and nutrient retention but also related to other aspects such as biodiversity, production and climate.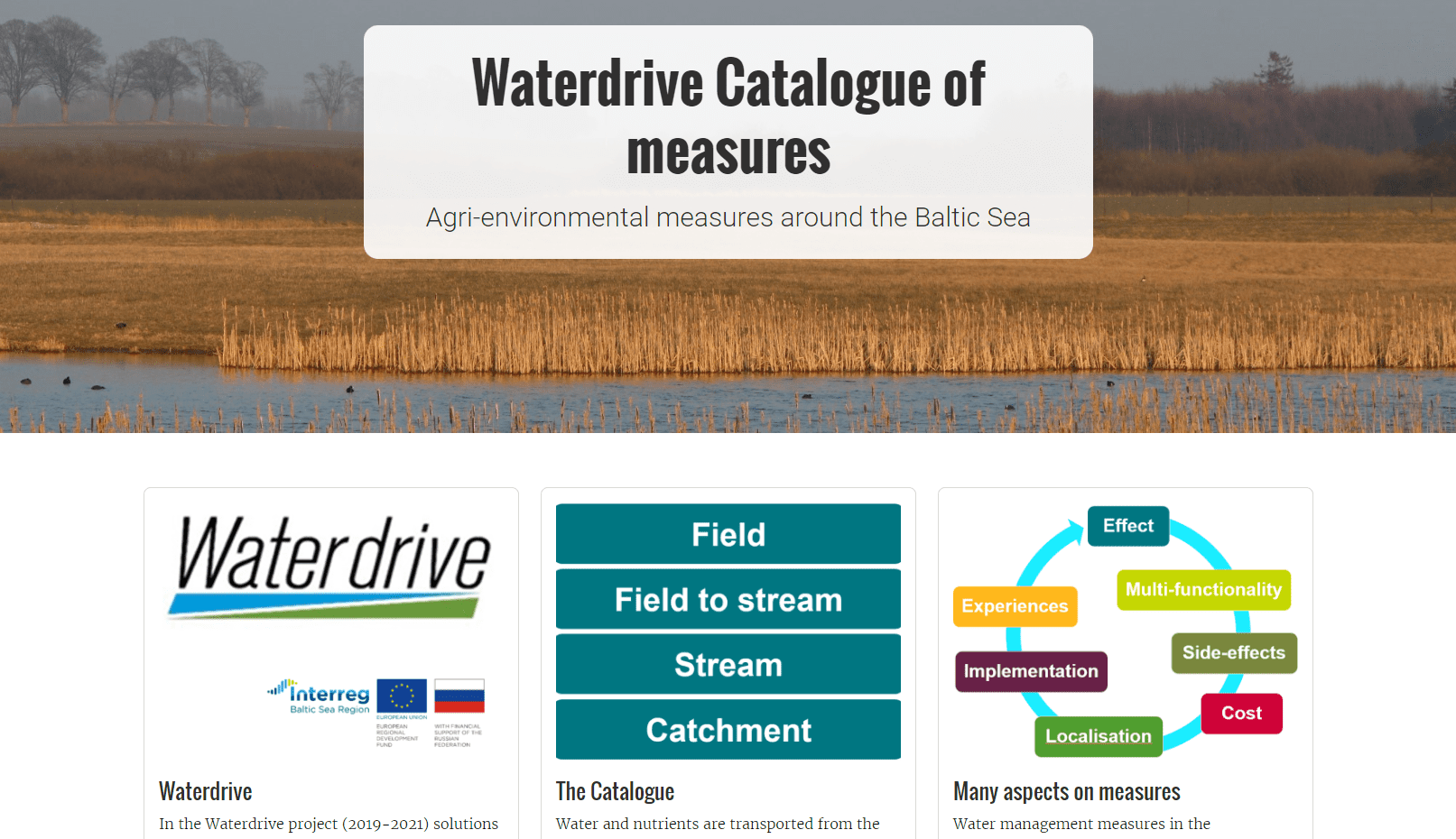 Partners
Swedish University of Agricultural Sciences
South Baltic Water District Authority/Kalmar County Administrative Board
Swedish Board of Agriculture
Västervik Municipality
Baltic Environmental Forum Lithuania
Natural Resources Institute Finland
Finnish Environment Institute
SUCCEEDED by PP23 (01.10.2020) ProAgria Southern Finland
Finnish Field Drainage Association
Stockholm Environment Institute Tallinn Centre
Jelgava Local Municipality
Latvia University of Life Sciences and Technologies
Union Farmers' Parliament
Agricultural Advisory Service in Brwinow
European Regional Centre for Ecohydrology
PhenoHorizon OLP SP. zO.O.
WITHDRAWAL (31/12/2020) Agency for Agriculture, Environment and Rural Affairs of the German Federal State Schleswig Holstein
L&F SEGES
Baltic Sea Action Group (BSAG)
Northwest Research Institute of Agricultural Economics and Organisation (NWRIAEO)
Institute for Engineering and Environmental Problems in Agricultural Production – branch of Federal State Budgetary Scientific Institution "Federal Scientific Agroengineering Center VIM" (IEEP)
Administration of Guryevsk city district
Water Protection Association of the River Kokemäenjoki
Contacts

Project manager

Staffan Lund

Swedish University of Agricultural Sciences, SLU

Legal representative

Martin Melkersson

Swedish University of Agricultural Sciences

Financial manager

Hallvard Wie

Swedish University of Agricultural Sciences

Communication manager

Zanda Melnalksne

Biedrība Zemnieku Saeima