Water emissions and their reduction in village communities – villages in Baltic Sea Region as pilots
VillageWaters
PROGRAMME 2014-2020
priority
2 Natural resources
objective
2.1 Clear waters
VillageWaters
The Interreg project Village Waters produced comprehensive knowledge about technical solutions for cleaning waste water in the countryside and successfully made it available to municipal officials, home owners and companies - now they can improve the waste water treatment and comply with EU directives also where large waste water treatment facilities are missing.
The challenge
Nutrient pollution from scattered dwellings has been underestimated
Waste water treatment in cities has been improved considerably over the past 30 years, while the countryside did not receive much attention. On the EU level, the Water Framework Directive from 2000 and the Urban Waste Water Treatment Directive from 1991 require that waste water from households is treated to remove nutrients before their release to the environment. The national implementation of these directives differs. In some countries, there is a legal obligation in place for all households to clean their waste water. In other countries such as Estonia, Latvia, Lithuania and Poland there is to date no legal obligation for nutrient removal from waste waters for small dwellings, e.g. of less than 2000 inhabitants. The Baltic Sea Environmental Protection Commission HELCOM noted that nutrient pollution from scattered dwellings has been underestimated.
People in rural areas need access to information to make sound decisions
It can be anticipated that in the next 5-10 years, the focus will shift from cities to villages, and that all countries will have to become more active to improve the waste water treatment also in the countryside. There is no lack of technical solutions for cleaning waste water on small scales. However, it has been difficult for small municipalities and home owners to select cleaning facilities that fit their local needs and are affordable because the information about such cleaning systems is scattered and usually not directly comparable.
Budgets
VillageWaters
in numbers
3.01

Million

Total

2.43

Million

Erdf

0.00

Million

Eni + Russia

0.00

Million

Norway
Highlights
Life Cycle Assessments reveal all information needed
In the Village water project, researchers from Finland with support of scientists from Poland, Latvia, Lithuania, and Estonia collected comprehensive information about more than 100 different waste water treatment systems from manufacturers, studies and own experiments. They carried out in depth life cycle assessment for each of them. A life cycle assessment reveals not only the costs of purchase, installation and annual maintenance. It provides detailed information, about the cost-effectiveness in terms of removing nutrients, about the greenhouse gas emissions generated and many more relevant parameters.
Municipalities test cleaning solutions and pin down their information needs
Nine municipalities tested different technologies available in their respective local settings, from septic tanks to soil infiltration: in Kolgaküla and Valkla (Estonia), Gennarby and Nurmijärvi (Finland), Ainaži and Svētciems (Latvia), Leitgiriai (Lithuania), as well as in Krynica-Zdrój and Sokoly (Poland).
The incoming waste water, the outgoing water and the sludge were analysed with respect to nutrients and bacteria they contain, i.e. how efficiently the solutions worked in practice. Their experience is compiled in a report. In each municipality, researchers and municipal officials held meetings with the village communities and collected input on which information they need.
Municipalities, home owners & trainers get better information at a few clicks
All information about all technologies currently on the market was compiled in the interactive online Wastewater Solutions Information Tool. The tool now helps municipal staff who issue environmental permits, e.g. in Finland, to assess if certain solutions can be permitted or not. In addition, manufacturers of such solutions compare treatment systems and can easily identify how good their technologies are and at which stages of the life cycle they need to focus their product development to provide more efficient systems in the future. The tool is already used in vocational training for waste water managers in Finland. Within the project platform BSR Water, the tool is also integrated into the Smart Water Hub, on online platform for smart solutions and lifelong learning in water management.
Outputs
Wastewater Solutions Information Tool
The tool is made for home owners and municipal representatives in rural areas who are looking for the right solution to clean their waste water locally. Furthermore, environmental authorities, NGOs, technology development companies and research institutes can make use of the information provided, e.g. by comparing different technologies. The information is based on Life Cycle Assessments for more than 100 individual systems. The info tool also includes a "Connect and share" platform where the users can meet in an open discussion forum and receive advice regarding waste water treatments solutions in an expert answering service. The tool was developed by researchers from Finland and Estonia.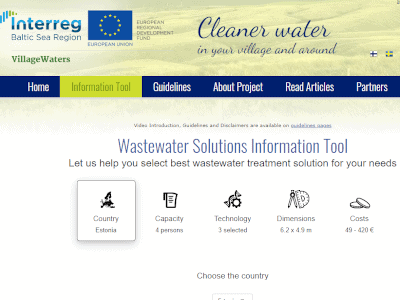 Guidelines for the best technical solutions and practices for wastewater treatment in scattered dwelling areas
These guidelines compile relevant information needed when trying to identify the best available wastewater treatment solution for a given place in the countryside around the Baltic Sea. The guidelines cover key aspects, e.g. how to select and procure a new technology, how to evaluate its inputs and costs compared to other systems, how to operate and maintain it, how to co-operate within village water cooperatives. The guidelines also give basic information of the wastewater treatment systems and describe why they are used and how they impact local waters and the Baltic Sea, as well as the global environment. The information provided in these guidelines is based on pilot constructions of smallscale waste water treatment solutions in rural municipalities in Finland, Estonia, Latvia, Poland and Lithuania. For example, wastewater treatment systems with a soil filter and constructed wetlands were built in in villages Tylicz and Sokoły (Poland). A biological treatment plant was installed in Ainaži village (Latvia). In Lithuania the pilot village Leitgiriai modernized their system to biological wastewater treatment.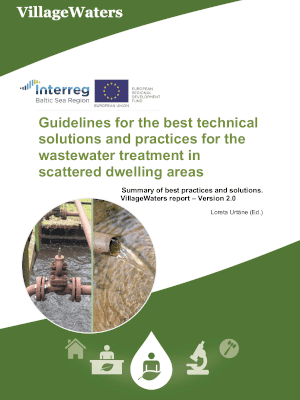 Project Stories
14.04.2020

People in the countryside release too many nutrients to the environment through their waste water because it is often not purified effectively. This problem was overlooked for many years. The Interreg project Village waters set out to make proper cleaning of waste water common practice across the rural areas around the Baltic Sea. In this interview, the project managers explain why they started the project and what they achieved.

Read full story
Partners
Natural Resources Institute Finland Luke
SYKLI Environmental School of Finland
The Association for Water and Environment of Western Uusimaa
Novago Business Development Ltd
Latvian University
Salacgrīva municipality
Vytautas Magnus university ( SUCCEEDED Aleksandras Stulginskis University)
Silute District municipality
Institute of Technology and Life Sciences in Falenty
Sokoły Municipality Office
Tallinn University of Technology
Kuusalu Municipality
Kuulasu Soojus OÜ
Contacts

Project manager

Virpi Vorne

Natural Resources Institute Finland (Luke)

Legal representative

Sari Forsman-Hugg

Natural Resources Institute Finland Luke

Financial manager

Raimo Vepsä

Natural Resources Institute Finland (Luke)

Communication manager

Jari Heiskanen

SYKLI Environmental School of Finland