Cultural Planning as a method for urban social innovation
UrbCulturalPlanning
PROGRAMME 2014-2020
objective
1.3 Non-technological innovation
UrbCulturalPlanning
The project UrbCulturalPlanning addressed social and urban development by involving citizens in the cultural planning.
Common societal challenges in the Baltic Sea region
Cities in the Baltic Sea region are challenged by emerging societal and demographic changes and a growing need for sustainable development of neighbourhoods. Active co-creation among citizens and between citizens and authorities can be a way to overcome the increasing exclusion of socially sensitive groups, such as the elderly and minors, and to advance Baltic Sea region social innovation.  Dealing with these societal challenges requires innovative approaches and the involvement of citizens. Therefore, city and community administrators urgently need to learn and deploy new skills of innovative and participatory problem-solving.
Cultural Planning as a proven method of citizen-centred social innovation
The project UrbCulturalPlanning developed a number of hands-on Demonstrator Projects to address the challenges of shrinking cities, social inclusion, gentrification, use of green and blue resources, lack of community life, stigmatisation or conflicts.
The project used cultural events and gaming methods to engage people in urban social innovation and stimulate interactions among varied groups of citizens. The project also stimulated the cooperation between the municipalities and cultural planners for better use of public spaces.
Budgets
UrbCulturalPlanning
in numbers
2.53

Million

Total

1.77

Million

Erdf

0.13

Million

Eni + Russia

0.06

Million

Norway
Achievements
UrbCulturalPlanning initiated significant changes in cultural planning in the Baltic Sea region.
Hundreds of city managers participated in urban labs to explore models they can reuse in their cities. The collected knowledge was shared online in seven languages. A handbook on a cultural planning method and mentoring services helped city authorities and local NGOs use the method efficiently. Model residences showcased the inspiring co-existence and space sharing with creative people, such as artists and architects. The project also involved young citizens in urban social innovation via gaming tools.
Municipal examples inspire
Among the developments that the project introduced, there are several examples to share. Thus, the "Art Strategy for Guldborgsund Municipality" - to be formally adopted by the City Council Committee for Rural Areas, Culture and Leisure Time - refers directly to central methodologies and concepts developed by UrbCultural Planning. Another example is the creation of the Centre for Artistic City Development (KunstMacht), which will keep transferring the methods of the project, promoting artistic urban development projects and facilitating the networking of actors locally, regionally and internationally. Furthermore, the city of Pori is now working on a major rejuvenation plan for the city centre, using the cultural planning methodology.
On the basis of the project's experience, an initiative focusing on rural areas was born, namely "RuralCulturalPlanning". It will apply the method of UrbCulturalPlanning, but this time to help public authorities to deal with societal problems in rural areas.
Outputs
BSR Urban Toolkit
The Urban Toolkit has been developed as a hands-on online manual for cultural planning practitioners (social and cultural activists, officials in city councils, local districts and institutions dealing with urban planning, architects, and urban planners). It contains existing case studies and tools from around the Baltic Sea region and partners' experience from Demonstrator Projects, as well as the knowledge shared during BSR Urban Labs and conferences.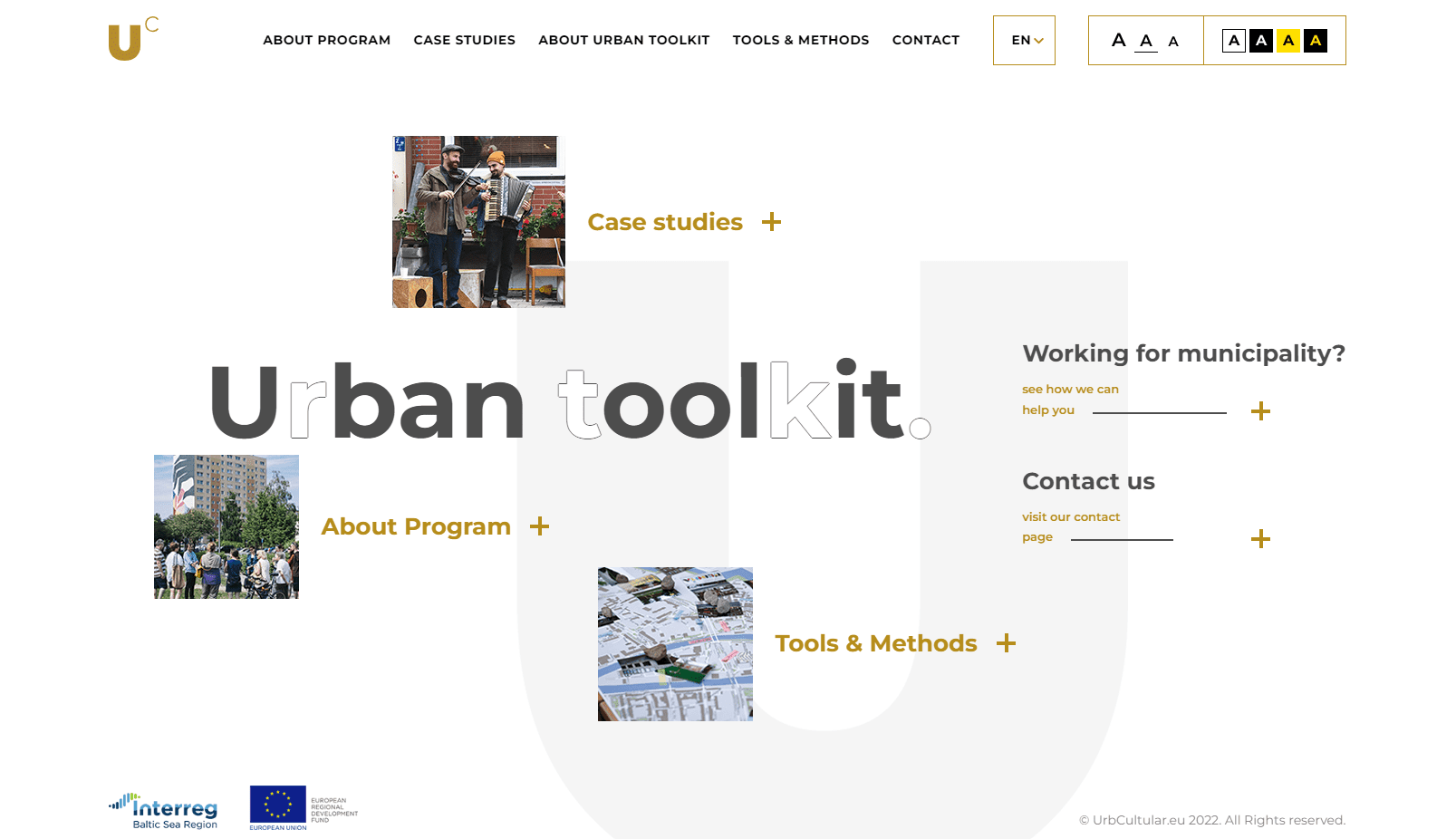 Partners
Danish Cultural Institute
Heinrich Böll Foundation Schleswig-Holstein
Copenhagen International Theater
City Culture Institute
Project company Kiel-Gaarden GmbH
Guldborgsund Municipality
Pomorskie Voivodeship
City of Pori
City of Riga
Vilnius Gediminas Technical University
Inland Norway University of Applied Sciences
University of Skövde
The Baltic Sea Cultural Centre
SUCCEEDED by PP15 (01/05/2020) Baltic Branch of the Federal State Public Institution of Culture "State Museum and exhibition centre "ROSIZO" "
The Baltic Branch of The Pushkin State Museum of Fine Arts
Contacts

Project manager

Olaf Gerlach-Hansen

Danish Cultural Institute

Legal representative

Simon Drewsen Holmberg

Danish Cultural Institute

Financial manager

Diana Jansone

Danish Culture Institute

Communication manager

Martins Engelis

Danish Culture Institute