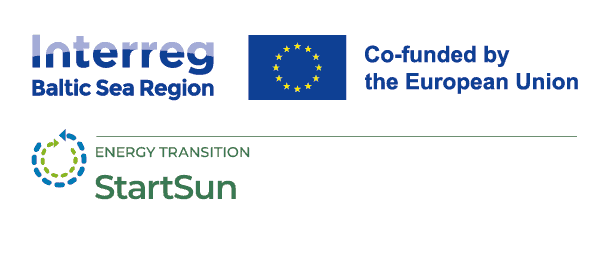 Start-ups for Solar Energy Communities
StartSun
killykoon– stock.adobe.com
StartSun
PROGRAMME 2021-2027
priority
3 Climate-neutral societies
objective
3.2 Energy transition
Project type
Core Project
Implementation
November 2023 - October 2026
StartSun
To advance in energy transition, the project StartSun establishes six energy communities of different types, and compiles start-up packages for authorities, enterprises and others, with guidance and steps to follow in building their own energy communities.
Project summary
For green transition in BSR, local authorities, SMEs and citizens/interest groups need to raise their capacity - learn new skills how to establish and operate energy communities. For this they need compiled information and good pilot samples to build trust in energy community models that would encourage them to establish more energy communities. StartSun project will tackle the start-up challenge of establishing energy communities by creating the necessary knowledge, documentation and first experience-pilots thus enabling further creation of energy communities in BSR, using the locally available resources, serving its greater energy independence in electricity sector and keeping jobs in the communities. The Baltic Sea Region countries have implemented and interpreted the Electricity Market Directive and the Renewable Energy Directive differently. Citizen energy communities and renewable energy communities are two names for energy communities that have been introduced through the directives. This project aims to overcome the energy community start up gap, providing Start-Up package for establishing energy communities and will pilot six different types of energy communities through research-based methods, and exchange experience between them to strengthen and speed up creation of energy communities in the BSR.
Copy direct link to this summary
Budgets
StartSun
in numbers.
3.20

Million

Total

2.56

Million

Erdf

0.00

Million

Norway
killykoon– stock.adobe.com
StartSun
in numbers.
58.410043715.6118474571934

56.651439423.7339143

58.386491126.6978288

59.848764317.6300156

60.196212724.9468706

56.939791524.0688499

58.381163226.7298928

58.201894615.9984183

56.651439423.7339143

56.495863825.8687747

58.3805416526.720492636364717

57.8103297527.44062495151569

58.850190726.881924093900178
Contacts
Project manager

Maja Kling Ek

County Administrative Board of Östergötland

Financial manager

Therese Åneklint

County Administrative Board of Östergötland

Project manager

Sara Spjuth

County Administrative Board of Östergötland

Communication manager

Elis Vollmer

Estonia University of Life Science
Follow us
Social media

Newsletter

Additional links