Smart Blue Regions: Smart Specialisation and Blue Growth in the BSR
Smart Blue Regions
PROGRAMME 2014-2020
objective
1.2 Smart specialisation
Smart Blue Regions
The Interreg project Smart Blue Regions helped public authorities of coastal regions at the Baltic Sea review and improve their research and innovation strategies for smart specialisation to trigger sustainable blue growth in the marine and maritime sectors.
The challenge
Research and innovation strategies for smart specialisation (RIS3) are the EU policy instruments that support innovating the regions efficiently. However, regions often lack the know-how and prior experience to properly define, and later implement, such strategies from an early stage on. At the same time, there is a strong need and growing potential for using these strategies to stimulate blue growth in the Baltic Sea region, especially in emerging sectors of life science, blue medicine, energy and machinery & technology.
In Smart Blue Regions, six regions in Estonia, Finland, Germany, Latvia, Poland and Sweden worked together to exploit the existing opportunities and improve their RIS3 by developing solutions that best fit their needs. These are based on e.g. integrating good practice cases from other regions and developing policy measures that support blue growth.
Budgets
Smart Blue Regions
in numbers
1.84

Million

Total

1.46

Million

Erdf

0.00

Million

Eni + Russia

0.00

Million

Norway
Achievements
The partner regions – Southwest Finland, Pomorskie, Skåne, Ida-Viru, Schleswig-Holstein and Riga regions – reviewed and shared experiences on the implementation of their blue growth research and innovation smart specialisation strategies (Blue RIS3). Next, they developed solutions for the identified bottlenecks in their RIS3, e.g. lack of cooperation with companies and regional planners or a weaker role of regional cluster and unstable financing for them and other intermediaries. As a result, for example, Pomorskie updated their Regional Strategic Programme introducing an entrepreneurial discovery process to manage regional clusters – a good practice from Schleswig-Holstein.
Southwest Finland created an internal plan for their Blue RIS3 implementation with a focus on responsibility, collaborative skills, accessibility and resource wisdom. The project developed a monitoring and review system for evaluating Blue RIS3. Schleswig-Holstein (SH) tested this system by comparing needs and developments of blue growth sectors with the aims and priorities included in the RIS3 and its implementation programmes. This way, SH detected weaknesses as well as recommendations for an update in their Blue RIS3: e.g. to use RIS3 as a strategic tool for innovation policy and to focus more on cross-innovations, scenarios and visions.
Outputs
New policy measures supporting Blue Growth - functional review of their selection, adaptation and uptake
The report analyses six regional blue growth research and innovation smart specialisation strategies (Blue RIS3) in Estonia, Finland, Germany, Latvia, Poland and Sweden. It explains common bottlenecks faced by the regions when developing and implementing RIS3, such as getting industry partners engaged in designing and implementing changes in regional strategies as well as conducting the evaluation and impact assessment of the results. The partners included measures to overcome these challenges, e.g. cluster-type initiatives, platforms for connecting business and technology, adequate state funding, internationalisation of complex projects. The report is of interest to regional and national administrations looking for inspirations on how to improve the implementation of their Blue RIS3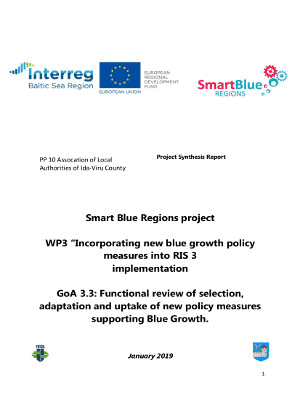 Evaluating, Monitoring and Benchmarking Blue Growth: Monitoring and Review System
This system supports regional and national administrations in monitoring and assessing their research and innovation smart specialisation strategies (RIS3) in the topic of blue growth. This review process compares real characteristics, needs and developments of the blue growth sector with the aims and priorities included in the RIS3 and its implementation programmes. This system includes eight modules that can be combined in a flexible way, depending on the regional needs and opportunities. Four modules analyse the content of the current RIS3 and ERDF operational programmes. The other four modules analyse the blue growth sectors important in the region. All in all, this system allows answering if the RIS3 fosters the development of the blue growth sectors in the region.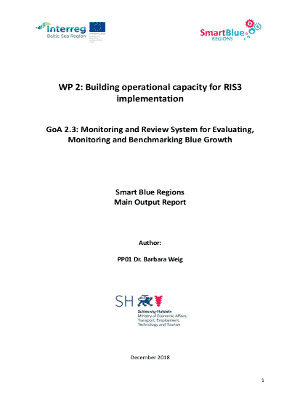 Identifying Blue Growth cooperation opportunities - a Baltic Sea region wide study
The study guides blue growth public and private actors interested in developing a cooperation project in the Baltic Sea region. It presents blue growth focus areas, actors and resources based on the analysis of blue RIS3 of six partner regions from DE, EE, FI, LV, PL, and SE. Three common focus areas were identified as machinery & technology, energy and life science & blue medicine. The study analysed the following blue growth actors: business support organisations, higher education institutions and research institutes. Thematic ideas for cooperation resulted in such topics as shipping, offshore wind energy, blue biotechnology, health tourism, lack of skilled workers.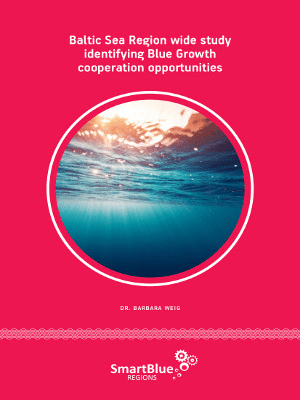 Partners
Ministry of Economic Affairs, Transport, Employment, Technology and Tourism Schleswig-Holstein
Regional Council of Southwest Finland
WITHDRAWAL (28.02.2018): Ministry of Finance
Maritime Institute in Gdańsk
Region Skåne
Riga Planning Region
Latvian Institute of Aquatic Ecology
Pomorskie in the EU Association
Association of Local Authorities of Ida-Viru County
Contacts

Project manager

Carsten Beyer

s.Pro - sustainable projects GmbH

Legal representative

Steffen Lüsse

Ministry of Economic Affairs, Transport, Employment, Technology and Tourism Schleswig-Holstein

Financial manager

Marco Sütel

Ministry of Economic Affairs, Transport, Employment, Technology and Tourism Schleswig-Holstein

Communication manager

Clara Coornaert

s.Pro - sustainable projects GmbH