Restart SMEs in the Baltic Sea Region
Restart BSR
PROGRAMME 2014-2020
objective
1.3 Non-technological innovation
Restart BSR
Restart BSR helped to build the institutional potential to support companies in a difficult financial situation, as well as owners of formerly closed companies, willing to start new businesses.
Project summary

Bankruptcies can have a devastating impact on other companies in the value chain, on local communities, on public finances, and on the company owners, their families and their employees. Preventing a bankruptcy is crucial in order to help the business community, avoid job losses and improve public finances. It is also a key to promote social stability by saving local communities, families and company owners from economic, social and mental problems. Furthermore, bankruptcy has an important secondary effect on entrepreneurship as many entrepreneurs do not start a company because of their fear of the consequences of business failure.
Preventative measures
The Restart BSR project brought together innovation actors in Estonia, Latvia, Lithuania and Poland, offering innovation support to SMEs experiencing stagnation and heading towards bankruptcy. Apart from restarting businesses onto a new path of growth, the project kicked off policy dialogue to support innovation and growth of companies facing stagnation or financial distress in the Baltic Sea region.
Budgets
Restart BSR
in numbers
1.60

Million

Total

1.34

Million

Erdf

0.00

Million

Eni + Russia

0.00

Million

Norway
Achievements
Mapping clarifies the status
The partners from Poland, Latvia, Lithuania, and Estonia carried out a series of tests with 40 selected companies (10 from each country). This way the project piloted tools for design-driven innovation that the business consultants and mentors can use when supporting companies in financial difficulties and "restarters".
Through a series of national events and interviews with national decision-makers, the project partners conducted a state-of-play analysis of the involved countries in the Baltic Sea region on the challenges and barriers facing financially distressed and restarting companies. These challenges included legal barriers, access to finance, social stigma, and others. In addition, the project reviewed and compared the local policies and legal frameworks, as well as support measures regarding non-technological innovation, crisis management, and second chances.  Thus, Restart BSR
addressed the lack of an "innovation dimension" in the existing crisis management and second chance approaches. Combining design thinking with actual experiences, the project made a comprehensive publication for business supporters, mentors, and policy-makers.
Supporting toolkit is developed
As a result, the RESTART Baltic Sea Region Roadmap was prepared, providing an overview of the economic situation as well as policies and initiatives relevant to companies in financial distress in Poland, Estonia, Latvia, and Lithuania. In addition to that, the partners prepared guidelines and future recommendations for policymakers on how to build and strengthen the institutional ecosystem to support companies in financial distress.
Besides, the Latvian partners joined the Early Warning Europe network.
Outputs
RESTART Baltic Sea Region - innovation tools, roadmaps & policy manual
The publication contains analysis and recommendations, that allow the business consultants and mentors to provide adequate advice and innovation support to company owners. This will further help to restructure businesses to avoid bankruptcy and job losses, and – in the medium to long term – also enter a new path of growth and job creation. Moreover, the publication collects more specific roadmaps outlining the strategy and resources in Poland, Estonia, Latvia, and Lithuania to help companies and restarters. Key issues addressed in the strategic roadmaps include the identification of key partners, stakeholders, and funding sources, as well as plans for relationship building, fundraising, and communications. Last but not least, the publication presents the international reference guidelines for policymakers to build and strengthen the institutional ecosystem to support companies in financial difficulties in the Baltic States and Poland.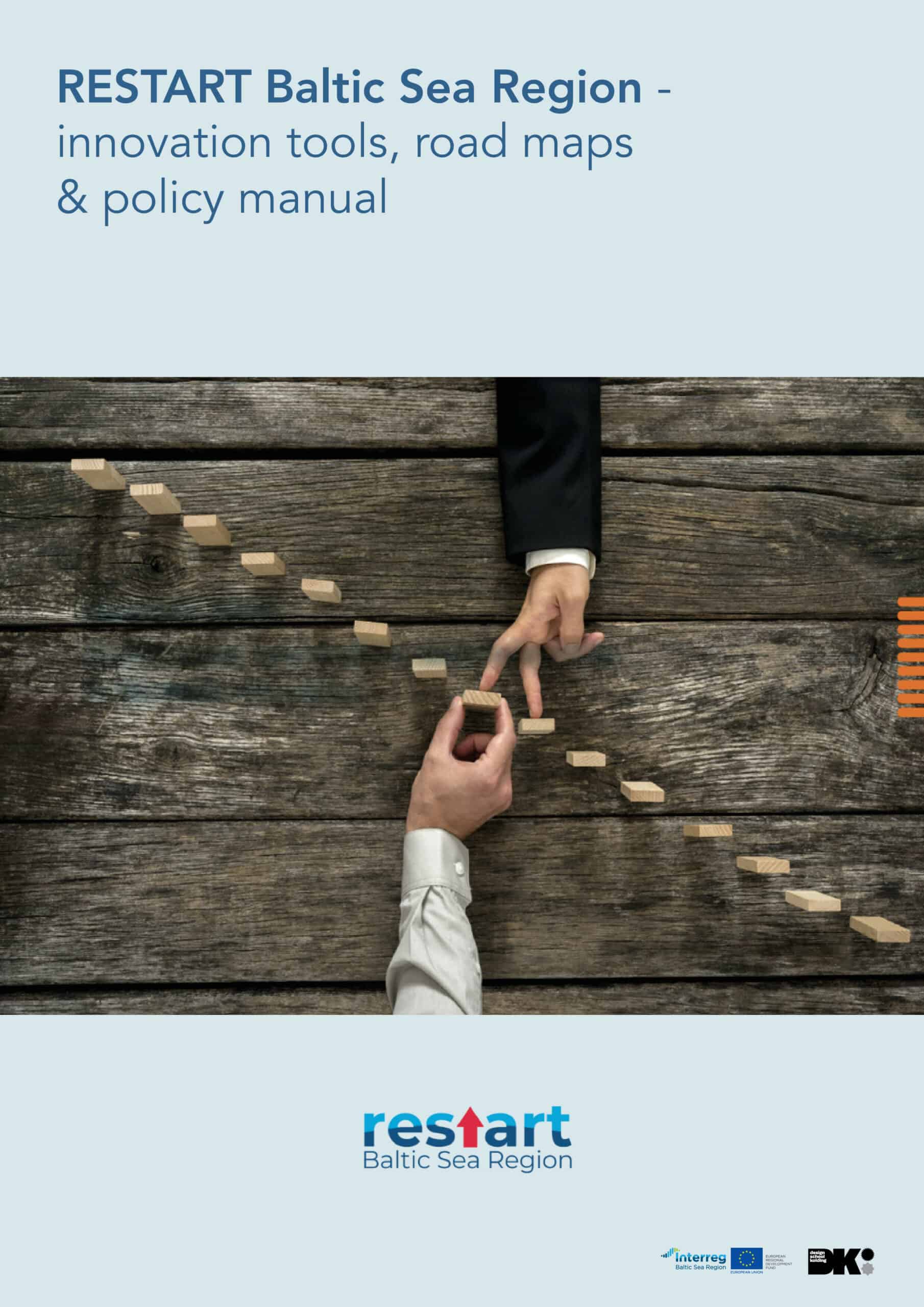 Partners
Lower Silesian Intermediate Body
Town

Wrocław

Region

Wrocławski

Country

Poland
Representative

Robert Hadaś

Phone

E-Mail

Web
Approximate total partner budget in EUR
471,369.60
Design School Kolding
Town

Kolding

Region

Sydjylland

Country

Denmark
Representative

Pernille Thøstesen

Phone

E-Mail

Web
Approximate total partner budget in EUR
170,156.00
Vilnius Gediminas Technical University
Town

Vilnius

Region

Vilniaus apskritis

Country

Lithuania
Representative

Vilma Purienė

Phone

E-Mail

Web
Approximate total partner budget in EUR
259,868.00
Latvian Technological Center Foundation
Town

Riga

Region

Rīga

Country

Latvia
Representative

Ints Viksna

Phone

E-Mail

Web
Approximate total partner budget in EUR
239,068.00
Ministry of Economics of the Republic of Latvia
Town

Riga

Region

Rīga

Country

Latvia
Representative

Agnese Šķēle

Phone

E-Mail

Web
Approximate total partner budget in EUR
201,100.00
Harju County Entrepreneurship and Development Consultancy
Town

Tallinn

Region

Põhja-Eesti

Country

Estonia
Representative

Hannes Ojangu

Phone

E-Mail

Web
Approximate total partner budget in EUR
254,868.00
Contacts

Project manager

Cezary Pełech

Lower Silesian Intermediate Body

Legal representative

Jacek Ilnicki

Lower Silesian Intermediate Body

Financial manager

Aldona Barwińska

Lower Silesian Intermediate Body

Communication manager

Adam Bujek

Lower Silesian Intermediate Body