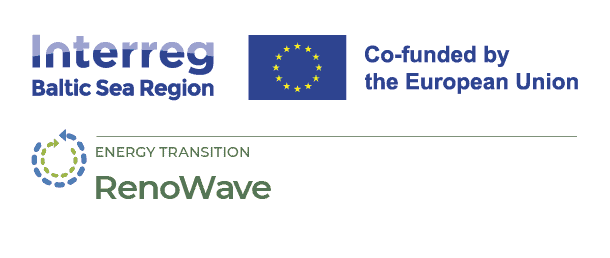 One-Stop-Shop extended model to increase the multi-apartment building stock renovation in the BSR
RenoWave
RenoWave
PROGRAMME 2021-2027
priority
3 Climate-neutral societies
objective
3.2 Energy transition
Project type
Core Project
Implementation
January 2023 - December 2025
RenoWave
The project RenoWave establishes cooperation among homeowners, construction companies, energy agencies and public authorities to initiate more energy-efficiency renovations in multi-apartment buildings.
Project summary
In the EU, there is a huge energy efficiency (EE) potential in the residential multi-apartment building stock. 1/3 of the EU's buildings are over 50 years old with only very few (ca. 1%) being renovated each year. These buildings are not, in general, professionally managed. The renovation decision is complicated due to multiple apartment owners, insufficient information on the current energy profile and potential benefits of the renovation. The concept of EE renovation support exists in a form of one-stop-shop (OSS), which is a virtual and/or physical place where building owners can find all information and services they need to implement an ambitious global energy renovation project. Project partners identified that in their countries OSS as a complete system rarely exists, but different services that belong to the OSS are offered in a fragmented way. It means that the flow of OSS services that would otherwise engage and support the homeowner step by step from the start to the end of the process, is not provided according to the logic of the renovation journey, and the homeowner either stops in the middle of the journey or finds it difficult to even start it. The project develops One-Stop-Shop (OSS) extended model specifically designed for the multi-apartment buildings in BSR countries. The OSS model includes traditional and additional OSS services that cover all the steps that are necessary to initiate and implement EE renovation projects in multi-apartment buildings.
Copy direct link to this summary
Budgets
RenoWave
in numbers.
3.46

Million

Total

2.77

Million

Erdf

0.00

Million

Norway
Success indicators
RenoWave
in numbers.
60.607006815.6323059

61.057072728.191762333789967

57.313171225.2748551

50.059138119.9372696

53.55472228.5707565

56.958568224.1119083

52.524001913.3467871

54.687045825.2829111

50.252165519.0147168

65.588451522.1544743

57.848001226.994532
Contacts
Project manager, Financial manager, Communication manager

Marit Ragnarsson

County board of Dalarna
Follow us
Social media

Newsletter

Additional links