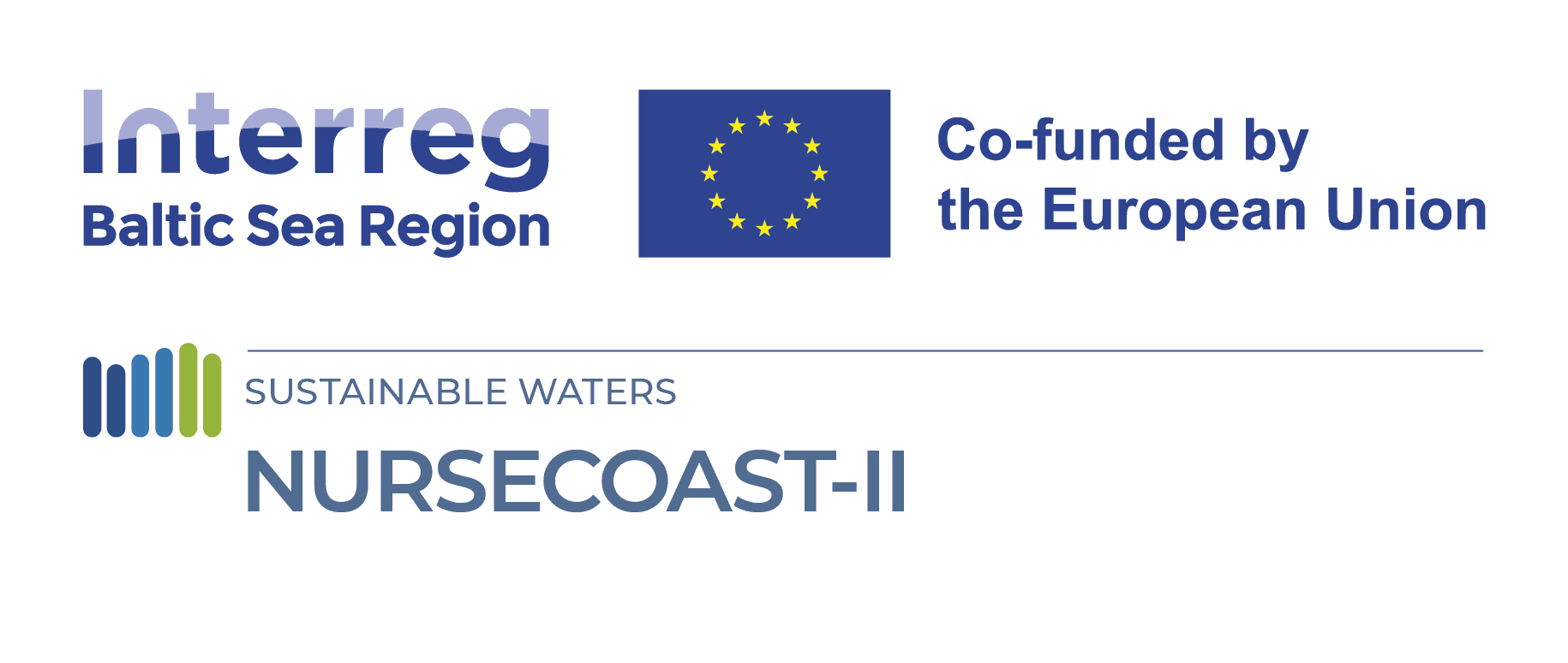 Model Nutrients Reduction Solutions In Near-Coast Touristic Areas
NURSECOAST-II
NURSECOAST-II
PROGRAMME 2021-2027
priority
2 Water-smart societies
objective
2.1 Sustainable waters
Project type
Core Project
Implementation
January 2023 - December 2025
NURSECOAST-II
The NURSECOAST-II project guides public authorities, water companies and tourist businesses on how to reduce seasonal increase in wastewater production and nutrient discharges in touristic areas.
Summary
Wastewater discharged from the near-coast Baltic tourist regions is characterised by a large variability of flow due to seasonality. This means significantly bigger wastewater flow during the peak of tourist season compared to the rest of the year. The wastewater plants are often designed according to low season and prepared to accommodate wastewater of significantly fewer people compared to actual needs during the peak tourist times, e.g. treatment plants with less than 2000-person equivalent capacity. Finding a different wastewater technological solution especially adapted to tourist areas, would reduce the nutrients inputs to the sea and improve the status of the Baltic Sea.  
The project´s overarching goal is to find an alternative wastewater treatment solution specifically adapted to tourist areas that will reduce nutrient inputs to the Baltic Sea. It is recognised that the challenge of adaptation to high seasonality requires a broader approach than just technological solutions. Therefore, the project aims to provide a comprehensive method to address this issue.  
The project's novel approach involves piloting different approaches to treat excess wastewater during the peak tourism period, such as wastewater treatment technologies, treated wastewater reuse, using nature to treat excess wastewater in the summer, greywater and sludge management, replication, and reintroduction. During the project, six pilots will be held in Denmark, Poland, Lithuania and Finland, testing better wastewater solutions.
In addition, three regional surveys on small wastewater systems will be conducted (in Sweden, Estonia, Latvia) to improve knowledge of everyday operation problems, compile several tutorials based on the project´s results, and formulate policy guidelines for wastewater treatment at the Baltic Sea region´s tourist destinations.  This is accompanied with a pan-Baltic Sea Region GIS-based mapping. The project also includes practical study visits, knowledge and experience exchange, peer-review as well as environmental assessments and business incentives. 
NURSECOAST-II connects 17 partner organisations from 8 countries in the Baltic Sea Region. Thus, the project demonstrates the potential for a high macro-regional impact, with a regional focus, as the solutions differ depending on the coast's characteristics, e.g. for the sandy coasts of Poland, Germany, Lithuania compared to the rocky archipelagos of Sweden, Finland and, Estonia.  
 The project's primary beneficiaries are local public authorities, tourist operators, companies, and infrastructure and public service providers.  
Copy direct link to this summary
Budgets
NURSECOAST-II
in numbers.
4.42

Million

Total

3.54

Million

Erdf

0.00

Million

Norway
Success indicators
NURSECOAST-II
in numbers.
54.374085618.6132113

54.898213923.9044817

60.228981925.0184561

60.167488124.9427473

60.4488802522.266487489595384

57.013969.984469

54.121021517.9781656

59.451931924.7176649

56.972716423.7886979

61.300426717.0503142

60.043663924.0046977

54.662768517.2160201

54.84451210.751598

55.21635311.752087

54.155870819.4044583

54.172054612.0771826

57.274861822.0316084
Contacts
Project manager

Ksawery Kuligowski

The Szewalski Institute of Fluid-Flow Machinery Polish Academy of Sciences

Financial manager

Małgorzata Ostachowicz

The Szewalski Institute of Fluid-Flow Machinery Polish Academy of Sciences

Communication manager

Agnieszka Wnuk

The Szewalski Institute of Fluid-Flow Machinery Polish Academy of Sciences
Follow us
Social media

Newsletter

Additional links
Videos
VIDEO: NURSECOAST-II project tackling wastewater issues around the Baltic Sea
Video 1 of 1