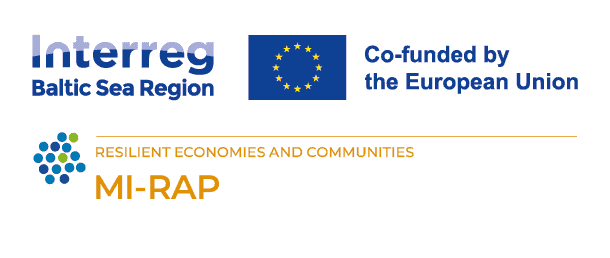 Music Industry Resilience Acceleration Programme
MI-RAP
Masson– stock.adobe.com
MI-RAP
PROGRAMME 2021-2027
priority
1 Innovative societies
objective
1.1 Resilient economies and communities
Project type
Core Project
Implementation
November 2023 - October 2026
MI-RAP
The project MI-RAP helps local authorities, sectoral agencies and business support organisations attract fresh talents to the music industry, while ensuring more cross-sectoral cooperation and integration of emerging technologies and green practices at the same time.
Project summary
The music sector is a bridge between two forces: the arts and business. Only a resilient, interconnected, and innovative music ecosystem can lay the groundwork for artists to thrive, reach new audiences, and be financially successful. The sector is currently challenged by a difficult economic environment brought on by external shocks (COVID-19, Climate Change) and disruptive technologies. Three main developments endanger its resilience: a shortage of skilled workers; the emergence of new technologies and business models (streaming, AI); and how to green a sector that is based on transnational music exchange. Business support organisations, sectoral agencies and local public authorities have the leverage to increase the sector's resilience in their local music ecosystems. However, they are lacking knowledge, capacities and tools necessary to put resilience-boosting activities into action. The solution Music Industry Resilience Acceleration Programme (MI-RAP) will address this challenge through: 1) Tailored training programs/campaigns to provide workers with skills relevant to work in a changing industry 2) Strategies/action plans to foster innovation and inner/cross-sectoral collaborations 3) Guidance to support green practices for resource-intensive music events The MI-RAP will be available on an online resource hub and transferable to actors outside of the partnership. Its implementation will support music businesses and artists to flourish, be innovative, and prosperous.
Copy direct link to this summary
Budgets
MI-RAP
in numbers.
2.67

Million

Total

1.81

Million

Erdf

0.21

Million

Norway
Masson– stock.adobe.com
MI-RAP
in numbers.
53.55618749.963969776856322

59.437215524.7453688

60.174114624.8289521

56.959316324.1191086

54.687045825.2829111

53.121964818.0002529

57.707773811.9913667

53.24870610.407855

59.90603710.774753
Contacts
Project manager

Fabian Baßenhoff

Hamburg Music Business e.V

Project manager, Financial manager

Timotheus Wiesmann

Hamburg Music Business e.V.

Communication manager

Norman Müller

Hamburg Music Business e.V.
Follow us
Social media

Newsletter

Additional links