MARELITT Baltic – Reducing the impact of marine litter in the form of Derelict Fishing Gear (DFG) on the Baltic Sea environment
MARELITT Baltic
PROGRAMME 2014-2020
priority
2 Natural resources
objective
2.1 Clear waters
MARELITT Baltic
The Interreg project MARELITT Baltic developed a sustainable strategy for national authorities around the Baltic Sea to manage derelict fishing gear, which is marine litter with extensive hazardous effects on the marine ecosystem.
The challenge
Hazardous marine litter
Derelict fishing gear (DFG) is recognised worldwide as a source of marine litter with extensive hazardous effects on the marine ecosystem. In the Baltic Sea alone, 5,500 to 10,000 gillnets and trawl nets are lost every year, adding to hundreds of tonnes of ghost nets already resting at the bottom of the sea.
The ghost nets have a wide range of negative effects. They are a threat to fish and other marine animals, as abandoned nets maintain 20% of their normal capacity to catch fish for the first three months, and still 6% after 27 months. They pose risks to divers and swimmers in more shallow waters. And, in the longer run, they dissolve into microplastics that release hazardous substances.
Insufficient knowledge to tackle the issue
The problem of ghost nets is poorly known in the fisheries industry and among politicians. Most countries around the Baltic Sea lack proper policies on managing derelict fishing gear. As a result, there is a lack of methodology of how to assess the risks and to locate, retrieve, and deal with derelict fishing gear in a cost efficient, safe and environmentally sound manner.
Budgets
MARELITT Baltic
in numbers
3.75

Million

Total

3.01

Million

Erdf

0.00

Million

Eni + Russia

0.00

Million

Norway
Achievements
MARELITT Baltic is the first transnational initiative in the Baltic Sea region bringing together local and national government agencies, the fishing industry, environmental NGOs, the diving community, and scientific institutions to develop a step-by-step roadmap on how to tackle derelict fishing gear. These recommendations are presented in the Baltic Sea Blueprint, which offers practical guidelines on mapping, retrieving, recycling, and preventing abandoned fishing gear.
Mapping and retrieving derelict fishing gear
The fishing sector's active participation in the project helped them understand the environmental problems of derelict fishing gear and the need for a change in attitude towards more sensitive topics like prevention. On the issues of mapping and retrieval, local fishers and divers took part in planning and executing search and rescue operations for derelict fishing gear in Germany, Estonia, Poland and Sweden. In these operations, nearly 25 tonnes of derelict fishing gear was retrieved: over 6 tonnes in Germany, 0.35 tonnes in Estonia, 8 tonnes in Poland, and almost 10 tonnes in Sweden. The data collected was used to create a map showing 'hot spots' with high potential for lost gear in the Baltic Sea.
Harbour masters, underwater archaeologists, environmentalists and scientists evaluated these operations with the aim of avoiding potential conflicts of interest when retrieving derelict gear in the future. A resulting recommendation is to have an underwater archaeologist involved in future shipwreck clean-up operations to minimise the risk of damaging cultural heritage. These groups' practical knowledge was used to create and test a methodology for mapping and retrieval, which was presented to HELCOM, the fishing sector and relevant ministries in Germany, Estonia, Poland and Sweden. As a result, WWF Germany followed the Baltic Sea Blueprint's recommendation to sonar for its retrieval efforts, and the Swedish Agency for Marine and Water Management commissioned cleaning operations using the 'hot spots' map developed by the MARELITT Baltic.
Recycling ghost nets
The gear that was retrieved went to fishing harbours either to be returned to the value chain or disposed of as waste. For an overview of how equipped fishing harbours are for this task, 50 harbour facilities in Germany, Estonia, Poland and Finland were surveyed and assessed. Trials were made to test the recycling potential of derelict as well as end-of-life nets. The lessons learned, such as the need to first remove hazardous objects like lead weights from derelict fishing gear that cannot be disposed of as commercial or household waste, are presented in the Baltic Sea Blueprint.
Based on the methodology developed by the project, a new project in Finland on ghost fishing and gear recycling was financed by the European Maritime and Fisheries Fund. In addition, a Swedish dragging project in autumn 2019 followed the project's recommendations on reception and recycling.
Feeding national and international policy
Through systematic dialogue maintained by the project, key authorities and policymakers in national environment ministries, marine and water management agencies, agriculture boards and heritage boards in Sweden, Germany, Poland and Estonia gained awareness of the challenge and possible solutions.
Using procedures developed by MARELITT Baltic, environmental ministries and fisheries authorities in Germany are presently developing an authorised scheme to fund lost gear retrievals by the fishing sector. Policy developed by the German Round Table against Marine Litter on waste management of fishing gear was informed by the project's recommendations on harbour reception facilities and recycling of retrieved fishing gear.
WWF Germany fed project results into various policy-level discussions in the Baltic Sea region and beyond. It presented the map that the project developed to show host areas of derelict fishing gear to the HELCOM Marine Litter working group. Solutions on how to process derelict fishing gear reached OSPAR, which regulates transnational cooperation on marine environmental protection in the North-East Atlantic. WWF Germany introduced the project's findings on sustainable waste collection and management for derelict fishing gear to the Maritime Affairs and Fisheries department at the EU Commission (DG MARE) and continues to be a consultant to DG MARE. Furthermore, project results have also been passed on to national ministries and agencies, which has resulted in, among other things, a process to draft the first national policy document on derelict fishing gear in Poland.
Working together on a common challenge
With EUR 3.01 million of support from the European Union, the Interreg project Marelitt BALTIC raised awareness of the problem of derelict fishing fear in the Baltic Sea at all levels, from fishers to policy levels. It also showcased how joint actions across borders to map, retrieve, recycle, and prevent ghost nets bring real benefits to the environment.
Outputs
Baltic Sea Blueprint
The Baltic Sea Blueprint is a comprehensive handbook covering four pillars of action to reduce derelict fishing gear in the Baltic Sea. These four pillars are: mapping, retrieval, recycling, and prevention. The handbook is an action plan with recommendations, best practices and lessons learned for policy makers, namely, national authorities. Their feedback was included in the drafting of the document. The handbook also helps those developing projects for cleaning operations, fishing organisations, fishery management authorities, fishery control authorities, and NGOs. The Baltic Sea Blueprint was created in such a way that, within one hour, the reader should be aware of the most important issues and solutions for derelict fishing gear.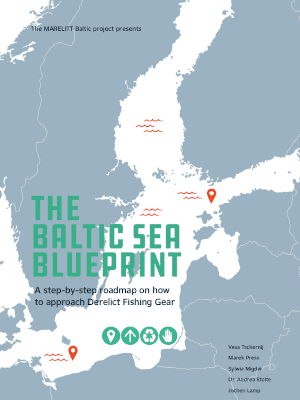 Partners
Municipality of Simrishamn
Keep the Estonian Sea Tidy
WWF Poland Foundation
WWF Germany
Keep Sweden Tidy
Maritime University of Szczecin
Kolobrzeg Fish Producers Group Sp. z o.o. [Ltd.]
Institute of Logistics and Warehousing
Estonian Divers Association
Contacts

Project manager

Vesa Tschernij

Municipality of Simrishamn

Legal representative

Diana Olsson

Municipality of Simrishamn

Financial manager

Elisabeth Wahlström

Municipality of Simrishamn

Communication manager

Andreas Frössberg

Keep Sweden Tidy