Mobility and Accessibility in Rural Areas – New approaches for developing mobility concepts in remote areas
MARA
PROGRAMME 2014-2020
objective
3.2 Accessibility
MARA
The project MARA improved accessibility and mobility for residents and tourists in remote touristic areas of the Baltic Sea region.
Project summary
Improved mobility solutions for touristic remote regions
Many rural areas lack good mobility services, which hampers their economic development. Introducing innovative mobility solutions other than motorised private transport require relevant competences among the public authorities and a better overview of the actual mobility needs. Confronting the mobility demand of residents and tourists with the current mobility offers, and increasing the capacity of transport actors could be a response to the challenge.
Real-life testing
MARA brought together transport actors from the whole Baltic Sea region, including non-EU states - Norway and Russia. The project tested the practical use of e-bike and e-cargo bike sharing in Norway and Latvia, which especially during seasonal peaks can be an interesting mobility alternative for tourists. In Germany, the project improved a call-a-bus system by providing real-time information on highly dynamic connections. In Russia, MARA focused on the development of waterways as an alternative to road transport. Besides, MARA improved the governance framework by helping public authorities to integrate new mobility concepts into their spatial and mobility plans
2.37

Million

Total

1.53

Million

Erdf

0.16

Million

Eni + Russia

0.13

Million

Norway
Achievements
The project MARA brought together 12 project partners from Germany, Estonia, Latvia, Finland, Lithuania, Norway, Poland, Sweden, and Russia. Besides, 13 associated organisations got support by applying IT tools to analyse the gaps between real mobility demand and available mobility offers in remote touristic areas of the Baltic Sea region.
MARA enhanced the institutional capacity of public authorities responsible for mobility and spatial planning. The partner regions developed their own involvement strategy with a focus on target groups, the level of involvement and by what means (tools) the target groups should be involved. Public authorities got access to digital tools that helped them plan their mobility offers and track mobility flows geographically. Thus, one of the tools the Population Mobility Monitor (PMM) allowed to evaluate the real mobility demand, while another interactive D.U.GIS tool helped access and visualise accessibility gaps. Thanks to PTM tool (the Public Transport vs Mobility Tool), the authorities could benchmark mobility offers and mobility demand of the entire population.
In addition, MARA enabled partner regions develop new tailor-made mobility offers for residents and tourists. Thus, the project helped establish new water routes on the Onega lake to increase the accessibility of the Zaonezhye region (Russia). Another example is a pilot in Setesdal (Norway) where an e-bike sharing system with 30 e-bikes has been procured and tested.
Besides, MARA helped transport actors increase their capacity in mobility and spatial planning, and how to use less financial resources. The project identified autonomous vehicles as tomorrow's answer to providing cost-effective on-demand transport offers in remote regions
Outputs
Mobility mapping tools
The interactive tools aim to map real mobility demand and track mobility flows geographically. Population Mobility Monitor (PMM) is a tool that helps visualise the vast amount of different mobility data and better understand the actual mobility flows in a given region. The tool helps spatial and transport planners in rural and urban areas to cope with data and make better decisions in their everyday work. There are also recommendations on how to adapt the tool to the regional requirements of other regions. D.U.GIS is another tool that aims to analyse and visualise mobility gaps. It is a tailor-made spatial planning platform that integrates mobility data and comprehensive plans (relevant map layers). It enables to assess and visualise the end results to help public authorities to improve mobility offers. The D.U.GIS is also referred to as "a living map" and can be used to assess the accessibility of points of interest and adjust the routing of public transport.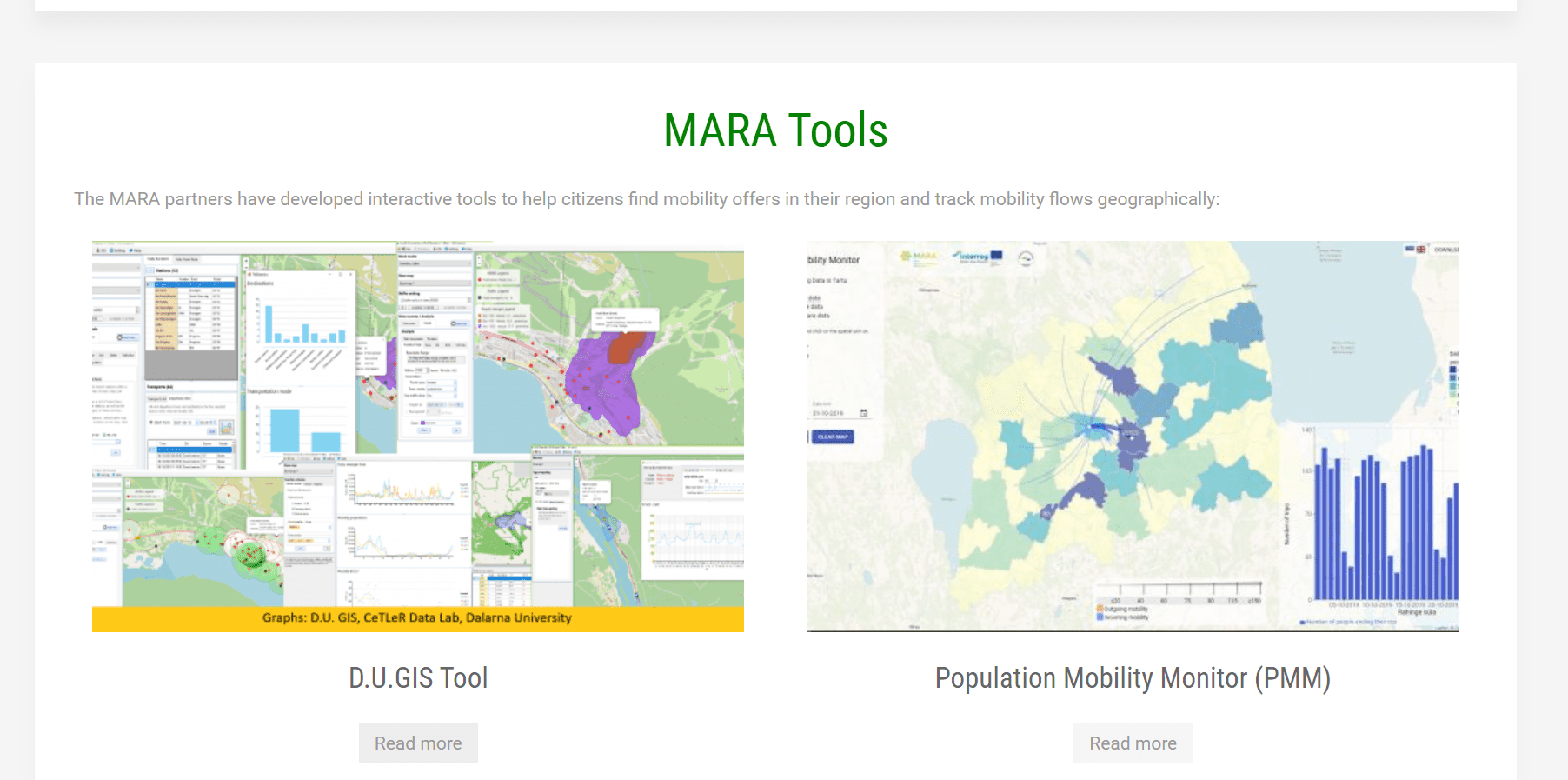 Regional action plan for improved mobility
Regional Action Plans aim to improve mobility services in the respective pilot regions such as Region Mecklenburg-Vorpommern, Ludwigslust – Parchim district (Germany), Hajnówka Region (Poland), Setesdal Regional Council (municipalities of Bykle, Valle, Bygland, and Evje (Norway), Vidzeme Region (Latvia), Republic of Karelia, Zaonezhye area (Russia), Birštonas municipality and Druskininkaj municipality (Lithuania), Kymenlaakso Region (Finland), Sälen/Trysil and the Åre areas (Sweden). Totally, there are eight plans that include identified challenges in local and regional transport and the specific mobility needs of the residents and tourists. Besides, the plans outline some areas where further development in the next years will be needed.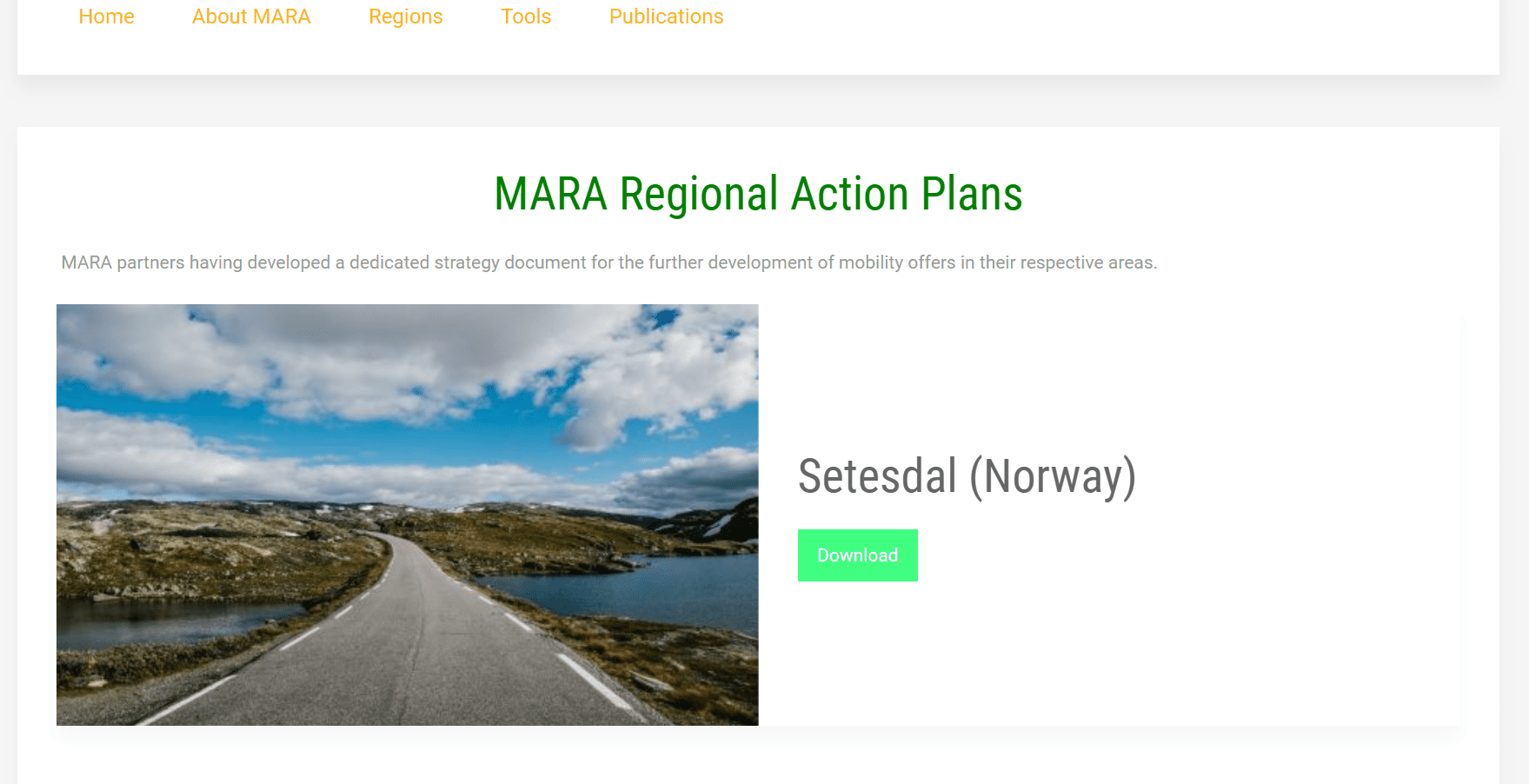 Project Stories
15.10.2020

Niklas Nienaß is an energetic young politician from the Baltic Sea region. He is a German member of the European Parliament who was elected in Mecklenburg-Vorpommern, a region that is represented in 32 projects with 25 partners in the current Interreg Baltic Sea Region Programme. On the occasion of Interreg celebrating its 30th anniversary, we asked Niklas about his view on the future of Interreg cooperation.

Read full story
Partners
Ministry of Energy, Infrastructure and Digitalization Mecklenburg-Vorpommern
Bialystok University of Technology
Vidzeme Planning Region
Setesdal Regional Council
Vilnius Gediminas Technical University
Swedish Transport Administration
Petrozavodsk City Administration
Hajnówka District
Dalarna University
Tourist Information Center of the Republic of Karelia
Finnish Environment Institute
University of Tartu
Contacts

Project manager

Carsten Beyer

Ministry of Energy, Infrastructure and Digitalization Mecklenburg-Vorpommern

Legal representative

Christian Dahlke

Ministry of Energy, Infrastructure and Digitalization Mecklenburg-Vorpommern

Financial manager

Markus Woelck

Ministry of Energy, Infrastructure and Digitalization Mecklenburg-Vorpommern

Communication manager

Susanne Altvater

s.Pro sustainable projects GmbH