Improved Results in Innovation Support – transnational exchange and joint development between Innovation Infrastructure Organisations
IRIS
PROGRAMME 2014-2020
objective
1.1 Research & innovation infrastructures
IRIS
The Interreg project IRIS engaged fourteen business incubator organisations around the Baltic Sea and strengthened their management and business support skills to evolve as competitive cutting-edge incubators.
The opportunity
Business incubator organisations are crucial supporters for entrepreneurs, start-ups and small and medium-sized enterprises that drive economic growth and create jobs. Enhanced performance of incubators would result in better conditions for start-up companies and their evolvement into fully- fledged companies. Business growth and prosperity would in its turn enhance the competitiveness of the region making it a hotspot for more investments and talents. This would contribute to the further development of the Baltic Sea region as a dynamic, innovative, and business-driven region.
Aiming at turning incubators into global frontrunners, the project IRIS intended to engage the business incubator organisations and equip them with the knowledge and skills needed to address shared challenges.
2.46

Million

Total

1.80

Million

Erdf

0.16

Million

Eni + Russia

0.00

Million

Norway
Achievements
Fourteen business incubators gathered together and gained management and business support capacities by undertaking a series of targeted actions.
Peer exchange matters
The project contributed to strengthening management capacity through joint site peer reviews, thematic workshops and practical tests. The peer review activities improved quality and management performance by providing the incubators with targeted recommendations, so-called management improvement plans. The focus was on the review of governance structures and organisational setup of the involved incubators. Connecting with other incubators, learning best practices and sharing knowledge and experiences, has proven to be a powerful way to develop their capabilities to support start-ups and small and medium-sized enterprises (SMEs).
Transnational perspective in focus
The transnational perspective in all project activities has given most partners a new and different dimension of their everyday work. The IRIS project was instrumental in boosting incubator capacity to offer better conditions and services to their target groups to survive, grow and develop in the Baltic Sea region. The results were further spread among incubators operating in the Baltic Sea region to increase the impact of their support services.
Developments to continue beyond the project
The collaboration with the female entrepreneurs resulted in the establishment of a new concept for a regular workshop. Next, the project established a new advisory board for female entrepreneurs for steering up the strategic processes and streamlining decision-making.
In addition, the partner organisations continue with the health innovation award and Digital Baltic Start-up Day that gather relevant audiences, mark achievements and provide inspiration for new businesses joining the incubator community. Beyond that, the project launched a digital online business internationalisation platform where entrepreneurs, start-ups and small and medium enterprises from different countries could find actual internationalisation offers and support services.
EUR 2.2 million of support from the European Union helped to empower business incubator organisations, facilitate their management and support capacities in nurturing new skills, creating new companies, and opening up new markets across the Baltic Sea region.
Outputs
Roadmap for enhanced management capacity
In the Roadmap, the peer review process is outlined and described in detail. The process aims to improve governance structure and organisational setup among incubators. The roadmap covers areas such as findings, conclusions, and results on a general level. The roadmap is intended to be used as encouragement and guidance for incubators to adapt the process, but also to serve as inspiration for policymakers to facilitate the development of the innovation support system.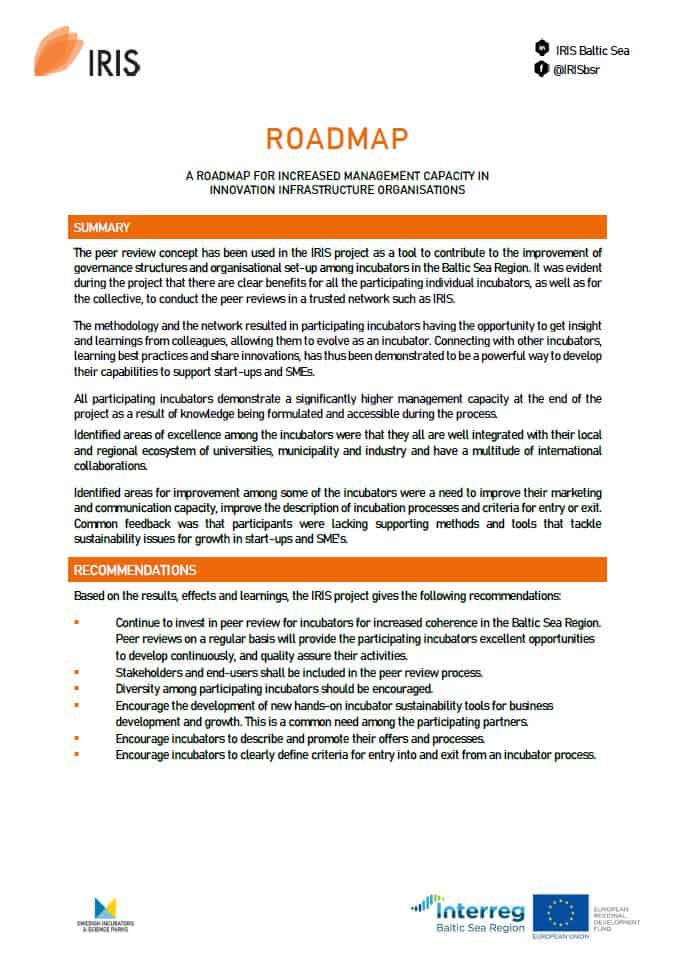 Summary of test reports
The "Summary of test reports" provides an overview of the tests performed by the involved incubators within the five focus areas of IRIS project. The focus areas are: high quality deal-flow to incubators, coaching for growth and sustainability, successful management in start-ups and SMEs, female entrepreneurship and internationalisation of SMEs business activities. The report should be seen as an inspiration for incubators on how to improve their performance and the provided services to their target groups. The partnership promoted the test results and the tested instruments to other incubators as good practices to be taken up in their daily work. The findings are of value for innovation infrastructure organisations across the Baltic Sea region.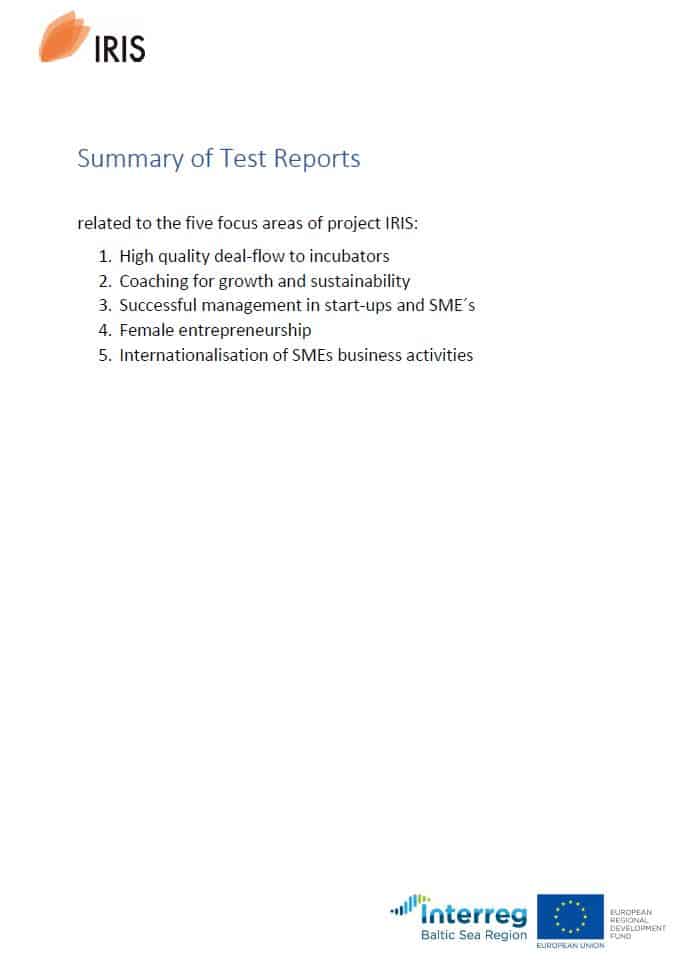 Guideline to incubator support instruments in five priority areas
"Guideline to incubator support instruments" (Guidelines) is published as a digital tool that facilitates transferability and uptake of new supporting instruments by actors outside the partnership. The Guidelines present the addressed five focus areas and documentation of the supporting instruments as well as short and inspiring films. The guideline is created to be a tangible tool aiming at increasing incubator support capacity and aimed at innovation support agencies and innovation infrastructure organisations in the Baltic Sea region.
Partners
Dalarna Science Park
Turku Science Park Ltd
Tallinn Science Park Tehnopol Foundation
Latvian Technological Center
Foundation "Ventspils High Technology Park"
Kaunas Science and Technology Park
VšĮ "Startup Division"
Gdansk Entrepreneurship Foundation
Rzeszow Regional Development Agency
DESY German Electron-Synchrotron
WITENO GmbH
SUCCEEDED by PP15 (01.01.2019) Business Development Centre Central Denmark
Fund "Victoria"
Business Hub Central Denmark
Contacts

Project manager

Erika Hinz

Dalarna Science Park

Legal representative

Angelica Ekholm

Dalarna Science Park

Financial manager

Pasi Lampinen

Dalarna Science Park

Communication manager

Patricia Eresjö

Dalarna Science Park