LNG Value Chain for Clean Shipping, Green Ports and Blue Growth in Baltic Sea Region
Go LNG
PROGRAMME 2014-2020
objective
3.4 Clean shipping
Go LNG
The Interreg project GO LNG explored new business opportunities for liquefied natural gas (LNG) as a green fuel for shipping in the Baltic Sea region and other international markets by bringing together scientists and business.
The opportunity
Liquefied natural gas (LNG) is considered as an alternative fuel to heavy oil and ship diesel which emit large amounts of CO2 and harmful substances containing sulphur and nitrogen when burned in ship motors. LNG is natural gas as we commonly use it in heating systems or for stoves, but cooled down to very low temperatures at which it becomes liquid. LNG as a fuel emits no sulphur, no nitrogen and less CO2 than classical ship fuels. In the longer run, gas from organic waste could be liquefied, too, resulting in renewable liquefied bio gas (LBG).
Because LNG is liquid, it can be stored and transported more easily than natural gas. And this is why it is interesting to the shipping industry. Ship engines that run on both heavy oil and LNG are already being produced and a few ports at the Baltic Sea coast can already accept and store LNG. In order to make use of LNG on a large scale in shipping, ship owners and operators as well as logistics and fuel companies need to learn how LNG works: which technology is needed on ships and in ports, how to store and apply it safely, what are the costs and benefits of switching to LNG, etc.?
Budgets
Go LNG
in numbers
3.05

Million

Total

2.24

Million

Erdf

0.00

Million

Eni + Russia

0.10

Million

Norway
Achievements
The project Go LNG focused on developing the demand and accessibility of Liquefied Natural Gas (LNG) in the Baltic Sea region. It created a strategic approach to LNG development and a technology approach for consolidating the LNG value chain and provided skills and business partnerships for infrastructure development. GO LNG has established the first macro-regional business cluster in Europe for LNG. The business networks unites over 300 businesses from large to small. Also, GO LNG has set up a competence center of scientific institutions to spread the knowledge needed to promote and develop LNG. The competence center delivered trainings to more than 1000 professionals and students.
Outputs
GO LNG platform
This online information platform is meant for stakeholders of LNG (liquefied natural gas) development from business and science. It provides access to industry news, to a business cluster and a scientific LNG competence center, which were set up within the GO LNG project. The Baltic Sea region LNG cluster helps building LNG related partnerships and to establish international business models. The organization unites LNG related industry from around the Baltic Sea and serves as the networking platform for national LNG organizations. Baltic Sea region LNG competence center is a network of scientific and business organizations which provides trainings on liquefied natural gas (LNG) for industry and public stakeholders. The network develops and promotes knowledge on LNG, will enable new research and competence development initiatives to support LNG infrastructure development in Baltic Sea region.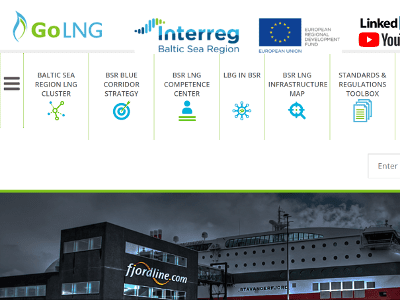 Liquid Biogas Business Concept Field to Ferry
This report presents a business model concept for renewable shipping fuel from local resources in coastal communities in the Baltic Sea Region. It is based on a test case of using liquefied biogas (LBG) from the "green island" Samsø in Denmark within the GO LNG project. The report analyses briefly the emerging market for both liquefied bio-methane for marine transport and the corresponding market for coastal communities to produce biogas and to concentrate the bio-methane in a liquid form either for heavy duty road traffic, for trains or for ferries. The Samsø Field to Ferry business concept is perhaps a one‐of‐a‐kind case, but inspiration can be taken for other localities with similar aims and options. The report combines the biogas planning manual from Denmark with a generalized business concept model and ideas of crowdfunding into a conceptual model for other coastal communities.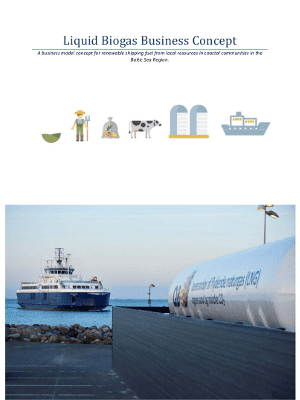 Project Stories
03.08.2021

In line with the EU's climate neutrality target, our Programme supported several initiatives tackling the diverse challenges faced by the Baltic Sea region's transport sector. We united our efforts to make our region more accessible, better connected and less polluted, ultimately improving the overall mobility experience in the area while protecting the environment. Read how Interreg Go LNG, BSR electric and Sohjoa Baltic have contributed to green mobility and innovation in transport sectors in the region.

Read full story

23.02.2018

Along with introducing strict EU environmental regulations to counteract air pollution in harbour cities, the maritime and transport industries in the Baltic Sea region turn towards alternative fuel and energy sources to reduce harmful emissions. The Interreg project Go LNG explores the demand and accessibility of Liquefied Natural Gas (LNG) as one of alternative fuels that leads to cleaner shipping.

Read full story
Partners
Klaipeda Science and Technology Park
NPPE Klaipeda Shipping Research Centre
Hochschule Wismar, University of Applied Sciences: Technology, Business and Design
inwl non-profit Limited Institute for sustainable Economics and Logistics
World Maritime University
Blekinge Institute of Technology
Maritime Development Center (MDC) / Transport Innovation Network /
Municipality of Samso
OSK-ShipTech A/S
Shipping & Offshore Network
Baltic Ports Organization
Maritime University of Szczecin
SC Klaipedos nafta
ATI erc gGmbH education, research and furtherance of cooperations
WITHDRAWAL Logistics Initiative Hamburg
WITHDRAWAL Swedish Maritime Technology Forum
Motus
Clean Shipping Index AB (svb)
RISE Research Institutes of Sweden AB
Logistics Initiative Hamburg
Contacts

Project manager

Andrius Sutnikas

Klaipeda Science and Technology Park

Legal representative

Roma Stubriene

Klaipeda Science and Technology Park

Financial manager

Ingrida Ramanauskiene

Klaipeda Science and Technology Park

Communication manager

Sigita Paulaviciene

Klaipeda Science and Technology Park