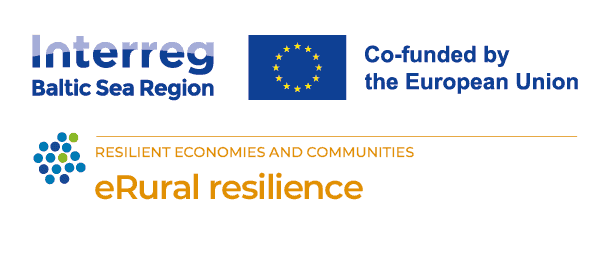 Creating resilient rural communities in BSR based on the opportunities of digital bio businesses
eRural resilience
Peopleimages - AI– stock.adobe.com
eRural resilience
PROGRAMME 2021-2027
priority
1 Innovative societies
objective
1.1 Resilient economies and communities
Project type
Core Project
Implementation
November 2023 - October 2026
eRural resilience
The project eRural resilience enables local authorities and business support organisations in rural areas to help SMEs increase their digital literacy in e-marketing of bio products and thus seize new business opportunities.
Project summary
The attractiveness of living in the countryside has grown over the past years (specially pushed by COVID). Even businesses are being attracted with the perspective of combining green with digital transition, especially with the advance of telework. However, BSR rural areas still battle with problems that prevent people from staying there, so the divide between urban and rural keeps growing. Rural authorities, and business promotion bodies in BSR, are promoting local businesses that can convert renewable biological resources into higher valued products, but the limited local market is not big enough in clients, so this new bio-businesses promotion has to be linked to digitalization, with the focus of covering urban or international markets. We call them e-bio-businesses. However, local authorities are facing challenges when supporting SMEs or individuals in the transition to bio-producers but keeping a strong digital profile. The whole knowledge to provide: from benchmarking of bio-products, thematic selling platforms, marketing channels, logistic, packaging, etc. is seen as a complex combination, which is usually not covered by the current competences of local business centres. eRural Resilience offers a holistic solution, with a group of tools which will both, convert target groups into fully competent e-bio-business supporters, and allow fast-launching of e-bio-businesses. SMEs and individuals, not being target groups, will be the final beneficiaries of the solutions.
Copy direct link to this summary
Budgets
eRural resilience
in numbers.
2.92

Million

Total

2.34

Million

Erdf

0.00

Million

Norway
Peopleimages - AI– stock.adobe.com
eRural resilience
in numbers.
58.376819826.716714642813585

54.9351238.868148

58.376819826.716714642813585

55.70494198.7526017

53.660120311.3611688

63.0085675523.816225653005745

63.83366125000000623.162068173802083

57.543451825.3862339

59.437215524.7453688

62.787400322.8207874

54.898213923.9044817

50.87036920.6383401

50.037735522.0056678

50.849237420.9370523
Contacts
Project manager, Financial manager, Communication manager

Sven Tobreluts

Association of Municipalities of Tartu County
Follow us
Social media

Newsletter

Additional links