Real-life implementation of renewable community energy projects
Energize Co2mmunity
PROGRAMME 2014-2020
priority
2 Natural resources
objective
2.2 Renewable energy
Energize Co2mmunity
The project Energize Co2mmunity piloted six renewable community energy (CE) projects across the Baltic Sea region.
The Challenge
Community energy puts citizens at the heart of the energy production system. Local communities play an active role in the production of renewable energies from local sources such as wind, solar, biomass, hydropower, or geothermal. Together, citizens co-finance, co-develop, and co-operate renewable energy plants, and foster sustainable energy distribution, like local heating networks or biogas filling stations. Through active communication, transparent decision-making, and local
benefit sharing community energy projects have high social acceptance. Consequently, fostering community energy projects is highly promising for increasing the share of renewable energies in the Baltic Sea region. This also contributes to the European Union's vision of providing Clean Energy for all Europeans. Energize CO2mmunity built on the project CO2mmunity. Energize Co2mmunity launched real-life pilot projects of renewable community energy in the Baltic Sea region.
Budgets
Energize Co2mmunity
in numbers
0.67

Million

Total

0.52

Million

Erdf

0.00

Million

Eni + Russia

0.00

Million

Norway
Achievements
Getting better equipped
The project Energize CO2mmunity enhanced the institutional capacities of energy and citizens' associations across the region. The capacities covered four dimensions, namely: enhanced institutionalised knowledge and competence; improved governance structures and organisational set-up; better ability to attract new financial resources; increased capability to work in transnational environment.
The gained "enhanced institutionalised knowledge and competence" in the Co2mmunity project through the provision of a CE (community energy) knowledge base for the Baltic Sea region, documented e.g. with country-specific CE handbooks, was further strengthened with the lessons learnt obtained through piloting. The institutional capacities increased by applying a concrete solution and subsequently establishing this knowledge durably in an organisation.
The piloting activities
The project carried out six piloted renewable community energy projects in different partner regions. Thus, in Denmark cooperation with the district heating network, a non-profit distribution of heat pumps concept has been tested. In Tartu, the pilot helped to establish the PV panel energy community together with Tartu city and the citizens. In Finland, the project identified and assessed the most feasible solution such as individual ground-source heat pumps for each house. In Germany, the project initiated a regional network to facilitate local community renewable energy projects. In Latvia, the project implemented two small-scale renewable energy community demonstration projects to demonstrate how the prosumer approach can be applied in practice and how renewable energy communities can operate in practice within the existing regulatory framework. In Lithuania, worked on development of a multifunction centre using solar PV. The experience in creating community renewable energy projects was distributed between neighbouring communities and municipalities. In addition, the partners developed a brief summary including results, process description, success factors, transferability aspects as well as potential hindrances during the work and how the partners or stakeholders overcame them.
Outputs
Six piloted renewable community energy projects
The project developed and piloted six renewable community energy projects. The pilots were carried out in different countries (Finland, Germany, Estonia, Lithuania, Latvia and Denmark), in various societal and technological contexts (e.g. photovoltaic, wind park, geotherm). The six piloted renewable community energy projects cover: 1. how participatory mobilisation process according to the RENCOP/Co2mmunity prove to be successful; 2. how citizens can take the energy transition into their own hands; 3. how to generate a profit-making business case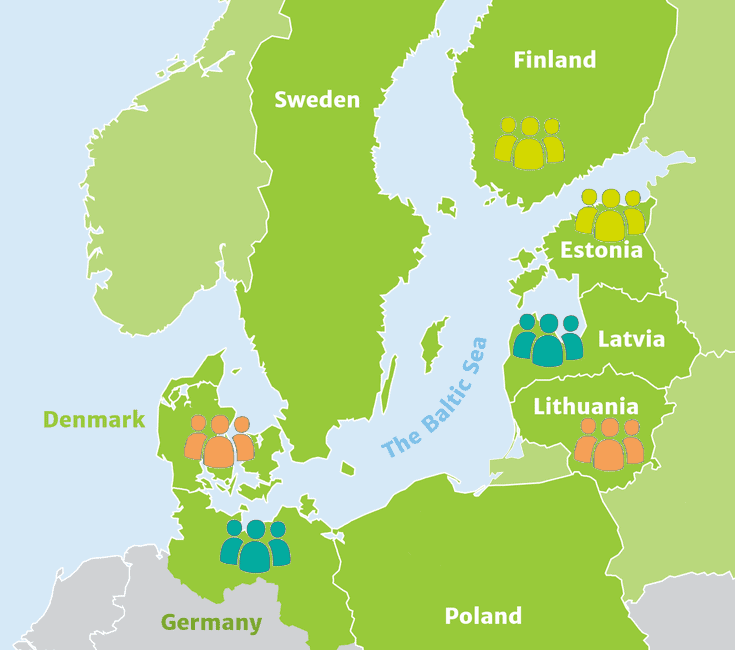 Compilation of findings for Community Energy solutions
The compilation contains community energy pilot results through stories collected in "Get Inspired on Community Energy - Stories from the Baltic Sea Region" and the summary of overcoming barriers to community energy (CE) projects. The compilation is useful for renewable energy stakeholders like municipalities, intermediaries, energy agencies, NGO's and ministries, citizen's associations, and institutions responsible for regional energy planning. They will use it as inspiration to apply similar community energy solutions in their own context.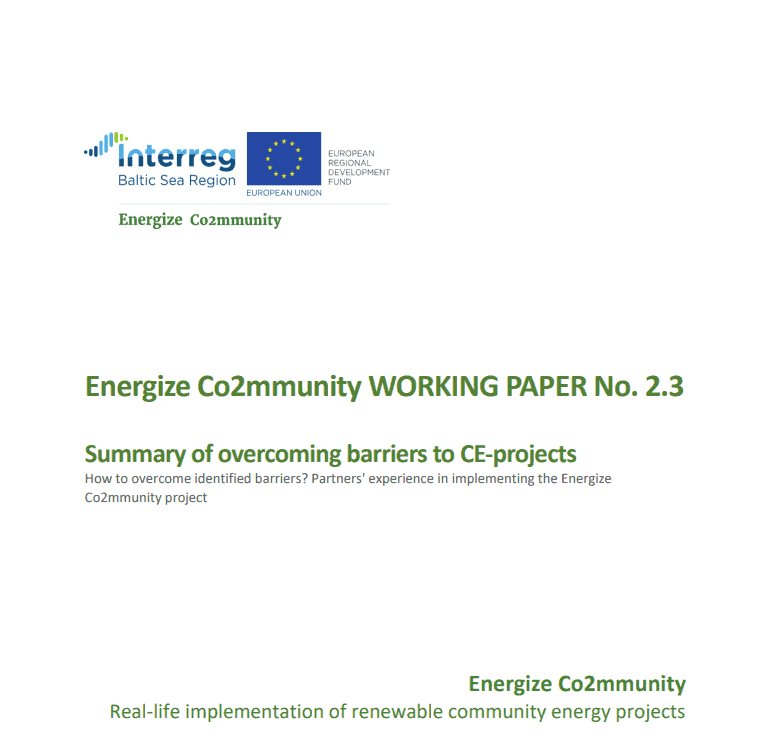 Partners
Kiel University
Green City Experience GmbH
Heinrich-Böll Foundation Schleswig-Holstein e.V.
Municipality of Middelfart
Tartu Regional Energy Agency
Green Net Finland
Kaunas Regional Energy Agency
Riga Planning Region
Aalto University
Contacts

Project manager

Robert Hassink

Kiel University

Legal representative

Linda Pialek

Kiel University

Financial manager

Katrin Gerle

Kiel University EU Office

Communication manager

Gerlind Wagner-Vogel

CAU Kiel