Network of Service Providers for Eco-innovations in Manufacturing SMEs
ECOLABNET
PROGRAMME 2014-2020
objective
1.1 Research & innovation infrastructures
ECOLABNET
The project ECOLABNET helped manufacturing small and medium-sized enterprises in bio-based materials, 3D printing, and other business areas to develop eco-innovations.
The challenge
A lack of strong ties between small and medium-sized enterprises and research centres hampers eco-innovations in the Baltic Sea region. In parallel, there is the untapped potential of a more cohesive combination and delivery of products and services.
Service oriented approach
To tackle this challenge, ECOLABNET analysed the requirements of SMEs and business support organisations to introduce eco-innovations successfully. Based on that, the project created a list of competences and services in need, and developed methodologies for efficient cooperation between SMEs and research facilities. The ECOLABNET project set up a network across the value chain of products that integrates product-service system designers, bio-based material researchers, 3D print technology providers, eco-branding specialists and business developers. By connecting research and business, the project triggered new business opportunities for enterprises that offer services and products manufactured in the spirit of environmental sustainability.
Budgets
ECOLABNET
in numbers
2.25

Million

Total

1.80

Million

Erdf

0.00

Million

Eni + Russia

0.00

Million

Norway
Achievements
The ECOLABNET network
The ECOLABNET project established a transnational network of research, development and innovation (RDI) service providers and intermediary organisations to support eco-innovation in manufacturing small and medium-sized enterprises (SMEs). The ECOLABNET brought together partners from Denmark, Estonia, Finland, Lithuania, Poland and Sweden. Thanks to the well-defined collaboration models, internally and externally, and strategies developed by the project partnership, the network has solid grounds to continue its operations after the project´s end. As an example, ECOLABNET produced three different user personas of intermediary organisations (IOs) working towards manufacturing SMEs: Promoter, Networker and Dealer. Meeting on yearly basis helps in creating further connections and presenting new research findings, demonstrations and innovations from which the network members can learn and benefit. Being a part of the network helps to stay up-to-date with the latest developments in eco-innovation. The network serves also as a matchmaking platform where the members can find business partners and customers, as well as share the information about their own products or services. The ECOLABNET network is continuously expanding based on an expansion plan and long-term strategy. The network is managed by a presidency, which is yearly changing and is agreed upon until the end of 2029.
Service packages
ECOLABNET provided access to expertise to eco-innovation in the following areas: bio-based materials, 3D printing, product design and development, marketing, environmental assessment, business strategy and eco-innovation management. On the project website, there is the information about the concrete examples and inspiring demo videos produced as a result of the collaboration between manufacturing companies and RDIs, check here.
Outputs
ECOLABNET governance model and action plan for long-term sustainability
The model describes the cooperation values as well as the structure of the network and its operating procedures. It sets the expertise requirements for potential members and the membership approval process. The action plan describes the strategic and operative actions for five years after the project´s   end. It also includes indications on membership and infrastructures, which are needed to support the network sustainability. The current members of the ECOLABNET network use these documents in planning, preparing and managing joint projects between research, development and innovation (RDI) service providers, SMEs and intermediary organisations.  New members of the network can use these documents for reference and better understanding of its work and how to join. The governance model and action plan make ECOLABNET network collaboration trustworthy and guides SMEs on how to cooperate with RDI service providers.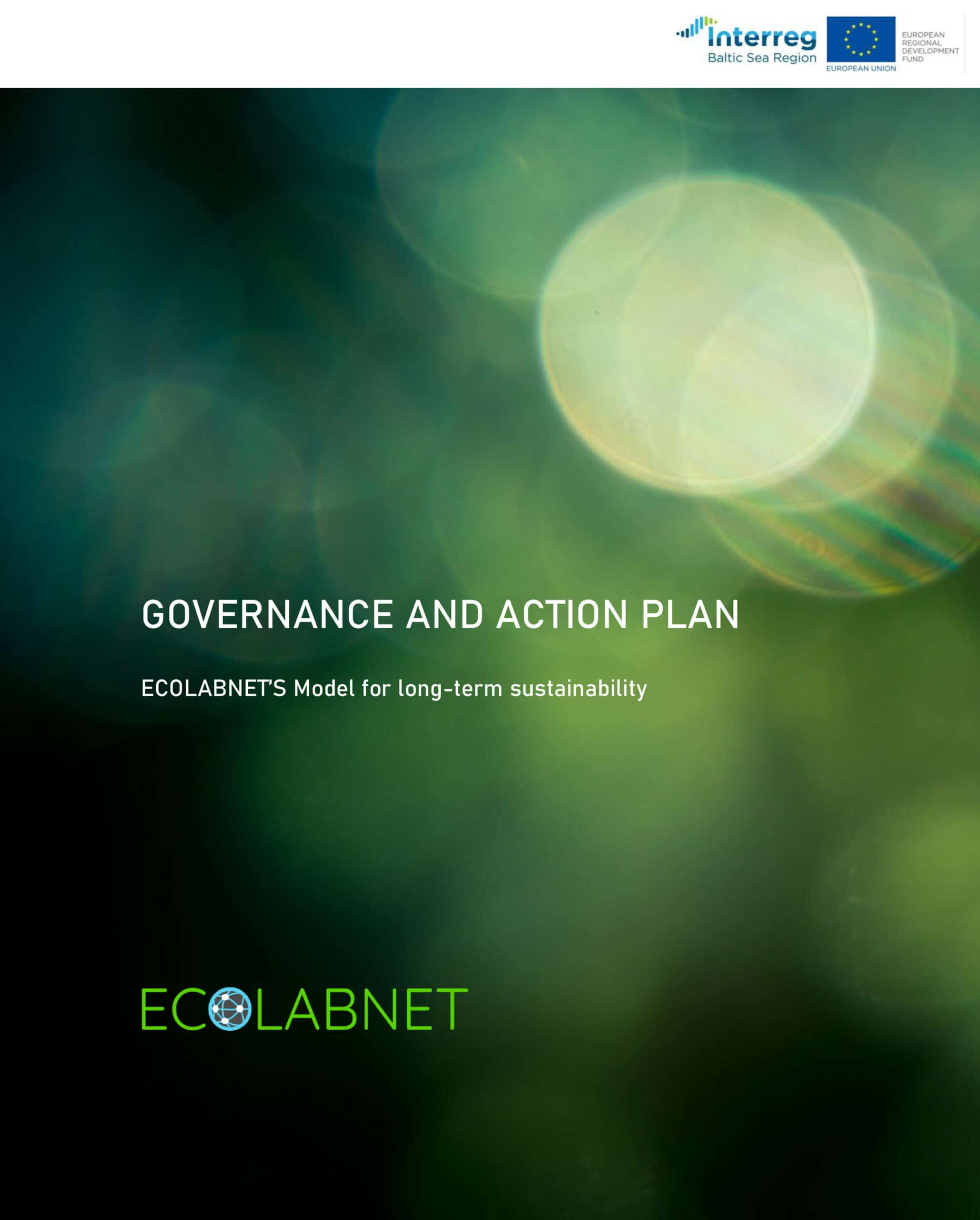 ECOLABNET Service Packages
ECOLABNET developed 32 different services, which are offered by the ECOLABNET network. The services are grouped in 8 packages: Service Package 1 "Business strategy" (11 services); SP2 "Eco-innovation management" (5 services); SP3 "Bio-based materials" (10 services); SP4 "Product design and development" (14 services); SP5 "3D printing" (5 services); SP6 "Environmental assessment" (6 services); SP7 "Marketing" (6 services); SP8 "Other eco-innovation expertise" (9 services). By checking the service packages, SMEs and intermediate business support organisations can understand what services ECOLABNET provides, and in what way they can use ECOLABNET expertise and facilities for their eco-innovation needs. By checking the service packages, intermediate business support organisations can get to know about ECOLABNET expertise and facilities. They can therefore support SMEs in identifying the relevant ECOLABNET service providers for their innovation activities and make the link between them.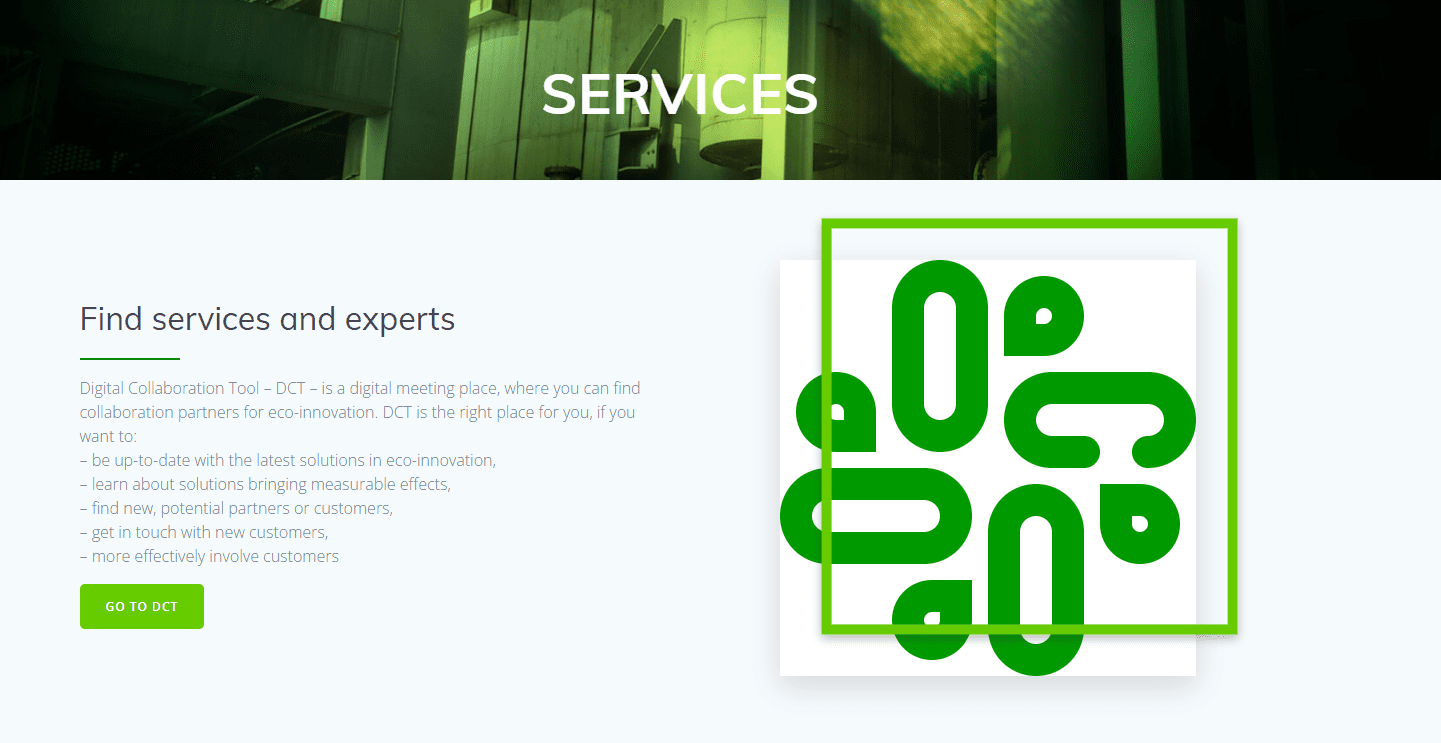 ECOLABNET Digital Collaboration Tool
The digital collaboration tool (DCT) is a digital meeting place where research and development institutions, intermediate business support organisations and small and medium-sized enterprises (SMEs) can virtually meet and work together. DCT is open to anyone looking for information on environmentally-friendly technologies, materials, products, as well as looking for expertise and services in the domain of eco-innovation. This includes also the effective use of human and technical resources. SMEs can use DCT to learn about how to gain support for their eco-innovation, what support and competences they need, how they can find suitable RDI partners and facilities. Intermediate business support organisations can use the tool to assist the SMEs they support in finding the right service providers for their specific needs and to learn about supporting sustainable innovation. The tool stimulates continuous transnational cooperation.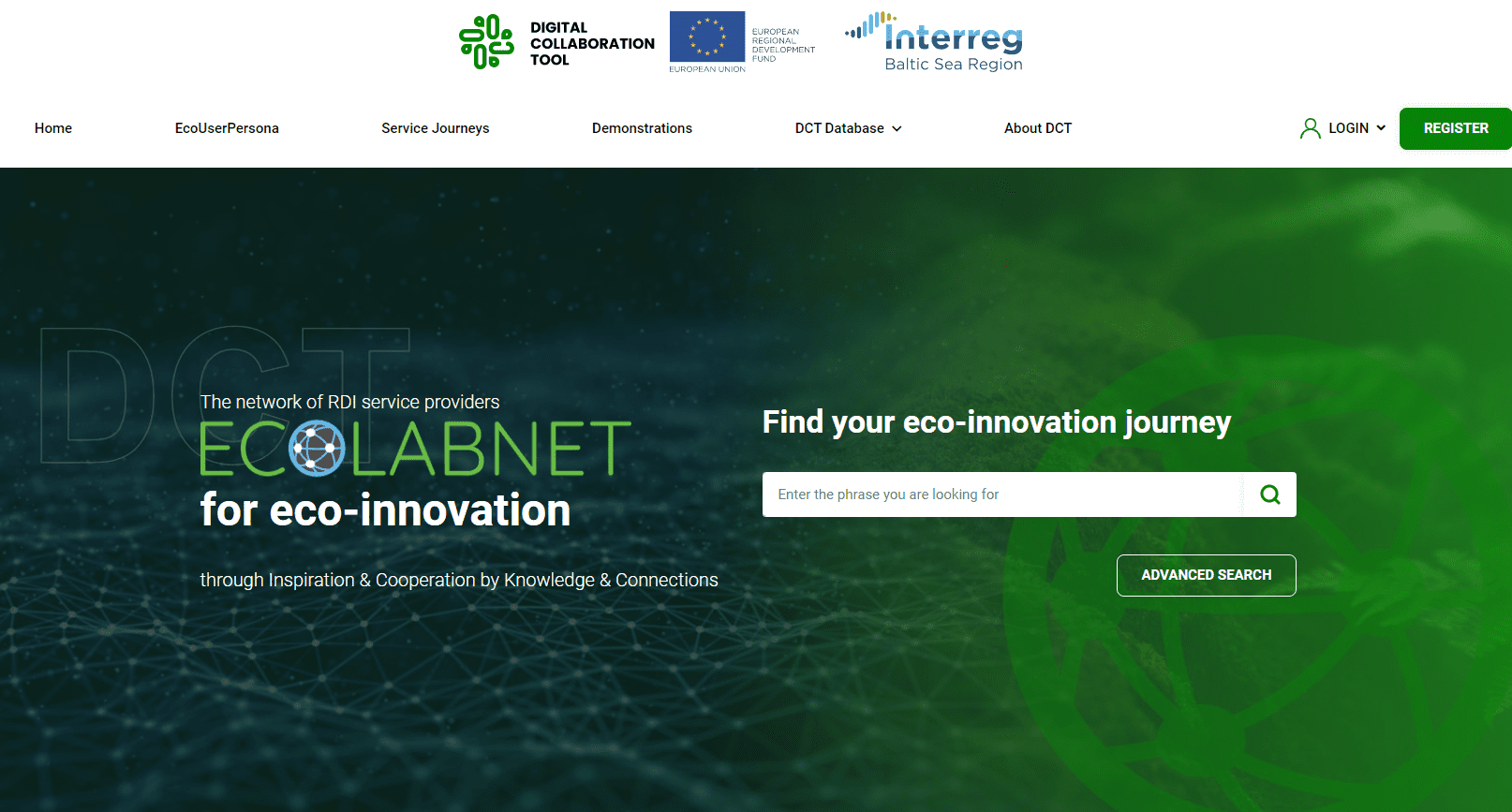 Partners
VAMK Ltd. University of Applied Sciences (Muova)
Kaunas University of Technology (KTU)
University of Tartu (UTartu)
Czestochowa University of Technology (CUT)
VIA University College (VIA)
Vilnius University (VU)
Centria University of Applied Sciences Ltd (Centria)
Labsamera MB
Estrotech Ltd
Lithuanian Business Confederation
SUSTAINABLE INNOVATION LTD
Contacts

Project manager

Miia Lammi

VAMK Ltd. University of Applied Sciences Design Centre MUOVA

Legal representative

Kati Komulainen

VAMK Ltd. University of Applied Sciences (Muova)

Financial manager

Sanna Virkkala

VAMK Ltd. University of Applied Sciences Design Centre MUOVA

Communication manager

Miia Lammi

VAMK Ltd. University of Applied Sciences Design Centre MUOVA