Digital Innovation Network
DIGINNO
PROGRAMME 2014-2020
objective
1.3 Non-technological innovation
DIGINNO
Through faster and more efficient uptake of digital solutions in public and private sectors, the project DIGINNO helped to accelerate the Baltic Sea region's transition to a single digital market.
The challenge
As the digital economy and a digital single market are seen as drivers of innovation, competitiveness and growth, there is a need to accelerate the integration of ICT solutions. Even if the countries across the Baltic Sea region are frontrunners in many aspects of digital economy, more needs to be done in terms of enhancing and balancing digital economy development in the region.
To address the challenge, the project DIGINNO focused on facilitating digital single market related to policy discussions. The aim was to develop a strong cross-sectoral industry digitalisation community and engage associations, universities, public authorities and sectors to better understand each-others challenges and find common solutions. The project hads chosen a government-to-business approach and focused on how governments and their policy approach can support more digitalisation.
The project aimed to increase the capacity of policymakers, industry associations and industrial small and medium-sized enterprises (SMEs) to enable faster and more efficient uptake of digital solutions both in public and private sectors. The point of departure was that the challenges can be tackled through strengthening the macro-regional knowledge base, exchange of experience and peer-to-peer learning, designing and piloting transnational digital solutions and conducting policy and regulatory dialogue.
Budgets
DIGINNO
in numbers
3.50

Million

Total

2.75

Million

Erdf

0.00

Million

Eni + Russia

0.05

Million

Norway
Achievements
Mapping the status on digitalisation potential in the region
The project DIGINNO focused on common challenges in the Baltic Sea region in the context of digitalisation, such as uptake of ICT in the business sector, the innovation of public services and cooperation of digital policies on the macro-regional level. The partners analysed digital potential and mapped sector activities for industry digitalisation. The project partners from 10 countries and additional external stakeholders established an informal digital policy network. The project addressed policy aspects as an integrated part of developing concrete tools, e.g. how policies may turn into challenges for the target groups but also enable new solutions across borders. The analysis covered the need for concrete policy solutions to enable well-functioning digital transformation for SMEs and smooth cross-border transactions. Such support included for example further development regarding data interchange, know-your-customer-approach and e-receipts.
Aligning digital approaches
The toolkit starts from digitalisation examples. It refers to challenges, country-specific information and a self-assessment tool to evaluate the level of digitalisation and to support identifying gaps. Beyond developing tools, the cooperation in working groups, seminars or other means of exchange has contributed to an increased institutional capacity of partners and external stakeholders on industry and government levels. A more harmonised digital policy mindset and increased awareness of the potential of aligning digital approaches across the Baltic Sea region have grown. The collaboration process itself has shaped the network as a source for developing ideas and engaging partners for future joint initiatives
Outputs
Digitalisation toolkits
The toolkits focus on the digital transformation of medium-sized enterprises (SMEs). With the help of the online toolkit, SMEs can evaluate their level of adopting digital technology and where they need to improve. Additionally, the toolkit provides guidance to SMEs on what they need to consider when they decide to digitise operational processes. The digitalisation toolkit improves SME innovation capacity in the context of industry 4.0 readiness.
Cross-border e-services
As a part of developing four cross-border e-services, the project issued feasibility studies and roadmaps. Cross-border e-government services, namely eCMR, cross-border Know-Your-Customer utility, cross-border Business registration and cross-border e-receipt services were in the spotlight. The feasibility studies and the roadmaps were developed in consultation with the relevant public services involved in the delivery of such services. For example, for eCMR , KYC and e-receipt, the relevant public agencies were part of the working groups working on these initiatives in the Baltic states. For e-government business registration, the consulted public agencies were business registrars in the Nordic countries and Norway.
Overview of policy-related ideas and recommendations
The project elaborated policy inputs and summarised them in a so-called "Policy White Paper". It compiles policy-related ideas and recommendations on how EU and national policies can support transnational digital collaboration and address challenges for SMEs. It is meant to inspire policymakers to be creative and "cross-border minded" when developing new policy initiatives. The paper is also considered to inspire industry associations in their work with influencing national digital policies.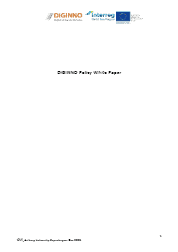 Project Stories
24.11.2021

The uptake of digital solutions both in the public and private sectors is the key to boost innovation and remain competitive. The Interreg project DIGINNO helped small and medium sized enterprises (SMEs), industry associations and policy makers speed up the Baltic Sea region's transition to a single digital market.

Read full story
Partners
Ministry of Economic Affairs and Communications of Estonia
Estonian Association of Information Technology and Telecommunications
Foundation Tallinn Science Park Tehnopol
DIMECC Ltd.
Polish Chamber of Commerce of Electronics and Telecommunications
Latvian Information and Communications Technology Association
Ministry of Environmental Protection and Regional Development
Engineering Industries Association of Lithuania LINPRA
Association INFOBALT
RISE AB
Aalborg University
WITHDRAWAL (31/10/2018):The Ministry of Transport and Communications of the Republic of Lithuania
The Brønnøysund Register Centre
Ministry of the Economy and Innovation of Republic of Lithuania (partner as of 1.04.2018)
Contacts

Project manager

Grigori Ošomkov

Ministry of Economic Affairs and Communications of Estonia

Legal representative

Ando Leppiman

Ministry of Economic Affairs and Communications of Estonia

Financial manager

Reet Reismaa

Ministry of Economic Affairs and Communications of Estonia

Communication manager