Decision Aid for Marine Munitions
DAIMON
PROGRAMME 2014-2020
priority
2 Natural resources
objective
2.1 Clear waters
DAIMON
The Interreg project DAIMON equipped maritime, defence and environmental administrations in decision making tools that help deal with dumped chemical and conventional warfare in the Baltic Sea and the Skagerrak.
The challenge
Legacy at the bottom of the Baltic Sea
Some 50,000 tons of chemical munitions and 200,000 tons of conventional munitions were dumped into the Baltic Sea after World Wars I and II. So far, there have been no efforts to remove the dangerous legacy from the bottom of the Baltic Sea. However, the recently increasing construction of pipelines, cables and wind farms at sea as well as natural corrosion of dumped containers increase the risk of explosions near populated areas and of contamination of the environment.
Over the years, there was an ongoing discussion on how to assess and manage the environmental risk of dumped ammunition. Although the environmental effects of some of harmful substances, such as arsenic compounds, are well known, in other cases, the knowledge is insufficient to make proper risk assessments.
Budgets
DAIMON
in numbers
4.73

Million

Total

3.53

Million

Erdf

0.00

Million

Eni + Russia

0.15

Million

Norway
Achievements
Impact assessment
DAIMON assessed the environmental impact and biological effects of chemical and conventional munitions dumped at the bottom of the Baltic Sea and Skagerrak that originate from the first and second World Wars, and brought in some practical tools how to manage them safely.
Research project partners performed several sea missions to analyse selected warfare objects, for example the chemical munition in Bornholm and Gdańsk Deep, conventional munition in German coastal waters and the Gulf of Finland, a wreck with chemical munition in the Skagerrak and Måseskär. They analysed samples of sea water, sediments and marine biota on concentrations of hazardous substances around selected munitions. The research proved that dumped munitions could be toxic to the environment due to the degradation and leakage from munition shells.
From knowledge to action
A guidance on how to assess ecological risks for marine organisms caused by dumped munitions and their toxic contents, chemical warfare agents or explosives, complemented by six management strategies served as a basis for developing the decision support system for risk categorisation and decision aid. This online tool supports environmental agencies, maritime administrations, the military, spatial planning and coastguards in handling dumped munitions. Using specific parameters entered into it, the software analyses and categorises risks, and suggests procedures to take, e.g. monitoring, accumulation, recovery or destruction. The online tool developed jointly by the project is available to any authority across the Baltic Sea region. To facilitate its use, in the project follow-up called DAIMON 2, the partners will train respective authorities dealing with the management of marine space (maritime, environmental, fishery, military) and offshore economy stakeholders in integrating the tool into their regular work.
Outputs
Decision Support System for marine munitions
The DAIMON online tool for risk categorisation and decision aid was developed by the Clausthal University of Technology (Germany) in cooperation with other DAIMON partners. It helps public institutions dealing with the management of marine space (maritime, environmental, fishery, military) and offshore economy stakeholders to handle munitions dumped into the Baltic Sea and Skagerrak. For each detected munition object, the software requires specific parameters, based on which it formulates risk analysis. It covers information about the localisation and an overall state of the ammunition, the surrounding environment and the state of biological pollution or damage. Furthermore, it recommends possible actions to take, such as recovery and destruction, accumulation, encapsulation, capping, blasting or non-action, including monitoring and costs thereof.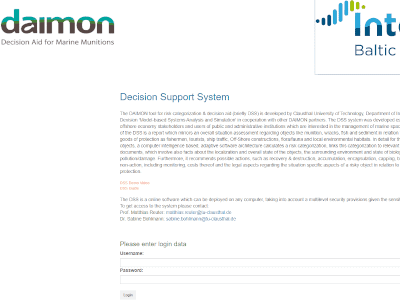 Catalogue of Baltic Sea dumped munitions' types
Polish Naval Academy in Gdynia in collaboration with other DAIMON partners created an online catalogue of all types of munitions resting on the bottom of the Baltic Sea. The catalogue allows registered users to manipulate objects in the catalogue (e.g. add new objects or edit existing ones). It helps representatives of maritime administrations to identify munition pieces found on the Baltic seafloor during economic activities (e.g. fishery, construction works, dredging, etc.). The catalogue allows for searching for munition objects, based on a weapon type, its calibre and country of origin.
Toolbox for the Assessment of Marine Munitions impact on biota / EcoTox Toolbox
The Thünen Institute (Germany) in collaboration with other project partners developed the EcoTox Toolbox. It enables environmental research and regulatory bodies to monitor and assess ecological threats posed by dumped marine munitions. It contains 1) a strategy how to analyse and assess the impact of dumped chemical and conventional munitions and associated hazardous substances on contamination and health status of exposed organisms and 2) a description of methods to be applied.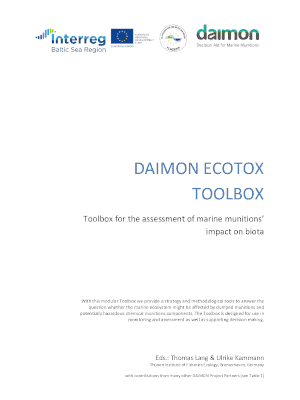 Project Stories
20.12.2016

Decision aid for marine munitions (DAIMON) is a project that was approved under the first call for the Interreg Baltic Sea Region Programme (2014-2020). It aims at supporting maritime, defence and environmental administrations in making decisions on management strategies for dumped chemical and conventional warfare in the Baltic Sea and the Skagerrak.

Read full story
Partners
Institute of Oceanology Polish Academy of Sciences (IOPAN)
Polish Naval Academy (PNA)
Military University of Technology (MUT)
Maritime Institute Gdańsk (MIG)
Lithuanian Environmental Protection Agency (LEPA)
Alfred Wegener Institute Helmhotz Centre for Polar and Marine Research (AWI)
Johann Heinrich von Thünen-Institut, Federal Research Institut für Rural Areas, Forestry and Fisheries (TI-FI)
Clausthal University of Technology (TUC)
University of Helsinki - VERIFIN
Finnish Environment Institute (SYKE)
Chalmers University of Technology
Norwegian Defence Research Establishment (FFI)
Contacts

Project manager

Jacek Beldowski

Institute of Oceanology PAS

Legal representative

Jan Marcin Węsławski

Institute of Oceanology Polish Academy of Sciences (IOPAN)

Financial manager

Radosław Małolepszy

Instytut Oceanologii Polskiej Akademii Nauk

Communication manager

Katarzyna Fidler

Biuro Projektów Fidler