Clear waters from pharmaceuticals
CWPharma
PROGRAMME 2014-2020
priority
2 Natural resources
objective
2.1 Clear waters
CWPharma
Seven countries across the region joined CWPharma to reduce pharmaceutical emissions released to waters of the Baltic Sea and improve water quality and biodiversity in the marine space.
The challenge
Residues of the active pharmaceutical ingredients cause concerns
Residues of the active pharmaceutical ingredients (APIs) like hormones, anti-inflammatory, analgesics or antibiotics, contaminate waters of the Baltic Sea and negatively affect the marine space. The residues that risk contaminating a large catchment area of the Baltic Sea have been identified but their impact on the environment requires an in-depth analysis. There are regulations on the EU level that require the countries to set up take-back schemes and disposal of unused medicine. However, on the national level, there is not always a unified approach or strictly obliging regulations that would accelerate actions on tackling the challenge. As an example, consumption data of veterinary APIs in agriculture and aquaculture is limited from Finland and Germany (only antimicrobial drugs) and totally missing from other countries in the Baltic Sea region.
A need for reliable data and knowledge
With the HELCOM status report on pharmaceuticals as a starting point, the project CWPharma intended to mobilise the countries across the Baltic Sea and provide adequate and reliable data and knowledge. Thus, transnational cooperation and best practice exchange would raise awareness on evaluation of various API emission reduction measures such as advanced wastewater treatment, upgraded take-back schemes, disposal of unused medicines, sharing environmental data on pharmaceuticals and their impact would provide a better understanding of the challenge and how to make measures more targeted.
The knowledge and data would enable a multitude of stakeholders, from municipal organisations, supervisory and permitting authorities, operators of waste disposal sites and waste water treatment plants to pharmaceutical industry and research, to make decisions in tackling pharmaceutical emissions.
Budgets
CWPharma
in numbers
3.73

Million

Total

2.88

Million

Erdf

0.00

Million

Eni + Russia

0.00

Million

Norway
Achievements
The project CWPharma gathered 15 partners from Finland, Sweden, Denmark, Germany, Poland, Latvia and Estonia to develop tools and recommendations for policymakers, national and regional authorities, municipalities and the pharma industry to enable reduction of the emissions to the Baltic Sea.
Data and knowledge collection
CWPharma mapped the current situation and compiled data on pharmaceutical sales, concentrations of APIs in e.g. Poland, Latvia and Estonia, removal rates as well as changed patterns in wastewater ecotoxicity during advanced wastewater treatment, like optimising advanced wastewater treatment techniques aimed to remove pharmaceuticals. Optimised treatment was piloted in Kalundborg (Germany), Linköping (Sweden) and Helsinki (Finland). The partners collected the data by sampling in each participating country´s catchment areas and by other testing, with e.g. ozonation and post-treatment. The data allowed to develop a model that would estimate the exiting API emissions and coastal concentrations in the Baltic Sea and assessed the impact of emissions reduction measures. As regards the emission reduction and management measures, the partners tested additional wastewater treatment, optimised compilation of data on disposal of pharmaceutical waste, as well as spread the accumulated knowledge, including APIs environmental classification.
Pilots
The project piloted different API removal technologies, and summarised the main findings as well as a compilation of relevant practical aspects for planning, implementation and operation in the guidelines. The piloting included implementation and operation of advanced wastewater treatment for API elimination at three ozonation plants (full-scale in Kalundborg (DK) and Linköping (SE), pilot-scale in Berlin/DE) as well as retention of powdered activated carbon at pilot-scale in Helsinki (FI). The results show that APIs can be efficiently reduced by ozonation and integration of such technologies into existing WWTPs, and this is technically and economically feasible. The reports about pilots are available for public use.
Targeted discussions and training
For reaching the targets and ensuring the viability of the findings, the CWPharma partners involved responsible authorities, the pharma industry, wastewater treatment utilities, interest groups, pharmacists, doctors, veterinarians with whom they discussed the key findings, searched for feasible solutions and jointly disseminated the data. Thus, the project strengthened the skills of wastewater plants and municipal authorities by sharing and discussing the guidelines and arranging workshop training. The updated knowledge and skills will enable the plants operators and municipal workers to manage advanced wastewater treatment in a more cost-efficient way.
For a better streamline of the results, the project partners developed an Action plan where they complied prioritisation and suggestions on policy orientated measures to enable reduction of API emissions to the Baltic Sea.
Outputs
Current emissions of active pharmaceutical ingredients (APIs) into the Baltic Sea
The report presents a calculation model for estimation of pharmaceutical emissions into the Baltic Sea, the calculation results received by applying the model, and a web-based map application. Specifically, the report contains information about loads of eight pharmaceuticals and their concentrations in selected river mouths and coastal waters within the Baltic Sea drainage basin. Thanks to the map application, it is possible to detect the areas emitting and receiving pharmaceutical emissions with the highest concentration. Besides, the report demonstrates the flows of pharmaceuticals for the entire Baltic Sea drainage basin as Sankey charts, which allows defining where emission reduction measures would be most effective for each pharmaceutical. Researchers, authorities in planning regional and national campaigns, pharma industry can make use of the tools and results compiled in the report.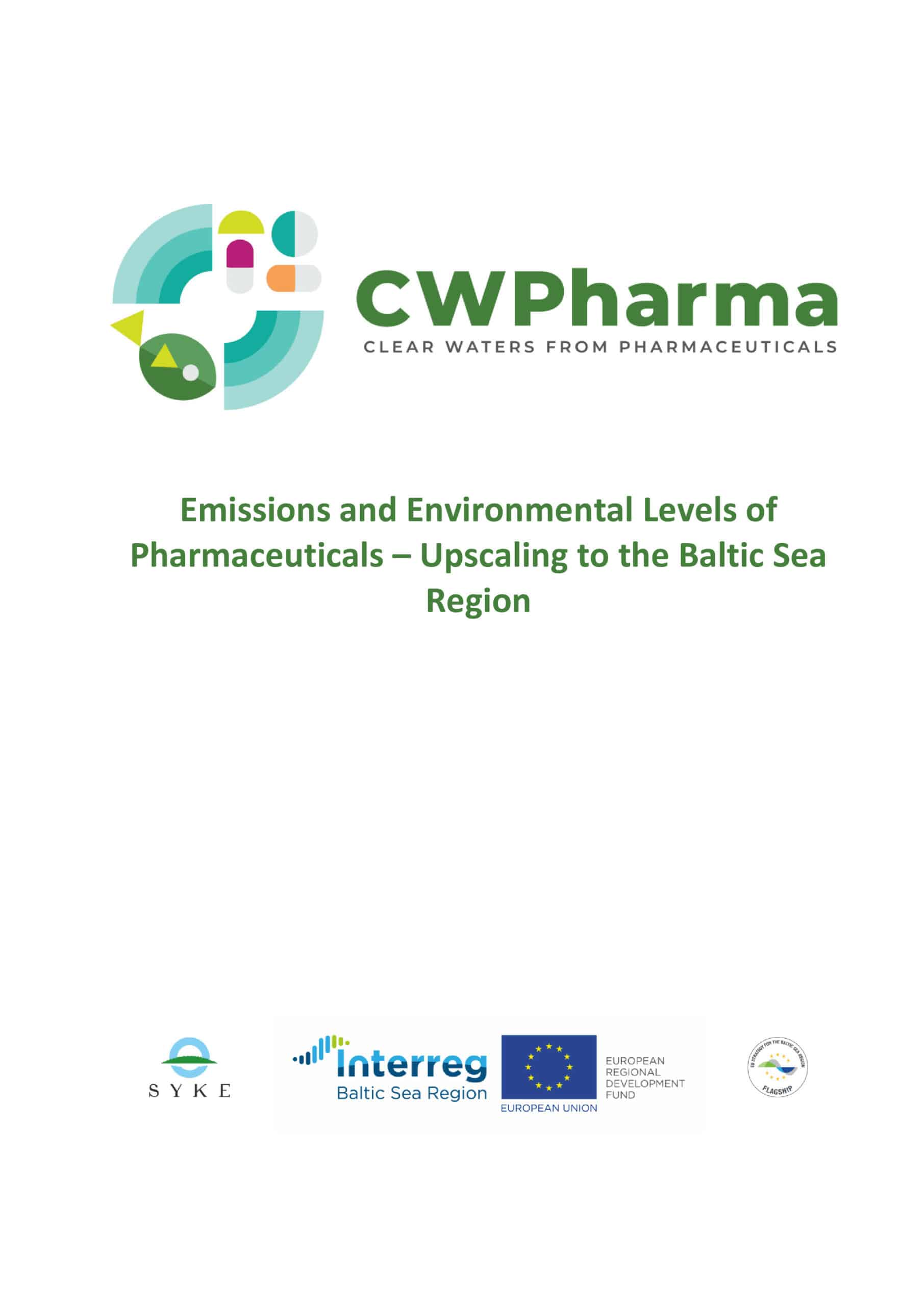 Guideline for advanced API removal
The guideline provides benefits and drawbacks of ozonation, activated carbon treatment both granulated and powdered as well as biofilm treatments for API removal from wastewater. It refers to API removal, maturity, process complexity, reaction by-products (from the water matrix) as well as reaction products (from the APIs), costs, energy consumption, carbon footprint, space requirement and suitability for use in combination with sludge use on agricultural fields for nutrient recycling. For reference, the guideline presents a list of wastewater treatment plants that integrate advanced API removal. The guidelines are for water utilities that consider API removal, municipalities searching possibilities to encourage their utilities to apply API removal, and regional authorities responsible for water quality.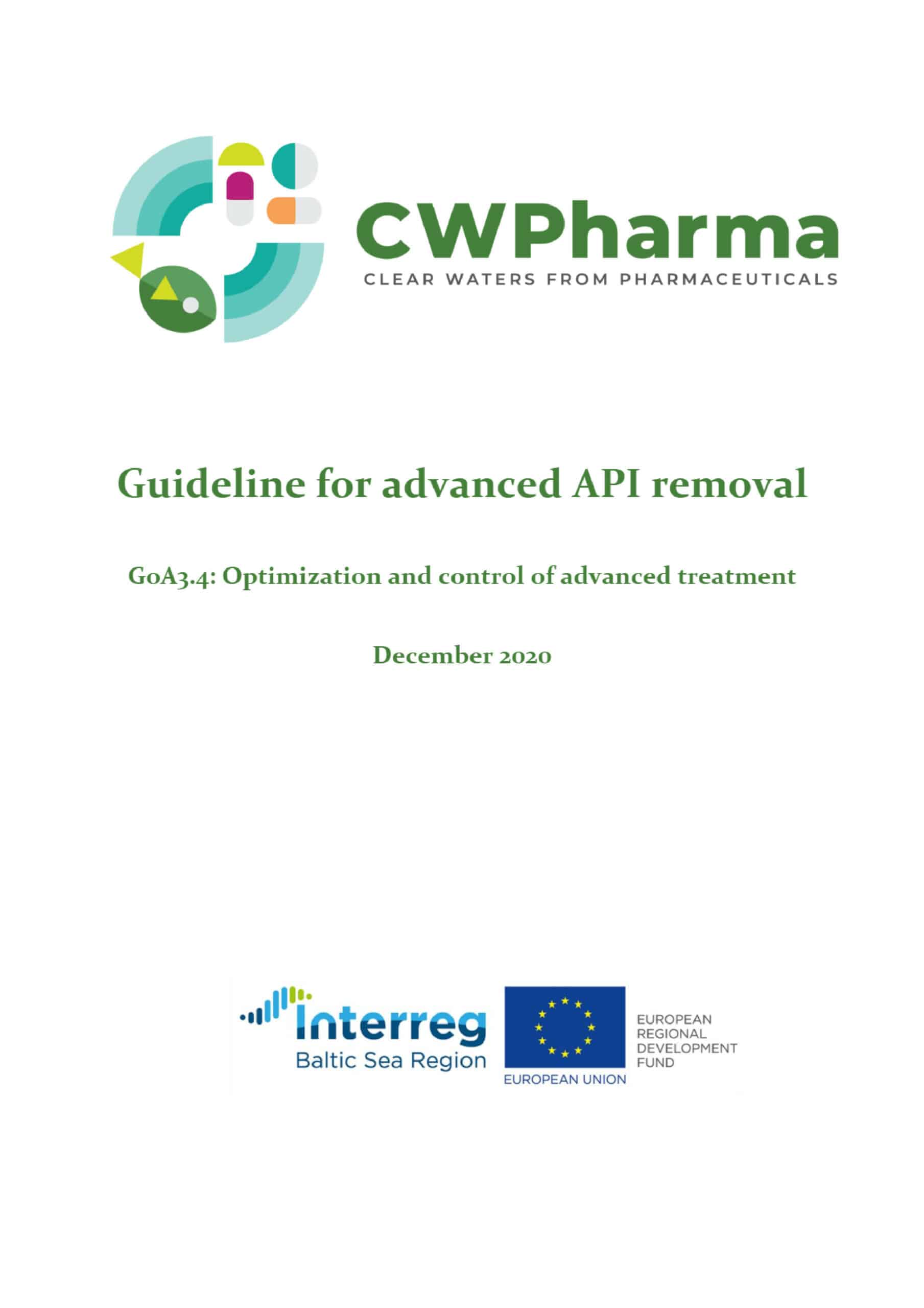 Action plan for API emission reduction
The Action Plan compiles findings and recommendations on emission reduction of APIs in the Baltic Sea, including emission management, treatment and reduction measures. Recommendations are structured in three political actions to prevent API release, five actions to reduce API discharges from wastewater treatment plants and finally four actions to upgrade knowledge emissions, environmental concentrations and ecotoxicity of APIs. Besides, the plan defines the functions of regulatory agencies, administrative bodies, national water networks, research and other organisations. The Action Plan is for the use of utilities, municipalities, environmental authorities in Denmark, Finland, Sweden, Germany to improve treatment of wastewater.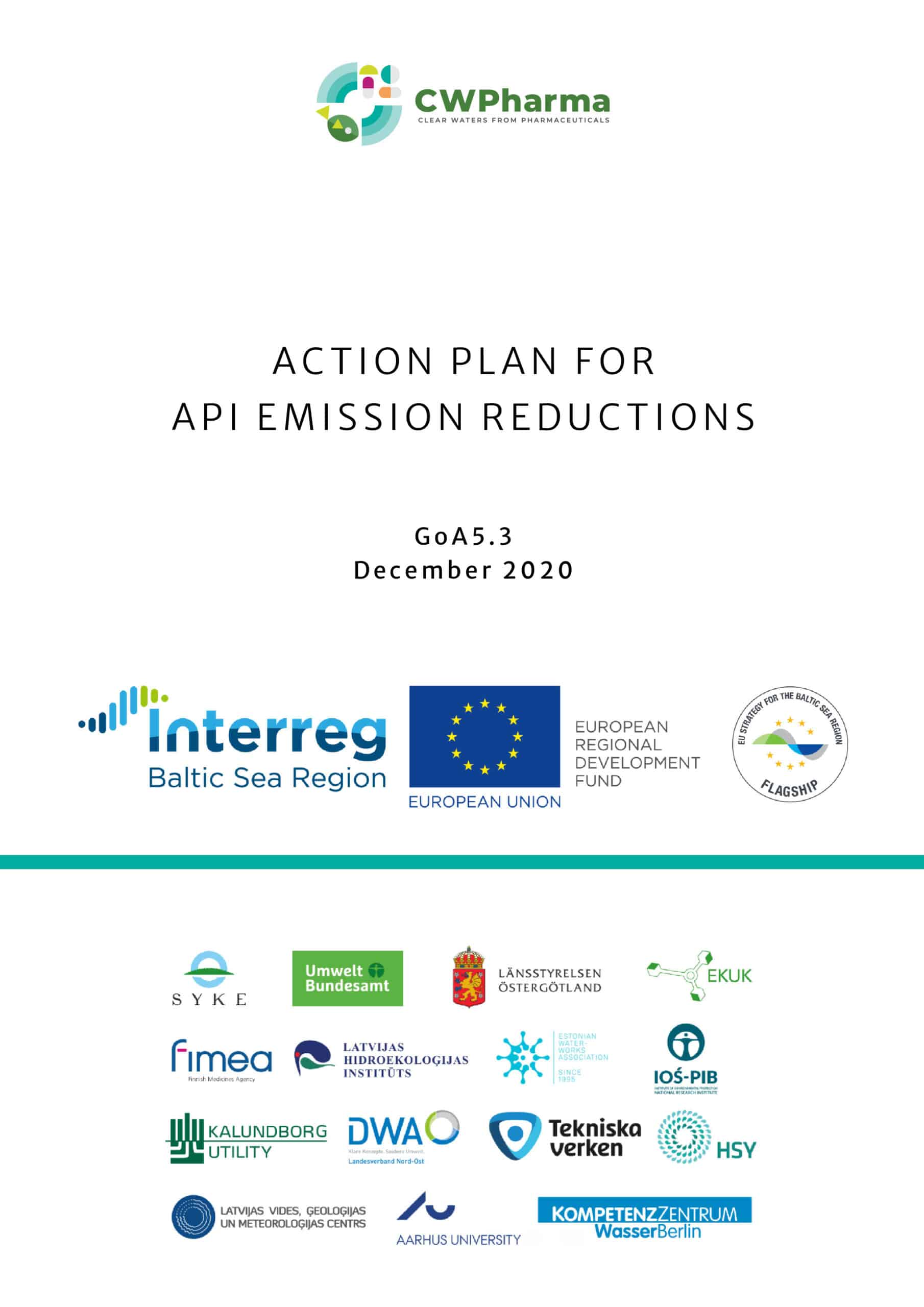 Project Stories
06.05.2021

Active pharmaceutical ingredients are found in our environment at concentrations that pose a risk to wildlife. Pharmaceuticals are used to treat humans and animals, and we cannot stop using them. Instead, the overall consumption of pharmaceuticals tends to increase with an aging population. "We must find applicable solutions to decrease the emissions of pharmaceuticals in the Baltic Sea region, and we need to work together.", states Noora Perkola, a leading researcher in Finnish Environment Institute and leader of the project "Clear waters from pharmaceuticals" (CWPharma).

Read full story

28.01.2019

Although pharmaceuticals are useful and often lifesaving for people, they may contaminate the Baltic water and marine life, for example if inappropriately disposed. CWPharma, an Interreg Baltic Sea Region project, picks up this pressing challenge and screens active pharmaceutical ingredients to analyse the sources, emissions and environmental concentrations of pharmaceuticals in the Baltic Sea region.

Read full story
Partners
Finnish Environment Institute (SYKE)
County administrative board (CAB)
Estonian Environmental Research Centre (EERC)
Berlin Center for Competence of Water (KWB)
Aarhus university (AU)
Kalundborg Utility
Technical facility Linköping (TVAB)
Finnish medicines agency (Fimea)
Helsinki Region Environmental services Authority (HSY)
Institute of Environmental Protection - National Research Institute (IOS)
Latvian Institute of Aquatic Ecology (LIAE)
Latvian Environment, Geology and Meteorology Centre (LEGMC)
Estonian Waterworks Association (EVEL)
German Association for Water, Wastewater and Waste (DWA)
German Environment Agency (UBA)
Contacts

Project manager

Noora Perkola

Finnish Environment Institution

Legal representative

Tero Eklin

Finnish Environment Institute (SYKE)

Financial manager

Maria Koski

Finnish Environment Institute

Communication manager

Sirpa Mäkinen

Finnish environment institute