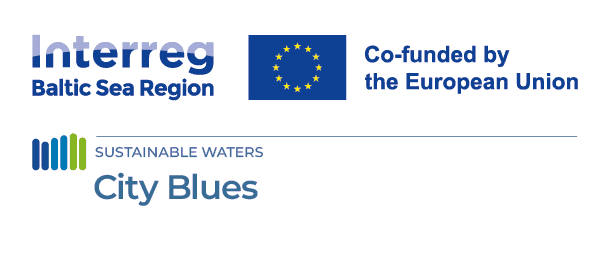 Bluegreen nature-based solutions for climate change adaptation and citizen wellbeing
City Blues
uslatar-stock.adobe.com
City Blues
PROGRAMME 2021-2027
priority
2 Water-smart societies
objective
2.1 Sustainable waters
Project type
Core Project
Implementation
November 2023 - October 2026
City Blues
In the project City Blues, cities develop plans for their urban waters and green areas to better respond to the negative effects of climate change, like floods and pollution, and create liveable areas for people at the same time.
Project summary
The key challenge addressed by this project is the increasing pressure of urbanisation in growing cities which make city rivers and streams with their water basins vulnerable for the effects of climate change, such as flooding due to increased rainfall, erosion of the stream banks during high flows, and pollution from the storm water runoff and from surrounding land use. The overall project aim is to support adaptation to negative effects of climate change and to improve green and blue infrastructure of densifying cities through integrated nature-based solutions (NBS) for urban flooding and stormwater management. Furthermore, the goal is to make the living environment for the inhabitants more inclusive, healthy, and attractive. In the development of NBS, the project builds on the watershed approach allowing a clear geographical and hydrological definition of an area to be managed, as well as on a strong focus on stakeholder engagement. Applying NBS for watersheds will help us to be better able to prepare for the multiple challenges posed by climate change and city densification, e.g. the increasing amount of stormwater, heat island effect and biodiversity loss. In the project, partner cities will create a joint operational model for the development of NBS for resilient urban watersheds. The operational model will be piloted in each partner city for developing, monitoring and maintaining NBS at a selected water basin with participatory approach for stakeholder engagement.
Copy direct link to this summary
Budgets
City Blues
in numbers.
2.95

Million

Total

2.01

Million

Erdf

0.22

Million

Norway
uslatar-stock.adobe.com
City Blues
in numbers.
61.500397123.7601795

55.5982502513.007463506209552

58.379894726.7224985

58.93746095.697361

52.491545913.300957

59.394974124.66761888709302

56.149627810.2134046
Berlin Centre of Competence for Water gGmbH
Town

Berlin

Region

Country

Germany

Region

Berlin
Representative

Berlin Centre of Competence for Water gGmbH

Phone

E-Mail

Web
Total partner budget
416,870.00
Tallinn University of Technology
Town

Tallinn

Region

Country

Estonia

Region

Põhja-Eesti
Representative

Tallinn University of Technology

Phone

E-Mail

Web
Total partner budget
228,480.00
Town

Aarhus

Region

Country

Denmark

Region

Østjylland
Representative

Aarhus Municipality

Phone

E-Mail

Web
Total partner budget
399,450.00
Contacts
Project manager, Financial manager, Communication manager

Anna Vilhula

City of Tampere

Project manager, Financial manager, Communication manager

Johanna Vannes

City of Tampere

Financial manager

Kasperi Salo

City of Tampere
Follow us
Social media

Newsletter

Additional links