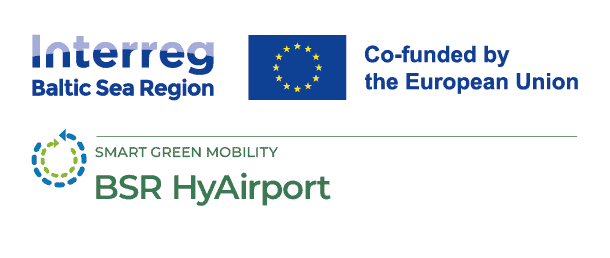 BSR Hydrogen Air Transport - Preparation of Baltic Sea Region Airports for Green Hydrogen
BSR HyAirport
muratart– stock.adobe.com
BSR HyAirport
PROGRAMME 2021-2027
priority
3 Climate-neutral societies
objective
3.3 Smart green mobility
Project type
Core Project
Implementation
November 2023 - October 2026
BSR HyAirport
With airports, service providers, industry and research organisations onboard, the BSR HyAirport prepares Baltic Sea region airports for handling hydrogen-powered aircraft, storing and delivering green hydrogen as a future energy source in aviation.
Project summary
Given the geo-economic structure of the region, efficient and reliable air transport is of great importance for the mobility of people and businesses in the Baltic Sea Region (BSR). Air transport not only provides access to peripheral areas but also helps to connect regions on all sides of the Baltic Sea. As many flights cover short distances in an environmentally sensitive area, the BSR has great potential to benefit from the introduction of hydrogen-powered aircraft, which are expected to come onto the market in the coming years. The BSR HyAirport project aims to facilitate the early adoption of this key technology in the BSR by preparing airports for storing, handling, and delivering green hydrogen as a future energy source in aviation. Common challenges to be addressed by the partnership include the evaluation of options and elaboration of concepts for the regional supply of green hydrogen to airports according to local demand, legal and safety requirements related to h2 storage and handling at airports, and the development and testing of equipment and procedures for refueling and handling hydrogen-powered aircraft. With a partnership of airports, technology partners, airlines, and research institutions from across the programme area, the project will create a unique (maybe leading) platform for the joint development, implementation, and testing of practical solutions serving the common challenges and specific needs of hydrogen-powered aviation in the BSR region.
Copy direct link to this summary
Budgets
BSR HyAirport
in numbers.
4.83

Million

Total

3.87

Million

Erdf

0.00

Million

Norway
muratart– stock.adobe.com
BSR HyAirport
in numbers.
53.633107910.0062238

52.406437916.9109856

54.640623625.277730700771727

56.922260823.9795191

59.437215524.7453688

60.292132125.0411832

53.346881-6.25886

56.878718314.8094385

56.943622424.1209179

53.346881-6.25886

54.86248468.419264578978401

53.80644910.7027468

53.80644910.7027468

56.949397724.1051846

57.705427711.8848773

56.653675223.7312798
Contacts
Project manager, Financial manager, Communication manager

Julian Klaaßen

Hamburg Airport
Follow us
Social media

Newsletter

Additional links