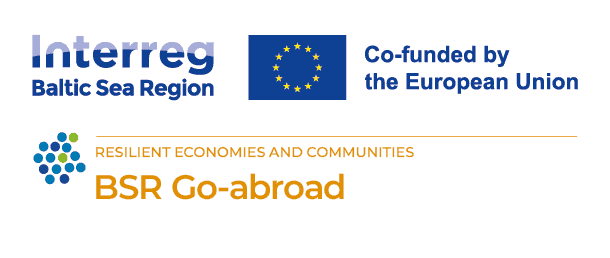 BSR Go-abroad - building market and supply chain opportunities for micro SMEs within the Baltic Sea Region
BSR Go-abroad
oatawa– stock.adobe.com
BSR Go-abroad
PROGRAMME 2021-2027
priority
1 Innovative societies
objective
1.1 Resilient economies and communities
Project type
Core Project
Implementation
November 2023 - October 2026
BSR Go-abroad
The project BSR Go-abroad develops a blueprint for micro SMEs to help them expand business offers and enter new markets across the Baltic Sea region in order to keep their businesses thriving regardless of any disruptions to come.
Project summary
Micro SMEs succumb easier to global crisis or unexpected external disturbances. However, micro SMEs operating in international markets are much more likely to recover quickly from or survive a global crisis. As such, local market presence and collaborations within the BSR will make micro SMEs more resilient by diversifying their market base, and creating local value chains that will shield them from global supply chain disruptions in the event of future exogenous shocks such as pandemics, wars or financial crisis. Therefore, the objective of this project is to increase the resilience of BSR micro SMEs and the BSR, by stimulating increased trade and collaboration within the BSR. This will be done by providing micro SMEs with the knowledge, tools and network to execute effectful internationalisation strategies and build strong local value chains within the BSR. The project will pilot an internationalisation programme for micro SMEs, that will have as its output a blueprint of tools and recommendations on how to increase and support local trade and value chain cooperations among micro SMEs in the BSR. The blueprint will then be transferred to and used by the micro SMEs themselves, business development organisations and business development departments of local authorities in the Baltic Sea geography.
Copy direct link to this summary
Budgets
BSR Go-abroad
in numbers.
3.00

Million

Total

2.09

Million

Erdf

0.19

Million

Norway
oatawa– stock.adobe.com
BSR Go-abroad
in numbers.
55.45839711.571534

54.77187711.48209

57.707232611.9670171

54.370685818.61298210330077

53.902960410.7787505

59.437215524.7453688

60.45343504999999622.28032535404293

59.9217310.725064
Contacts
Financial manager

Jens Peter Bech

Business Hub Zealand

Project manager

Jimmy Faustin Andersen

Business Hub Zealand

Communication manager

Jimmy Faustin Andersen

Business Hub Zealand
Follow us
Social media

Newsletter

Additional links