BSR electric – Fostering e-mobility solutions in urban areas in the Baltic Sea Region
BSR electric
PROGRAMME 2014-2020
objective
3.5 Urban mobility
BSR electric
The Interreg project BSR electric fostered and integrated e-mobility solutions such as e-logistics, e-bikes, e-buses, e-scooters, and e-ferries, in urban transport systems in eight countries across the Baltic Sea region.
The challenge
The cities in the Baltic Sea region are growing and driving economic development. At the same time, the cities are big polluters, being responsible for the CO2 and other greenhouse gas emissions. The more extensive use of various electric mobility solutions e.g. e-logistics, e-bikes, e-buses, e-scooters, and e-ferries, would help the cities to tackle the challenges and contribute to a greener region.
However, as the know-how in the application of the electric mobility solutions among urban transport planners and decisionmakers is still limited and fragmented, more needs to be done to improve the situation. More insights into how to strengthen institutional capacities concerning electrification of urban transport are needed.
The project aimed to enhance the use of electric vehicles in city transport systems such as public sector fleets, public transport and bike sharing in order to reduce CO2 emissions and pollution. The public authorities, business, academia and NGOs from eight countries across the Baltic Sea region wanted to explore the potential of e-bikes, e-buses, e-ferries and other e-vehicles, as well as how to integrate e-mobility into urban transport strategies.
Budgets
BSR electric
in numbers
3.83

Million

Total

2.79

Million

Erdf

0.00

Million

Eni + Russia

0.13

Million

Norway
Achievements
The gained knowledge matters
The project BSR electric has increased the knowledge of decision-makers concerning the potential of e-mobility solutions in urban transport systems. The knowledge gained has been further diversified in various ways in the participating institutions and their networks. The project targeted public administrations, public and private fleet managers, municipal companies, public and private transport operators, and other stakeholders interested in sustainable technological options and feasible solutions to integrate e-mobility into the urban transport system.
A variety of activities
The project´s pilot activities (seven use cases) have outlined how different e-mobility applications can be implemented in urban areas. The use cases provided model solutions, i.e. convincing evidence, for fostering the implementation, replication, and upscaling of the selected electric transport solutions. The lessons learned not only guided public authorities, companies, planners, and transport providers in the process of integrating the solutions into urban transport strategies but also contributed to transnational networking and learning. The project summarised all the achievements in an intuitive interactive manner on the results page. The interactive city map, being featured on the page, resembles a part of the "Baltic Sea Region Roadmap for Urban E-Mobility" and embeds the project's use cases in the context of the urban transport system of a Baltic Sea region city. The project BSR electric inspired and raised awareness of feasible solutions to transform cities into more liveable places.
Stimulating investments in electric vehicles and charging infrastructure
Besides, the project BSR electric strengthened the ability to attract new financial resources, i.e. stimulating investments into urban electric transport solutions. The project closely collaborated with the decision-makers on a set of means and ways to finance urban e-mobility solutions.
Outputs
Theme-specific recommendations
The hands-on recommendations are produced to guide public institutions and private businesses in taking the "right" informed decisions. The recommendations serve as a helpful means to fostering decisions to step up on e-mobility in urban and municipal settings:
E-Vans and e-Logistics - Action Checklist for Municipalities, local and national Politicians
E-Buses - Action Checklist for Municipalities and Public Transport Providers
E-Bikes - Action Checklist for Municipalities and Companies
E-Scooters - Action Checklist for Municipalities and Organizations
E-Ferries - Action Checklist for Municipalities
Online learning module on urban e-mobility applications
A set of submodules covers various formats (text, pictures, video, audio, interactive (quiz) features) to reach out to the heterogeneous group of e-mobility stakeholders. This online guidance is for decision- and policymakers in public authorities as well as urban transport actors who are challenged to implement sustainable urban mobility solutions in their cities. Next, the decision-makers of tomorrow, i.e. master students in related fields of studies, will find the relevant information, for example, as input for master theses or further research. The virtual learning arrangement has been promoted worldwide to academia, public and private actors. Due to its unique open-access design and placement on an open-access learning platform owned by Hamburg project partner, it can be accessed by all interested stakeholders.
Baltic Sea Region Roadmap for Urban E-Mobility
The Baltic Sea Region Roadmap for Urban E-Mobility compiles targets urban transport planners, municipal and regional decision-makers and civil servants, researchers, executives of city-owned companies, and public transport providers in cities of the Baltic Sea region.  The Roadmap is disseminated via a nested 4-layer approach. The four different formats vary in their information depth and content and thus cater to specific target groups.  The aim is to introduce to the key factors shaping the decision-making on  investments  into  e-mobility  solutions and the   development   of   sustainable and   cost-effective   operation   concepts.  Against   this   background,  this roadmap is divided into four parts:  1) Introduction to the thematic of e-mobility solutions in  urban  areas  and  sustainable  mobility concepts  in  times of climate change;  2)  Presentation  and  analysis  of  potential e-mobility  applications tested within the BSR electric project;  3)   Showcasing  inspiring   sustainable   mobility   projects; and  4) Conclusions on e-mobility solutions in urban areas in the Baltic Sea region.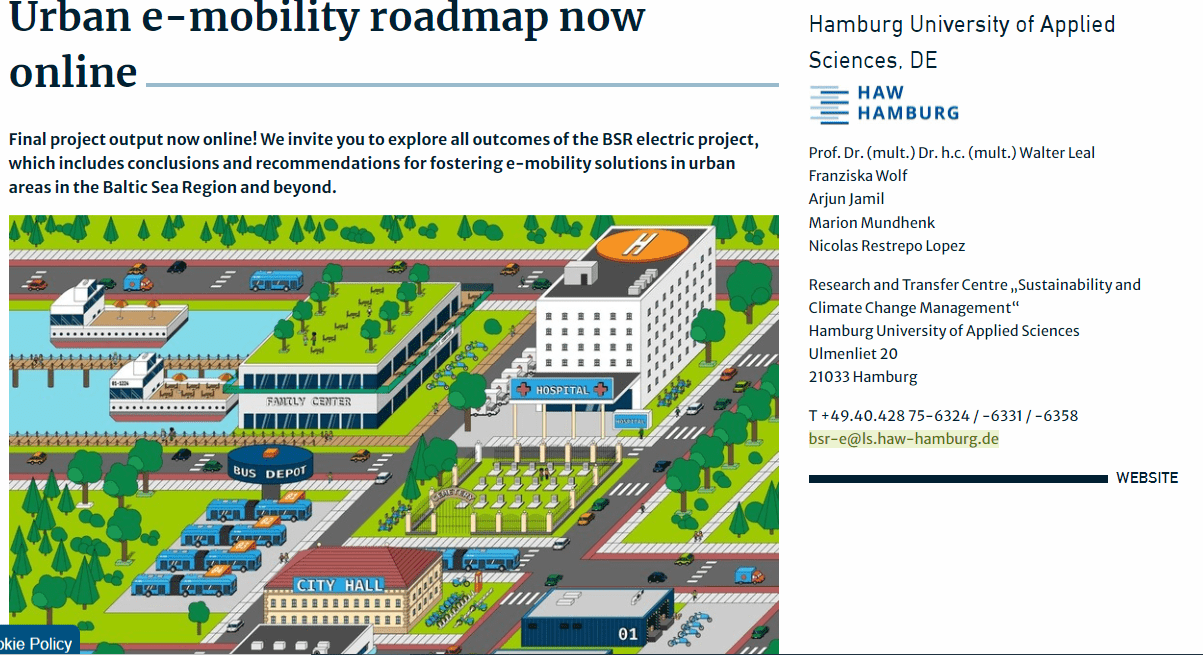 Project Stories
03.08.2021

In line with the EU's climate neutrality target, our Programme supported several initiatives tackling the diverse challenges faced by the Baltic Sea region's transport sector. We united our efforts to make our region more accessible, better connected and less polluted, ultimately improving the overall mobility experience in the area while protecting the environment. Read how Interreg Go LNG, BSR electric and Sohjoa Baltic have contributed to green mobility and innovation in transport sectors in the region.

Read full story
Partners
Hamburg University of Applied Sciences
ATI Küste GmbH Association for technology and innovation
Høje-Taastrup Municipality
Lindholmen Science Park AB
Zero Emission Resource Organisation (ZERO)
Turku University of Applied Sciences
Green Net Finland
Helsinki Region Environmental Services Authority HSY
Institute of Baltic Studies (IBS)
Tartu City Government
LTD Ardenis
Riga City Council
City of Gdansk
Urban Transport Administration Gothenburg
WITHDRAWAL (30.06.2019) Free and Hanseatic City of Hamburg, Borough of Bergedorf
Contacts

Project manager

Walter Leal

The Research and Hamburg University of Applied Sciences, Transfer Centre Sustainability nad Climate Change Management (abbreviation: FTZ-NK)

Legal representative

Micha Teuscher, Prof. Dr.

Hamburg University of Applied Sciences

Financial manager

Silke Kuehl

Hochschule für Angewandte Wissenschaften Hamburg

Communication manager

Franziska WolfParfeniuk

Hamburg University of Applied Sciences