Baltic Industrial Symbiosis
BIS
PROGRAMME 2014-2020
objective
1.3 Non-technological innovation
BIS
By strategically connecting companies from different industries, the project BIS promoted industrial symbiosis and helped boost eco-innovation.
Project summary

Industrial symbiosis implies cooperation of companies from different industries in order to use one company's waste, in the form of e.g. energy, ingredients or materials, as a resource for the next company. The industrial symbiosis model opens a lot of potential for circular economy solutions. However, it takes time to create a symbiotic partnership, as well as it requires a lot of data, specific knowledge, networking and mutual trust between the partners. Facilitation and support are therefore very important during identifying the symbiotic potential, matchmaking between the potential partners, as well as developing the new business relationships.
Screening based on dialogue approach
Within the BIS project, the partners involved more than 150 enterprises and used a dialogue approach to acquire information regarding the companies' consumption and under-utilised and lost resources within the production process. This allowed developing a useful screening tool for the companies in the Baltic Sea region to acknowledge their potential for new industrial symbioses.
2.50

Million

Total

1.33

Million

Erdf

0.34

Million

Eni + Russia

0.18

Million

Norway
Achievements
The project aimed at screening resources and matchmaking companies eager to find sustainable green business models. The business companies received a detailed review of their specific resource streams and advice on what resources they should focus on in relation to resource optimisation.
Training and peer-to-peer exchanges were held to build capacity among industrial symbiosis practitioners. The project organised so-called Living Labs as innovative arenas for start-ups and SMEs as well as large companies to analyse, test, and discuss their resource flows and the development of new products.
The project carried out nearly 40 business matchmaking events on local and transnational level. The events were ranging from one-to-one meetings between companies examining specific flow of resources (identified through the screening) to larger events considering broader fields of industrial symbioses. Transnational matchmaking granted regions with opportunities to identify companies from the neighbouring countries that could help them to exploit the value of their resources more sustainably. Altogether more than 160 companies took part in the matchmaking events, some of them already signed agreements of collaboration.
Besides, BIS succeeded not only in creating awareness of Industrial Symbiosis among a broad field of actors in the Baltic Sea region, but also in providing capacity building among supportive structures such as clusters and public authorities. Successful training programmes were developed and implemented based on close cooperation with educational partners, and all training sessions were customised to each region.
Tools, training materials, and guides for companies and Industrial Symbiosis Practitioners were made publicly available on www.symbiosecenter.dk/bis/
Outputs
Screening tool for symbiosis potentials
The screening tool helps to assess the resources and industrial symbiosis potential of the companies. The screening tool is easily accessible to anyone, including private and public business support organisations and consultants.  This way the tool can be applied by the companies that are interested to optimise their resources as well as industrial networks, business developers and educational programmes.Enter date.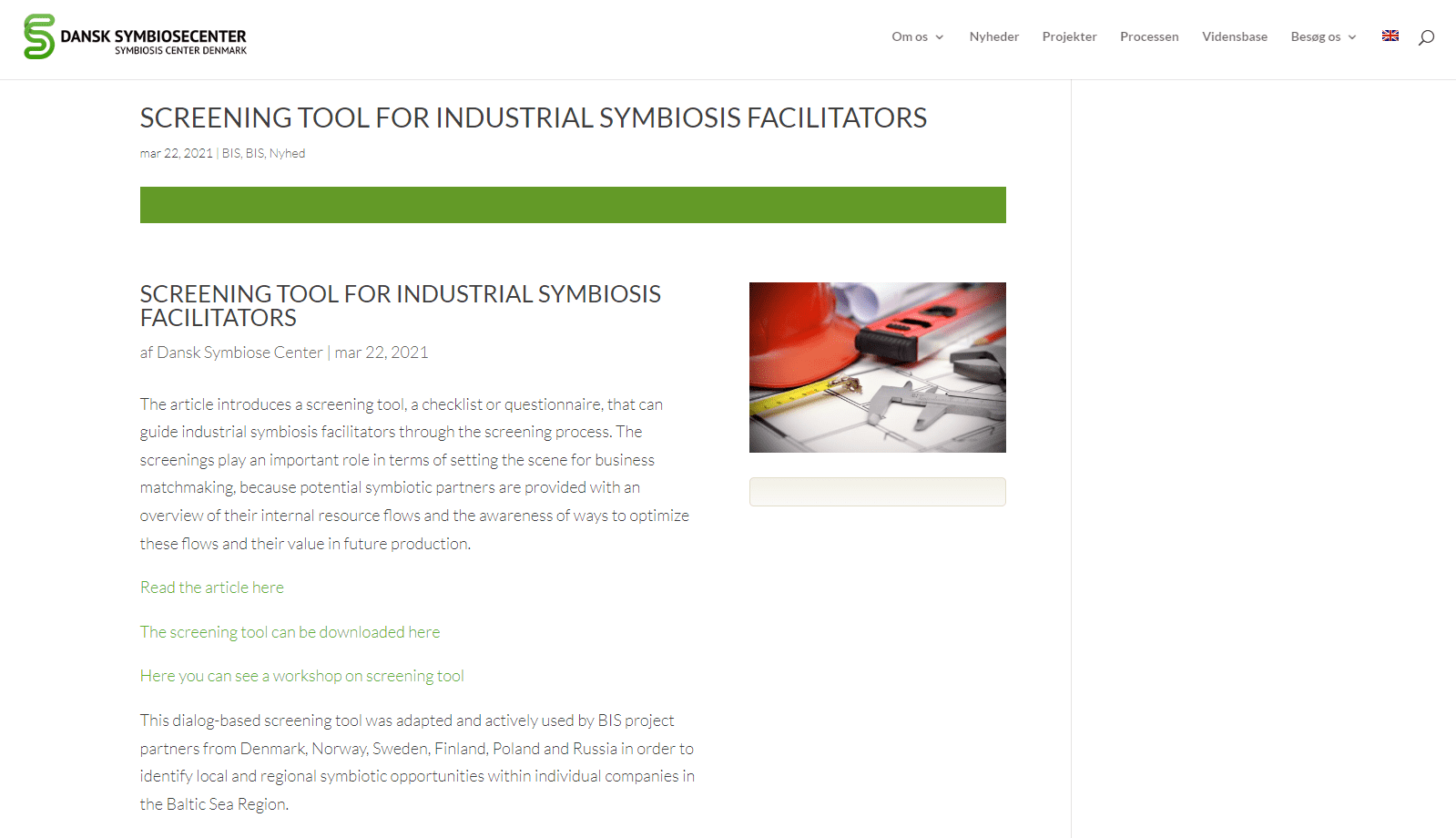 Guide on Different Milestones for Symbiosis Development
The Guide for Industrial Symbiosis Facilitators covers the areas most important for spreading the Industrial Symbiosis (IS) practices through business supporting establishments, consulting services, and training programmes. The Guide provides an overview of the different stages of symbiosis development. It also helps to institutionalise the gained knowledge for the next generation of Industrial Symbiosis cluster managers beyond the project partnership.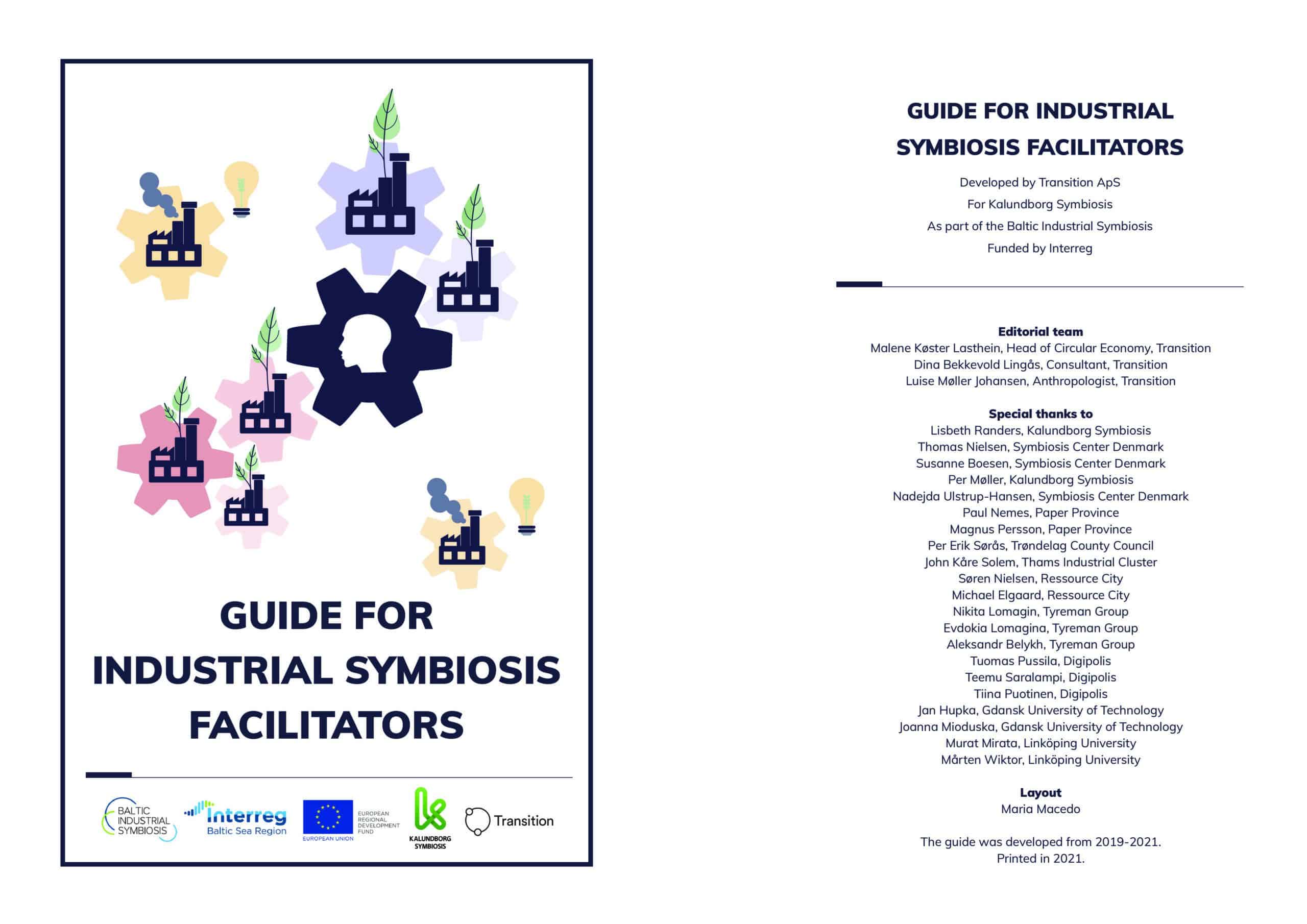 Material for Executive Training Programs (ETPs)
The project provided capacity building for a wider range of related organisations like clusters, public authorities and academia. The connected teaching material is available and can be used for free.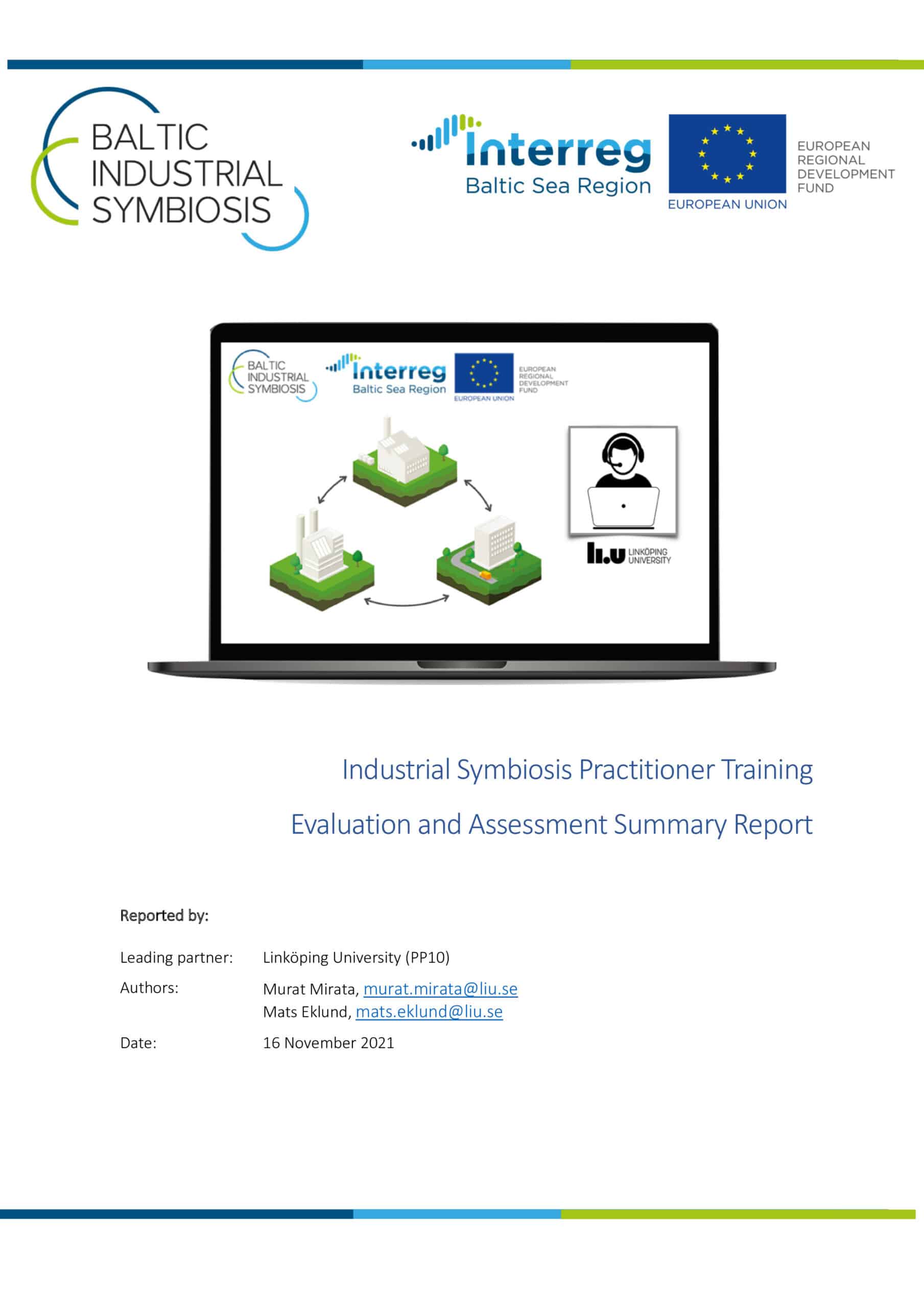 Partners
Symbiosis Center Denmark, Kalundborg Municipality
Kalundborg Symbiosis
Næstved Municipality
The Paper Province economic association
Digipolis
Trøndelag County Council
Swedish Agency for Economy and Regional Growth
Gdansk University of Technology
Linköping University
Roskilde University
Tyreman Group LLC
The St. Petersburg house property owners association
St. Petersburg State Geological unitary Enterprise "Specialised firm "Mineral" (SC Mineral)
Contacts

Project manager

Susanne Boesen

Symbiosis Center Denmark, Kalundborg Municipality

Legal representative

Michel van der Linden

Symbiosis Center Denmark, Kalundborg Municipality

Financial manager

Karin Snedker Pedersen

Kalundborg Kommune

Communication manager

Nadejda Ulstrup-Hansen

Kalundborg Symbiosis