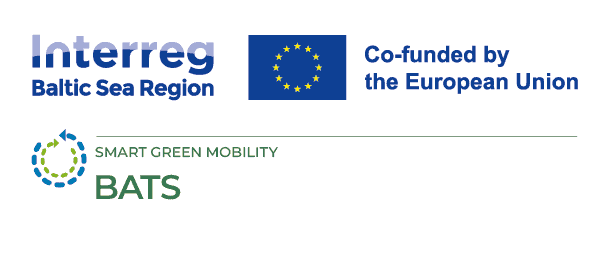 Baltic Sea region Active mobiliTy Solutions - in darkness and all weather conditions
BATS
AspctStyle– stock.adobe.com
BATS
PROGRAMME 2021-2027
priority
3 Climate-neutral societies
objective
3.3 Smart green mobility
Project type
Core Project
Implementation
November 2023 - October 2026
BATS
The project BATS helps local authorities plan and set up suitable infrastructure for year-round walking and cycling, and build an active mobility culture among people, as a green and healthy transport option regardless of the season.
Project summary
Active mobility is an accessible, healthy and green mode of transport. In the BSR' dark winters, with snow and rain, active mobility usage drops. To increase Year-Round Active Mobility (YRAM), suitable infrastructure and equipment must be in place, and citizens need to see it as an attractive and safe option. Public Authorities responsible for urban design, mobility planning and road maintenance do not currently give special consideration for YRAM. Out of tradition, mobility and road planning is still largely focused on cars, and cycling and walking planning typically targets daylight and warmer weather conditions. By learning about the benefits and opportunities, and accessing new tools and evidence-based recommendations on YRAM, planners can implement the right interventions to increase AM use all year round, contributing to low carbon mobility systems. BATS supports local and regional authorities to design and implement policies, infrastructures and campaigns that effectively promote Year-Round Active Mobility (walking and cycling in adverse light and weather conditions). Our two solutions will be co-developed and tested in 7 BSR countries and transferred to neighbouring cities and regions. Solution 1: a YRAM Technical Toolkit, helps planners to Diagnose YRAM issues, develop Intervention Strategies and Monitor progress. Solution 2: a Citizen Activation Guide for YRAM helps planners understand and prioritise user groups, and deploy effective campaigns to promote AM use.
Copy direct link to this summary
3.52

Million

Total

2.82

Million

Erdf

0.00

Million

Norway
AspctStyle– stock.adobe.com
BATS
in numbers.
53.550942559.946539974831461

63.8294048520.25427929433458

60.980257225.65564364811585

54.509826518.5394169

55.68074511.129623

55.715587221.128522730555556

59.4273559524.676451598203133

55.65572412.349459

59.30508118.1195504

62.785784722.841456170490726

59.394974124.66761888709302

54.370685818.61298210330077
Contacts
Project manager

Heike Bunte

Free and Hanseatic City of Hamburg- Borough of Altona

Communication manager

Mike Schlink

Free and Hanseatic City of Hamburg- Borough of Altona

Financial manager

Marvin Buchfink

Free and Hanseatic City of Hamburg- Borough of Altona
Follow us
Social media

Newsletter

Additional links