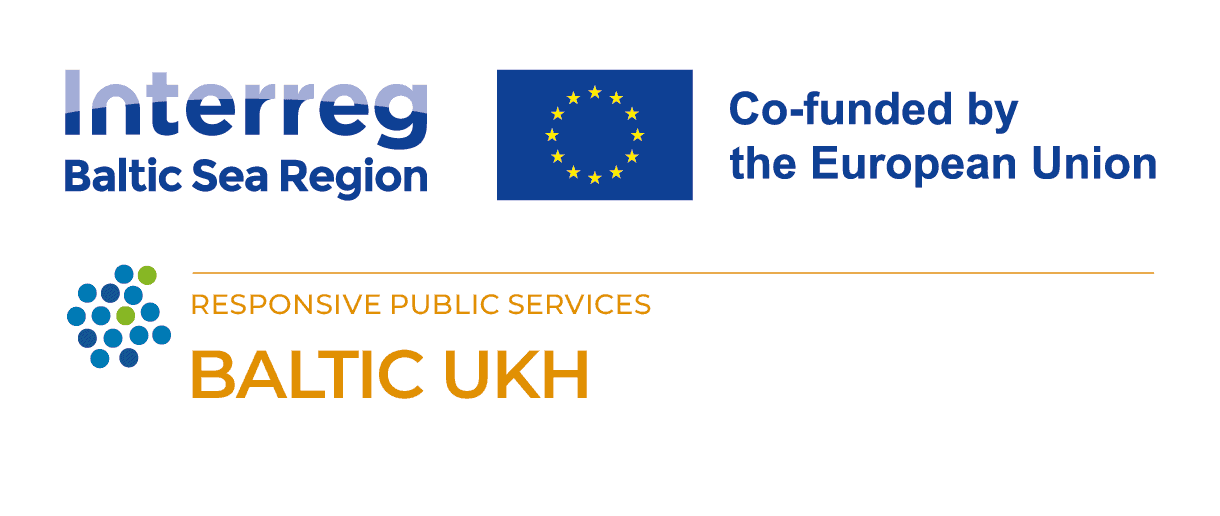 Urban Knowledge Hubs - Transformative Societal Spaces for Hybrid Libraries in the Baltic Sea Region
BALTIC UKH
stock.adobe.com
BALTIC UKH
PROGRAMME 2021-2027
priority
1 Innovative societies
objective
1.2 Responsive public services
Project type
Small Project
Implementation
August 2023 - July 2025
BALTIC UKH
The project BALTIC UKH helps authorities and education institutions increase digital literacy by designing attractive hybrid spaces for people to learn, interact and exchange reliable information.
Project summary
BALTIC UKH responds to the growing need for spaces across the BSR where citizens can access and exchange reliable and comprehensible information. These spaces need to be open for digital and physical provision of information and services, and be connected to global information networks and local communities. Public entities&NGOs that provide information and related services are needed to design such innovative spaces that enable citizens to become digitally literate and well-informed. Digital literacy is a crucial competence for professional development and sociocultural participation, as well as in the fight against disinformation and propaganda. Importantly, engaging groups and individuals is a key to designing successful hybrid spaces for information provision and knowledge exchange, however, there are no standards or shortcuts for designing such spaces. The aim of the project is to provide public authorities and others with tools and methods for the participatory design of accessible and attractive informational spaces and services. Following the idea of Urban Knowledge Hubs (UKH) as a new space concept, the project's main output will be a research-based toolbox for the conceptualisation and design of such hybrid information hubs. The toolbox will be adaptable for the needs of public authorities in urban and rural areas, as well as NGOs & higher education institutions. It will include best practices and will be made publicly available in 5 languages in all BSR countries.
Copy direct link to this summary
Budgets
BALTIC UKH
in numbers.
0.49

Million

Total

0.37

Million

Erdf

0.02

Million

Norway
Success indicators
BALTIC UKH
in numbers.
53.564867959.985197232769067

56.94107839999999524.096704188078494

55.6730164512.580996594061457

59.92144210.73267
Lead partnerState and University Library Hamburg
Town

Hamburg

Region

Country

Germany

Region

Hamburg
Representative

State and University Library Hamburg

Phone

E-Mail

Web
Total partner budget
217,200.00
National Library of Latvia
Town

Riga

Region

Country

Latvia

Region

Rīga
Representative

National Library of Latvia

Phone

E-Mail

Web
Total partner budget
119,000.00
Town

København K

Region

Country

Denmark

Region

Byen København
Representative

Royal Danish Library

Phone

E-Mail

Web
Total partner budget
120,400.00
Oslo Metropolitan University
Town

Oslo

Region

Country

Norway

Region

Oslo
Representative

Oslo Metropolitan University

Phone

E-Mail

Web
Total partner budget
37,800.00
Contacts
Project manager, Financial manager, Communication manager

Miriam-Marie Green

State and University Library Hamburg
Follow us
Social media

Newsletter

Additional links