B2B distribution model supporting local food sector in Baltic Sea region rural areas
Baltic Sea Food
PROGRAMME 2014-2020
objective
1.3 Non-technological innovation
Baltic Sea Food
The Interreg project Baltic Sea Food developed a new business model for business-to-business (B2B) distribution in the local food sector and helped small and medium-sized enterprises in rural areas to improve business performance.
The challenge
Small local food producers, farmers and service providers in rural areas of the Baltic Sea region are challenged by selling their products to big wholesale companies or supermarket chains. They have limited production volumes and higher prices compared with large producers. There is a need in reviewing and optimising food value chains by strengthening the farmers´ position. A short supply chain can be a solution when it is applied locally through food networks engaging small food producers, farmers, food processors, grocery stores, restaurants, cafes, tourism farms and other actors.
Besides, the market area of local food producers is usually their own home region, while established local food networks cooperate for marketing. The local food networks only have limited B2B distribution systems which hinder local food producers increase their profitability and develop as prosperous businesses. As local food networks are usually founded by family-owned micro-businesses, it is not feasible to take care of the creation of new sustainable B2B distribution solutions. The local farmers and food producers tend to sell their products to end consumers. At the same time, it is more convenient for catering businesses to buy food products from one distribution company instead of having contact with several farmers and producers.
The Interreg Baltic Sea Food project aimed to develop a sustainable business model enabling optimised short B2B distribution chains in the local food sector.
Budgets
Baltic Sea Food
in numbers
2.43

Million

Total

1.62

Million

Erdf

0.09

Million

Eni + Russia

0.14

Million

Norway
Achievements
Baltic Sea Food combines transnational strengths, experiences and ideas
Baltic Sea Food brought together 15 partners from 10 countries across the Baltic Sea region to set up a business model for local food distribution. The partners jointly developed suggestions for improvements based on the initial mapping analysis of the current situation. Local food producers got connected with business consumers from gastronomy and retail. A local speciality and the country-specific challenges were taken into consideration and incorporated into a new model for business-for-business (B2B) distribution of local food. The aim was to design a sustainable and transferable business model for B2B distribution applicable for local food nets established by local food producers and providers in rural areas. The model intends to establish shorter supply chains on local and regional level offering opportunities for growth and improved business performance.
New sales channels optimised
Additionally, the partners reviewed and developed new sales channels through small-scale local-food networks, based on cooperation and increasing value of local products in a shorter supply chain. Beyond digital channels, more traditional channels like personal calls or meetings are still a must. Other learnings included strengths of common regional brands in the products, also improving efficiency of marketing by food networks.
Dissemination efforts matter
The project has managed to reach out to an impressive number of stakeholders by using media, radio, press releases and events. Nearly 4,000 SMEs, about 330 food networks and more than 2,000 other interested received the information. Most notably, more than 800 SMEs such as local food producers and farmers, restaurants, farm shops, tourism farms etc. benefitted from capacity building events.
Outputs
E-platforms for food distribution
The project analysed and tested local, regional or national e-platforms for food distribution in the Baltic sea region. As a starting point, an advanced e-platform was identified in Sweden and promoted further in the local networks through events as well as through public media and other channels. Based on the Swedish case and other examples of providing services to local food networks or producers (B2C or B2B), the partners from Estonia, Latvia, Lithuania, Sweden, Germany, Russia (Pskov oblast), Denmark and Norway started developing the ways to improve e-platform services to food networks/distributors for ordering, communication, accounting or diversification of offers.  Regions like Mecklenburgische Schweiz in Germany, Hardangersmak in Norway or Pskov oblast in Russia especially succeeded in developments. The pilots focused on respective development in for example easy ordering or invoicing which enabled other food networks or individual producers to use such platforms.
Development of a regional business model
The project developed a series of regional business models and piloted them in the participating regions. Practical suggestions based on local actors' real-life experience helped to drive development. Among the main changes is the new target customer group "Business gifts and food souvenirs" as an attractive customer group in several pilot regions. New marketing and sales channel "Contact events and fairs" was identified and described, as many pilot regions highlighted its importance. As regards the sales channels, the partners concluded that digital channels cannot replace traditional channels like personal calls or meetings. Other learning included that in case the region is well-known for local products, then it is useful to use the common regional brand in the products, which enables to make more efficient marketing by the food network.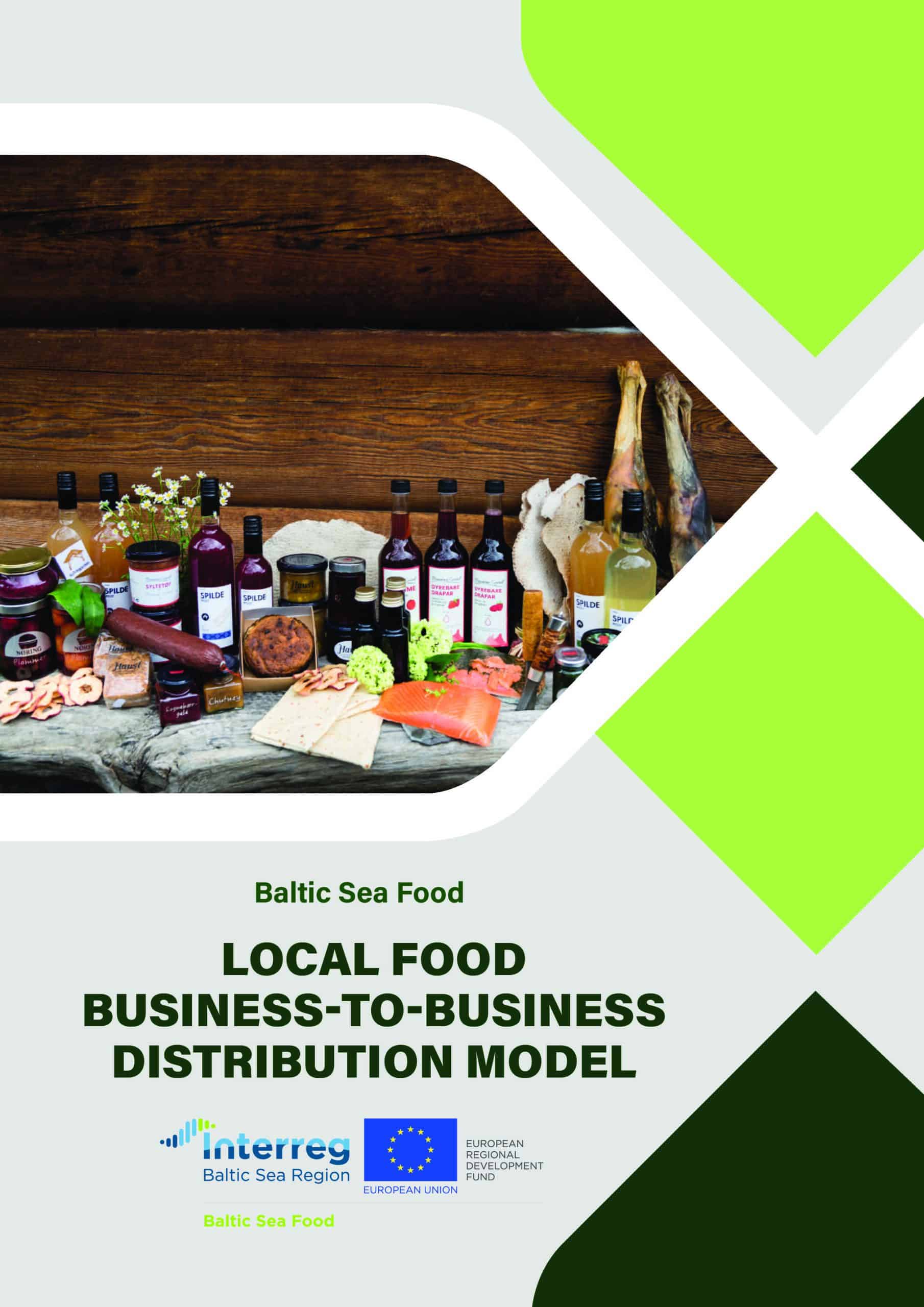 Partners
Ministry of Rural Affairs of the Republic of Estonia
Latvian country tourism association (LCTA)
Mecklenburg-Vorpommern Tourist Board
Ystad Municipality
Latvian Agricultural Organization Cooperation Council
Business Region Esbjerg
HANEN – Norwegian Rural Tourism and Local Food association
NGO Estonian Rural Tourism
The Estonian Chamber of Agriculture and Commerce
State budgetary vocational educational institution of the Pskov region "Pskov Agrotechnical College"
Committee for economic development and investment policy of Pskov oblast
"SUCCEEDED by PP16 (01.01.2020) Lahti University of Applied Sciences ltd.
Lithuanian countryside tourism association
"Polish Nature" Foundation
LAB University of Applied Sciences Ltd
Contacts

Project manager

Silja Lehtpuu

Gravitas Consult OÜ

Legal representative

Illar Lemetti

Ministry of Rural Affairs of the Republic of Estonia

Financial manager

Silja Lehtpuu

Gravitas Consult OÜ

Communication manager

Eneken Viks

The Estonian Chamber of Agriculture and Commerce