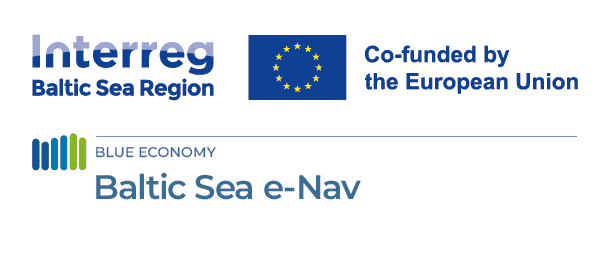 Shared waters – Same standards. Baltic Sea Partnership for Future Navigation
Baltic Sea e-Nav
momentscatcher– stock.adobe.com
Baltic Sea e-Nav
PROGRAMME 2021-2027
priority
2 Water-smart societies
objective
2.2 Blue economy
Project type
Core Project
Implementation
November 2023 - October 2026
Baltic Sea e-Nav
The project Baltic Sea e-Nav creates the next generation of navigational products and services compliant with new international standards, enabling national authorities and other maritime organisations to ensure safer, more harmonised and eco-efficient navigation at the Baltic Sea.
Project summary
Ship navigation is facing a paradigm shift. Finally, full digitalisation of navigational charts (maps at sea) will help reduce the negative impacts of shipping on the marine ecosystem and make the sector more sustainable. When developing navigational products from today's standards, which are best compared with an early 2000s car navigator, to the new S-100 standards, which are more to equate with complex but user-friendly Google Maps, navigators will be able to plan more energy efficient routes, avoid safety risks and plan operations with extra sensitive areas taken into consideration. The blue data will also be a valuable asset in marine spatial planning and for making better decisions when navigating at sea, especially to help all ocean activities to safely co-exist. This project will lever the value of this data and start the implementation of the S-100 products. To unlock this potential and ensure seamless navigation in the Baltic Sea, there is a need for transnational cooperation. Without such an effort, the delays of some countries due to varying maturity level will affect the availability of the latest navigational products for shipping in the Baltic Sea. It will as a consequence also affect the implementation of the EUSBSR and a transition to a sustainable blue economy. After implementing the Baltic Sea e-Nav base package, the partnership will continue to build upon the project's results, under a robust transnational governance model, even after the project ends.
Copy direct link to this summary
Budgets
Baltic Sea e-Nav
in numbers.
4.88

Million

Total

3.91

Million

Erdf

0.00

Million

Norway
momentscatcher– stock.adobe.com
Baltic Sea e-Nav
in numbers.
58.590912416.1903511

53.54687859.9670802

57.064449.898721

59.436015824.7999121

60.167488124.9427473

56.94403900000000424.09031319681217

60.167488124.9427473

61.486554221.7968951

57.721083912.9407407

60.204767224.6568435
Contacts
Communication manager

Caroline Johansson

Swedish Maritime Administration

Project manager

Marlene Svegreus

Swedish Maritime Administration

Financial manager

Yvonne Nordlander

Swedish Maritime Administration
Follow us
Social media

Newsletter

Additional links