Baltic Blue Biotechnology Alliance
ALLIANCE
PROGRAMME 2014-2020
priority
2 Natural resources
objective
2.4 Blue growth
ALLIANCE
The Interreg project Baltic Blue Biotechnology ALLIANCE built a network of Research-Technology-Innovation mentors who match services, facilities and experts from different countries around the Baltic Sea and turned smart ideas for biotechnology from the sea into a dozen market-ready products.
The opportunity
Blue biotechnology is about exploring and exploiting the organisms of the sea in order to develop new products or services – ideally in a sustainable manner. The Baltic Sea region has all the necessary elements for the successful development of an innovative and sustainable maritime economy and benefits from strong research and innovation activities and a tradition of close cooperation. And the European Commission's Blue Growth strategy of 2012 identified blue biotechnology as one focus area.
The potential for blue biotechnology of the Baltic Sea is recognised as significant. Yet it is immature and needs a strategic approach. The ALLIANCE systematically pooled the national capabilities aimed to empower research institutes, SMEs and business clusters to reach the critical mass required for action and global competitiveness of blue biotechnology from the Baltic Sea.
Budgets
ALLIANCE
in numbers
3.39

Million

Total

2.65

Million

Erdf

0.00

Million

Eni + Russia

0.00

Million

Norway
Achievements
Mentors to advance good ideas for blue biotechnology
The ALLIANCE built a network of mentors in the sector of blue biotechnology consisting of research and technology institutes, technology parks and innovation companies. All together they helped blue biotech ideas from different countries around the Baltic Sea become market-ready products by match-making companies to services, facilities and experts as if there were no borders.
Some smart ideas turned into products
A Danish company that cultivated kelp started developing a natural organic sunscreen extract from this seaweed with two mentor universities from Denmark and Sweden. An Estonian brand for natural cosmetics manufactured facial moisturizers with algae-based antioxidants in close collaboration with an Estonian biotechnology park and a German research and consulting company. A startup company from Lithuania working with mollusk shells for bone regeneration received support from Lithuanian, Swedish and Estonian technology parks on chemical analyses, contacts to raw material suppliers and business plan development.
A network to support biotech companies
Using the experiences of 25 successful cases like these, the partners developed a full-fledged service offer (including a business plan) to support companies in developing new marine biotechnology products and services. The service supports blue tech companies in communication and lobbying, scientific and technical inquiries, access to biological resources, legal advice, business and project development, monitoring and coaching. The business plan is operationalised by the follow-up project ALLIANCE+. The network initiated by the Interreg project ALLIANCE was set-up with EUR 2.65 million of support from the European Union, because it strengthens European integration and makes European regions more competitive.
Outputs
ALLIANCE integrated service offer for blue biotechnologie
This brochure depicts the services that the ALLIANCE network of experts in the blue biotechnology sector offers to start-ups, small and medium enterprises and academic institutions: connecting the right actors and resources throughout the BSR. This offer includes case mentoring, finding suitable partners, marketing, legal and financial advice.
ALLIANCE database for blue biotechnology
Here researchers from companies and institutes can find almost anything they need for their blue biotechnology research and product development, among others: laboratory equipment, laboratory surfaces, bacterial and fungal strains as well as marketing or product development specialists.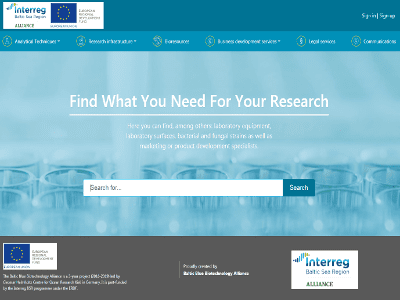 Project Stories
11.05.2021

From a rich marine life to beautiful vacation places, the Baltic Sea offers numerous resources that can be exploited to boost the economic growth of the region without harming its ecosystem. Interreg Baltic Sea Region funded multiple cooperation projects that have contributed to a sustainable and innovative blue economy. Good and successful examples of smart blue initiatives include ALLIANCE, Baltic Blue Growth, Capacity4MSP and Blue Platform.

Read full story

13.06.2018

Red algae growing in the Baltic Sea are the special feature of facial creams in the Estonian cosmetics line Berrichi. But what's more, it is the first product developed with the support of the Interreg-funded expert network ALLIANCE. The ALLIANCE is a European cooperation project and a flagship of the EU Strategy of the Baltic Sea Region. It brings together blue biotechnology actors from around the Baltic Sea to create new products and services.

Read full story
Partners
GEOMAR Helmholtz Centre for Ocean Research Kiel
SUBMARINER Network for Blue Growth EEIG
BioCon Valley GmbH
KTH, Royal Institute of Technology
University of Gothenburg
Finnish Environment Institute (SYKE)
University of Gdańsk
Pomeranian Special Economic Zone Ltd.
Public institution Coastal Research and Planning Institute (CORPI)
Danish Technological Institute
Klaipeda Science and Technology Park (KSTP)
CleanTech Latvia
Tartu Biotechnology Park
Svanvid Sp. z o.o.
Scottish Association for Marine Science (SAMS)
CRM - Coastal Research & Management
Biovento Sp.z o.o.
JSC "Baltic Probiotics"
Kalundborg Utility A/S
Reserved partner: JSC Biome
Reserved partner: Furcella Oü
Reserved partner: Guldborgsund Municipality
Reserved partner: KosterAlg
Reserved partner: SFTec Oy
Reserved partner: University Hospital Schleswig-Holstein - UKSH
Contacts

Project manager

Deniz Tasdemir

GEOMAR Helmholtz Centre for Ocean Research Kiel

Legal representative

Peter Herzig

GEOMAR Helmholtz Centre for Ocean Research Kiel

Financial manager

Anja Wenzel

GEOMAR-Helmholtz Centre for Ocean Research

Communication manager

Efthalia Arvaniti

SUBMARINER Network for Blue Growth EEIG