The Vice-President of the European Commission Jyrki Katainen and the Commissioner of Regional Policies Corina Creţu paid a field visit to one of Interreg Baltic Sea Region's projects, ChemSAR, to observe transnational cooperation in safety operations at sea.
Organised in Helsinki on 1 June, the visit was hosted by the Finnish Border Guard, one of ChemSAR's project partners, and it took place on board of the Finnish Border Guard Offshore Patrol Vessel Uisko.
The Vice-President Katainen and the Commissioner Creţu got familiarised with the aims and to-date achievements of the project ChemSAR referring to international rescue operations at sea. A part of the visit was also a short demonstration of the operations on board OPV Uisko. Commissioner Creţu stressed the value of the project for sea safety and protection of the environment.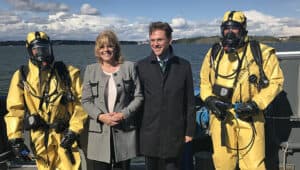 ChemSAR / Kirsi Laitio
© ChemSAR / Kirsi Laitio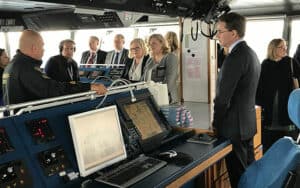 ChemSAR / Kirsi Laitio
© ChemSAR / Kirsi Laitio
"We are so pleased to see that the European Commission is interested in ChemSAR. It tells us that what we do in the project is useful and important," says Project Coordinator Kirsi Laitio from the Centre for Maritime Studies.
The aim of the ChemSAR project is to create operational plans and procedures for international maritime search and rescue operations in hazardous and noxious substances incidents in the Baltic Sea Region, and in this way to make the rescue operations safer and more efficient. As a flagship project of the EU Strategy for the Baltic Sea Region, the project contributes to its implementation of the Strategy, proving its impact on the whole region.
Related files