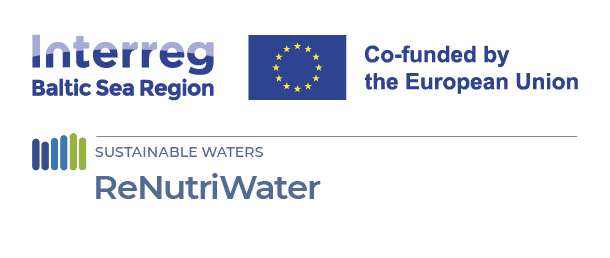 Closing local water circuits by recirculating nutrients and water and using them in nature
ReNutriWater
The birth and purpose of ReNutriWater
29 June 2023
The story of ReNutriWater and its aims described in own words by the project leader, Klara Ramm, Chamber of Economy Polish Waterworks.
I became more familiar with the issue of water recovery from wastewater thanks to my participation in a working group dealing with this subject, set up at EurEau. EurEau is a European federation whose members are all EU countries, thanks to which we develop very different competencies. In 2020, Regulation 741 appeared, and a debate began on how to implement it in countries that have poor experience in water recovery and reuse. I came to the conclusion that it would be good to explore the topic in our region. I was supported in the decision by Marzena Smol from Mineral and Energy Economy Research Institute of the Polish Academy of Sciences (MEERI), then we were joined by other great partners. The Chamber already had the experience of participating in the Interreg BSR project
NOAH
, so I proposed that I would deal with this topic as a leader.
Honestly speaking water recovery is not a top priority for the Baltic Sea Region (BSR), but I am sure it will be a very helpful tool for mitigating climate change. More and more severe droughts are also affecting Northern Europe.
What is the aim of the project?
The overall aim is to develop competencies in the recovery of water from urban wastewater. We will not solve all the problems, but we want to make a significant milestone in the development of this area of water management. So we want to show local governments, municipalities and water utilities how to go about it, what are the opportunities and what are the threats.
As part of the project, we will test several technical and technological solutions, showing how to safely recover water from urban waste water treatment plants and use it locally, e.g. for watering green areas.
Safety is very important to us. That's why we spend a lot of time on disinfection testing, but also on risk assessment procedures and assessment IT tools.
What are the main activities?
We have divided our activities into three joint pilots:


Efficient methods of disinfection of reclaimed water


Methods of selecting the composition of reclaimed water tailored to the needs


Methods to ensure the safe use of reclaimed water


What kind of water filtration/cleaning methods are tested and analysed in the project?
We will test various solutions in order to develop target solutions that can be replicated by entities outside the project. So, in the first pilot, we will test disinfection methods at the Warsaw water utility and at the University of Savonia. In the second pilot, Schwander Polska in Poland and Jurmala water utility in Latvia, will test solutions by watering separated areas with reclaimed water. We will try to adjust the composition of the water according to local needs. It is mainly about controlling the nutrient content within the framework of applicable law and in accordance with safety regulations.
In the third pilot, wastewater treatment plant operator in Samsø island in Denmark, University of Savonia, Finland and VNK Serviss, Latvia will build and operate an experimental greenhouse and grow plants by watering them with reclaimed water. The research will show how to control nutrient content. Significant support will be provided by the University of Latvia and the Warsaw University of Technology.
Our goal is to utilize existing technologies in the Baltic Sea Region. Therefore, we will rely on the most commonly used technologies based on activated sludge. Such solutions will require additional devices, e.g. for disinfection. We also have MBR-based treatment plants that can deliver reclaimed water for a various use.
What do you anticipate being the most challenging in the project?
Security is very important. So we analyse the rules and procedures already in place around the world. We will develop risk management guidelines for our pilots. They will be available for use throughout the BSR. Lack of knowledge and unwillingness to recover water is also quite a serious challenge. This is due to fears for its safety as well as mental resistance to something that was made of sewage. So, we will develop an IT tool so that everyone can carry out a self-assessment and acquire the appropriate knowledge on how to safely recover and use water from wastewater.
What do you hope that the project would give for the Baltic Sea Region citizens?
Climate change disrupts water management. Water shortages are a reality and we need to address this. I believe that our project is an important element of adapting the BSR to climate change. In addition, protecting the Baltic Sea from eutrophication is essential to keeping it alive. Our project could lead to a reduction in the use of artificial fertilizers in favor of nutrients that can be retained in reclaimed water. I am glad that thanks to EU funds we have the opportunity to cooperate for the benefit of our Sea. As a project leader, I am lucky to have met such intelligent and committed partners from Denmark, Finland, Latvia, Lithuania, and Poland.
I also hope that we will establish closer cooperation with the WaterMan project, which focuses on similar issues. Thanks to the synergy, we have a chance to build many great solutions for the use of treated wastewater and rainwater. We are also happy to cooperate with other similar projects.
Additional links